First off, Happy New Years and I hope everyone had a safe and happy holiday season!
I know many people, homesteaders and stockpiling people use the month of January to save money and get caught up after the holidays from over-spending and to just use what they have up. Kind of like no-spend month. But for me this is a month (starting next Thursday) that I will be extremely limited to leaving the homestead. Next Thursday is my elbow and hand surgery and I will not be driving for a minimum of a month; now keep in mind I LOVE staying home and not having to battle traffic and crowds, but sometimes you do have to leave the confines of your home... ie. groceries, errands and doctor appointments.
I normally run to the somewhat local grocery store once a week to restock my pantry shelves, replenish fresh produce and replace some paper products, but in seven days the running to the store will be on hold.
Sure I will be doing grocery pickups (thanks to Mr Golden D whom will pick up the groceries after he's already worked a 12-hour day), but those will not be too frequent. I could also utilize the grocery delivery through Shipt; which I did do right after my auto collision, but I'm not completely committed to that... yet. But in reality, our grocery bill will be much less for this month.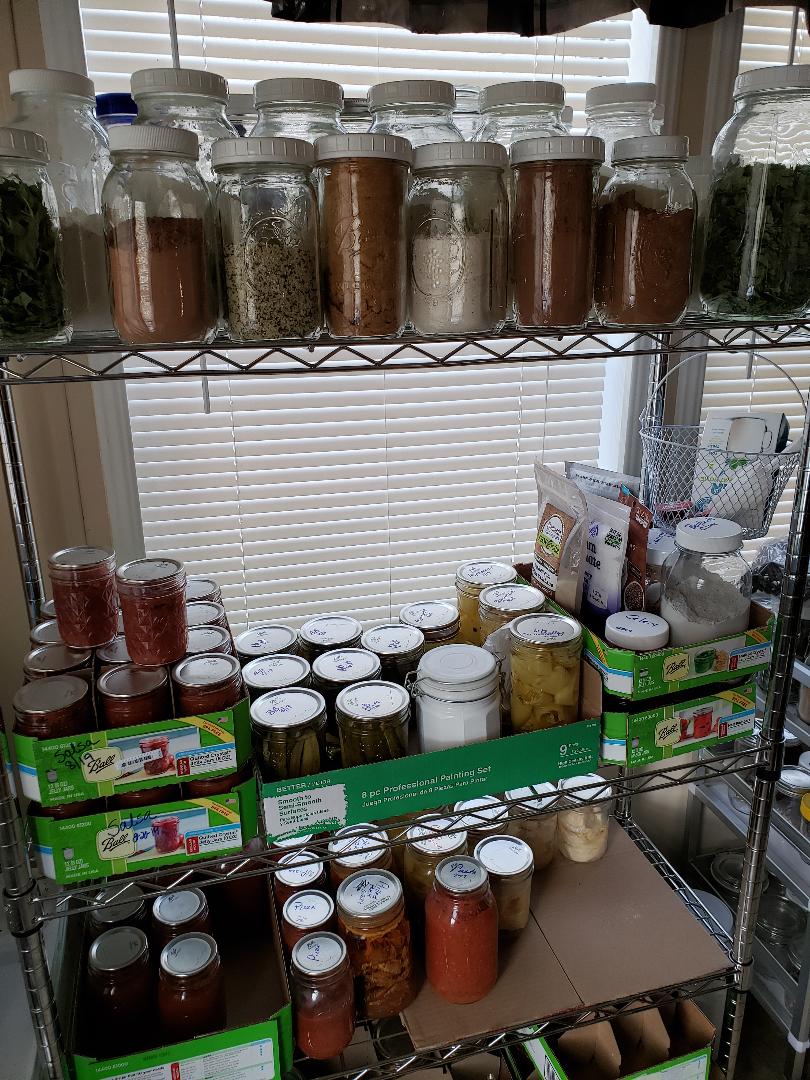 I've been working on filling up the pantry for quite some time now; ever since I learned about the surgery in early November. Moments like this in my life make me relieved that I am OCD and prepared for last minute, or even planned, moments when you need to rely on what you have on hand.
Above image is the working pantry I have in the kitchen, but I also have the walk-in pantry where I store most of my surplus canned items, a 19-cubic foot deep freeze that is full to capacity and our regular refrigerator and top freezer; which are also well stocked. I will be making one trip to the store next Monday for last minute items, but I can already foresee that being the one and only grocery store visit for the month of January.

In the image above, on the lower shelf to the left, I only have four canned pints of chicken. So I have twenty pounds in the refrigerator that I will be pressure canning tomorrow to replenish the storage. We use this for so many meals (chicken salad, chicken tacos, chicken tamales or even with gravy over homemade rolls). it's quite versatile! And we are running quote low.
My deep freezer is full of premade meals as well.
Four small trays of baked ziti
Eight pints of chili
Four quarts of cabbage soup
Twenty beef and chicken tamales
Seven pints of split pea and ham soup
Two pounds of buffalo hot wings
Three homemade pizza crusts already rolled out, shaped and frozen
I did all this prep because (God bless his heart), Mr Golden D's idea of dinner would be take-out, pre-made grocery store meals, etc.
Granted there are days when we will probably eat out... but not for a month straight! I am a person who would much rather have a home-cooked meal than anything you get from a restaurant.
I'm just thankful I had the time to prep for this surgery; and I already told Mr Golden D that I promise to make my surgery and recovery as easy as I can on him. (Just joking- but he's starting to realize just how much I do around the homestead.)
I did tell him he's lucky this is happening over the winter months, when I am at my slowest time. Because if this was the summer time, he'd be out in the gardens harvesting and then canning/dehydrating everything. Lucky guy!

_Find Me On BitChute_