Cutting out sugar from our diet has been a slow process here; at least for me in certain instances. While I don't have a sweet tooth for cookies, candy or other baked goods, I have been on a daily fight against breaking down and sipping on a soda/pop.
I stop drinking soda cold turkey back at the end of April (right after Mr Golden D had his heart attack. I didn't have any migraine symptoms or withdrawals, but on the other hand I have never been a person who could just drink straight water; so forgoing my soda induced sugar high was difficult on some levels.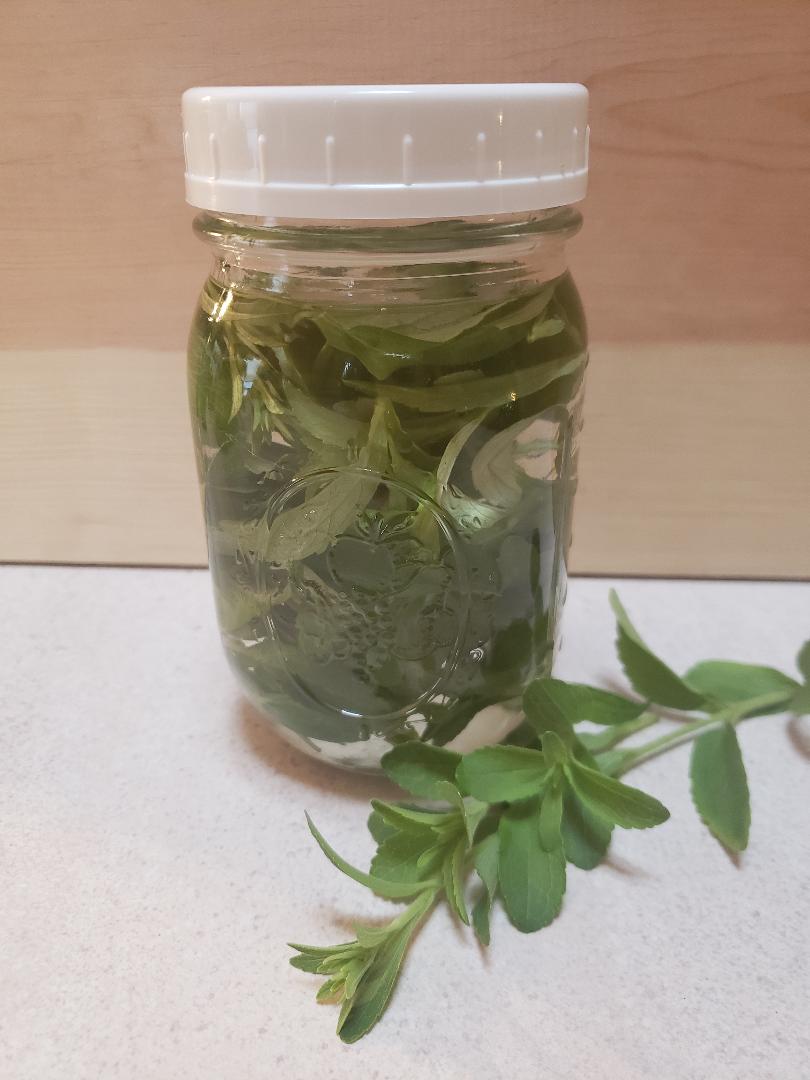 Homemade stevia extract- for using in my tea and drinks instead of sugar.
I tried making ginger bugs for making fermented sodas. But I had the issue of never remembering to feed the bug. But I am willing to try it again!
But for now I have made some stevia extract!
This extract is super easy to make.
Just take a handful or so of fresh stevia leaves, clean them (I rinsed them in white vinegar and cool water) then took the leaves off the stem and placed in a pint-sized mason jar; covered it with 80-proof Vodka- making sure ALL the leaves are covered by the alcohol. I will leave it in the cupboard for 24-48 hours- any longer and it can turn bitter from what I have read and researched. So later today (as I did this on Monday morning) I will be straining the leaves from the alcohol and storing it in a brown glass bottle.
My understanding is one drop or two per 12-ounce glass of tea, homemade lemonade or whatever water mixture I will be drinking will suffice.
Last week I made some lemon and black currant iced tea to drink and I absolutely LOVE it! I will be making more this week, but I am going to try a new flavor too; lemon and raspberry.
I used Agave to sweeten it up a little, but I still feel I can do better; hence the homemade stevia extract. _Sure I could have purchased it, but it is quite pricey. And why do that when I have free stevia in my gardens?_
For the last few months, I have been purchasing our coffee online through a bulk store located in my state and last month before I placed my order, I decided to check out their tea flavors.
Some of the flavors I decided to try are:
Black Raspberry Hibiscus
Meyer Lemon
Yum Berry Black Currant
Chamomile
Since ordering this batch of tea bags, I have made another purchase and added Apple Cinnamon, Jasmine Blossom and Moroccan Mint. So we'll see what combinations I will come up with to keep my taste buds from getting bored.

This was the first year I grew stevia in my herb and flower gardens and I was able to salvage enough over the weekend to make this pint size batch of stevia extract. I do have a quart sized jar full to the brim of dehydrated stevia to make the powdered version of this natural sweetener.
**Here is where I found the easy instructions for making stevia extract.