This year was very difficult for me because i had to face new challenges and sad events in my life. It was also the year that i was active daily at Steem, creating content,curating and getting more experience about how things are working. The Blocktrades Contest is a good opportunity to check and reflect about my 2019 contribution to the blockchain, truth be told i realized that i have not produced much content but i decided to make a selection of three collage animations that are close to my heart. 
Digital artwork came to my life at 2018 as a continuation of my handcut collage creations. I was a little bored with the analog process and wanted to try sth new, as soon as i got familiar with tools of Photoshop i jumped into the animations. To put a little motion at my artworks was sth i always wanted and tried a bit in the past by using stop motion techniques and tips i found by watching Terry Gilliam's videos. But it was a tiring process in contrast with the digital one which is fun, relaxing and a lot more creative. I will continue with the presentation of the three animations and i promise that 2020 will be more creative and more animated.
  ## Gazing from the Edge of Time.

A simple animation i created based on a vintage photo of two boys relaxing at a Greek island on a warm summer day. I had already done this artwork as a handcut creation and it was really fun to try and recreate it as an animation. Back at my analog days i was imagining every artwork with motion, planets moving and dropping, objects flying around and it was so nice to finally have the opportunity to see it happening.
A more complicated animation i created for Shaka's Lets Make a Collage Contest, an amazing opportunity for artists and creative users to show their skill in digital creations. In this one it was the first time i used the TV screen theme, filters and lettering. It was fun process and even though it has a lot of mistakes and really bad rendering i still enjoy seeing it.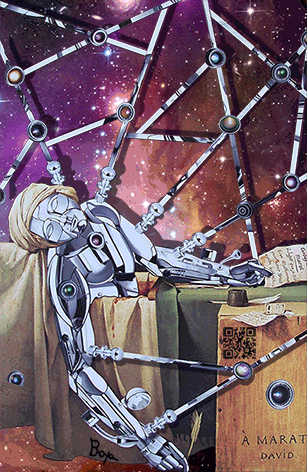 This is the most complicated animation and the longest in duration i ever made. That's the reason why it is so small in size unfortunately,lol. I spend so much time trying to find the perfect format to make it clear and not full of distortions and in the end this was the most presentable result. It is based on an older handcut collage version of the famous painting The Death of Marat by Jacques-Louis David and it was part of my Homo Mechanicus Series. I took my time with this animation, cutting the main figure from the background and then adding a lot of moving details in order to make a short story. in the future i will try and make more animated versions of my older artworks to bring the old creations back to life.
I hope you enjoyed my selection and wishing to everyone a happy and creative 2020.