Hoy me animado nuevamente a participar en concursos musicales y atendiendo la invitación que hace tiempo me hiciera una amiga de la plataforma acá les presento mi entrada al concurso #musicforsteem en su semana número 1 que espero s sean muuuuuuuuuchas más ya sí poder coniocer a tantos talentos hispano e internacionales que vendrán semanalmente a tocar y cantar con sus instrumentos.

Recordando clases de mi guitarra acústica he decidido interpretar el tema "Yesterday" de la legendaria banda inglesa "The Beatles" para dar inicio a esta bella aventura musical. A toda la comunidad hispana le invito a promover y a participar activamente de este y otros retos que la cuenta @steemingcurators y @vdc les traerán las próximas semanas. Suerte a todos los participantes. Su amigo Gabo.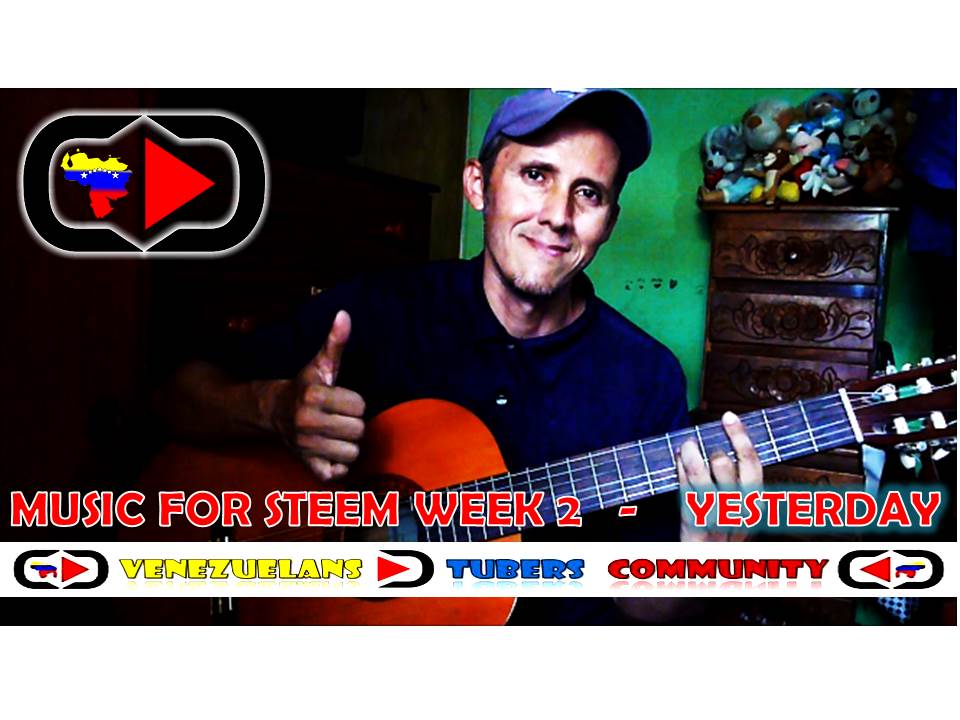 [My TOUTube Channel]()
Today I am encouraged again to participate in music contests and attending the invitation that a friend of the platform made me some time ago I present my entry to the contest #musicforsteem in its week number 1 that I hope will be many more and if I can meet so many Hispanic and international talent who will come weekly to play and sing with their instruments.

Remembering my acoustic guitar lessons I decided to play the song "Yesterday" by the legendary English band "The Beatles" to start this beautiful musical adventure. To all the Hispanic community I invite you to promote and actively participate in this and other challenges that the account @steemingcurators and @vdc will bring you in the coming weeks. Good luck to all participants. Your friend Gabo.
Translated with www.DeepL.com/Translator (free version)

Letra de la canción YESTERDAY - Paul Mcartney
Yesterday...

All my troubles seemed so far away
Now it seems as though they're here to stay
Oh i believe in yesterday
Suddenly, i'm not half the man i use to be
There's a shadow hanging over me
Oh yesterday came suddenly
Why she had to go, i don't know
She wouldn't say, she wouldn't say
I said something wrong now i long for yesterday
Yesterday...
Love was such an easy game to play
Now i need a place to hide away
Oh i believe in yesterday
I believe in yesterday
Why she had to go i don't know
She would not say
I said something wrong
Now i long for…
Acá puedes escuchar la versíón original en la voz de su compositor y cantante
Si te gusta este concurso acá te dejo el enlace de participación del mismo para que te animen y entres ala competencia:
Agradecimientos especiales a los patrocinadores de este concurso ene special a @ciska, y las cuentas @steemingcurators como a la comunidad hispana @vdc ( Venezuelans Dtubers Community )

Te invito al Discord de la comunidad vdc donde encontrarás apoyo para tus publicaciones de video en la plataforma Dtube, es una comunidad que organiza y promueve, asesora y orienta diferentes actividades en contenido español y para la comunidad hispanohablante. Su tag o etiquta es vdc para promover tus publicaciones tenemos sals de promoción sobre varias temáticas en producción audiovisual.