Hello to everyone in the World Of Xpilar community!
Let us say since some time ago, I am big fan of making collages, be these digital or traditional. I think it is a great way to express myself, printing on such collages my likes or meaningful issues of mine. Through collages I have reached both to set more clearly what represents me and to allow people to know me better.
Indeed, thanks to these artsy constructions I bring you today some of my personal goals and dreams. Hope you like it as much as I do.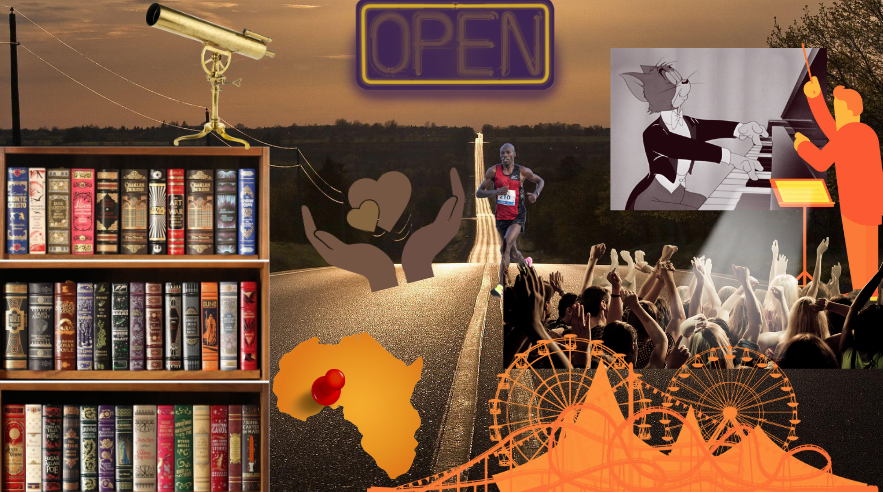 Collage:
Canva

I have to state I selected this background for my Vision Board because I see goals achievement process as a whole non-ending road you have to take with its hundreds of ups and downs. Besides, I added an "open" poster in its upper border as a sign of life's changeable nature.
1. Literature and Science.
These two are some of my big passions. First, I barely can describe how my connection with books world works, but I know it certainly exists. I believe it is there due to what atmosphere development, characters profiling or meaning expressions can generate within me. Such literary elements link me to sort of knowledge that, although one may meet in everyday's life, it is more comfortable and manageable as books in one's personal or public libraries somewhere are usually free of hard prolonged existential hits and unbearable rythms.
In this sense, I hope to have some chances to increase my personal knowledge as I visit as much libraries as possible around the globe. Later, in that wisdom trip, I would like to be in contact with science, too. Since I am kid I have been attracted to several fields of science and I have desired to learn from them how the Universe goes. I know there are plenty of incredible science institutions and academies in the world open to the public and I wish to know them all. From ALMA (Atacama Large Millimeter/submillimeter Array) in Chile northern desert to the Russian Academy of Sciences in Moscow.
2. Travels and Amusement Parks.
Another of my big goals is being a globetrotter. I have this necessity of knowing every continent in Earth, including Antarctica. I reckon every one of them has something unique to show in terms of culture and natural components. It would be an outstanding experience to come face to face with people traditions and wildlife the more than 200 countries in Earth have. For instance, I still do not know why, but I especially dream of travelling all across Africa. Deserts, savannahs wildlife and nomad tribes reprensent a big issue for me. However, I think the top of this dream is visiting South Africa. I often fantasize walking by Pretoria or Cape Town streets.
Also, something that brings me joy over these future travels are amusement parks. I am crazy about them. Whenever I look to an amazing amusement park structure, I feel very enthusiastic to explore every corner of it. Perhaps, the attractions electrify me the most are roller coasters. Then, I hope to meet some of them in my trips. My favorite ones so far are Millennium Force at Cedar Point in US and Dragon Khan in PortAventura Park in Spain.
3. Music Daydreaming.
Hey, I do not know about you, but I have quitted entire University classes because I have daydreamed of being a DJ or maybe a concert pianist. Playing electro music in Coachella or Schumann in the University of Music and Theatre Leipzig could be probably the closest living to be on the top of the world. The possibility of expressing myself through music sets it is something I do not totally leave behind.
As any language, I consider music truly opens many doors to connections that otherwise would be hard to make possible to. Music is a splendid chance of enjoying life fuller.
4. Runner Expectations.
Somehow, lockdown pushed my body to get into a jelly composition I was not happy about. I was so out of shape that easily got out of breath after three or four minutes when going jogging. Most deplorable physical conditions for me in a while.
But, in the last couple of months I have tried my best with running. I decided to change this not only for current situation but for the future, as well. This is, day by day I have been so demanding with my body to progressively be in good shape in order to face both my jelly belly and my own imposed challange of participating in a marathon. Yes, I wish to be in tv, running with a dinosaur custome someday.
I think running world has grown so much lately that it is impossible for me not to try it more seriously in the upcoming years. Nowadays running calendary is so wide and wild that you can run through majestic Patagonia landscape or South African savannahs among all of its local animals. It sounds adventurous, doesn't it?
5. Bright Charity.
Despite of all inspiring previous goals I have sketched out, there is one that particularly my mind goes around most of the time: lending a hand to those in need.
I live in a world that give enough oppurtunities to a few people but little possibilities to many at the same time. And, I am not talking about having luxurious goods or living Hollywood lives. I just refer to the very basic human rights: liberty, work, food, education. I feel kind of compromised to do my best to help people around the world from low socio-economic backgrounds. I want to be part of an organization that worries about miscared young people, for example. I often conclude Humankind future is in young hands and thus it is necessary to support and guide them properly, so they can express their talents and contribute to their societies where they need them the most.
I think I could take adventage of being polyglot in the future to have as much contact as possible with kids in the world and making my altruist dream come true. Overall, I believe what people need the most is love.

Thanks for checking my post out!