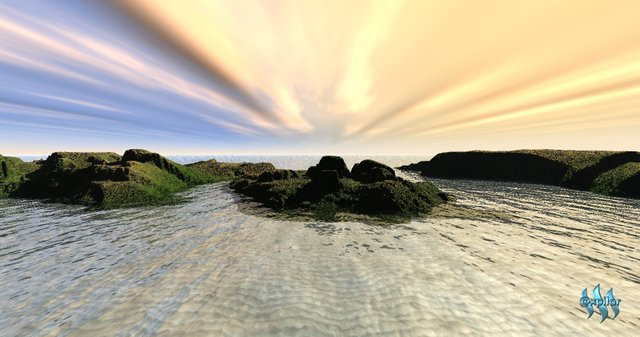 English version
Last Sunset
Sitting on those slimy stones, I was jealous of the sea for its constancy and of the sky for its beauty. They seemed victorious over the passage of time, while we human beings have, perhaps, known how to heal ourselves after so many defeats.
The sun gilded my an old man scales and I wondered:
—After so much, what makes us human? , how do we look after our interests too much without noticing that this will play against us later on?, when will we leave the comfort of selfishness aside?
The breeze moved the three strands of hair I still had on my head and I felt ready to start diving. As always, the water was more transparent than our intentions and the coral reef, more colorful than any of our fireworks.
Every once in a while I surfaced and swam in breaststroke style. I liked to think that I could imitate the dolphins that passed by. They were quite graceful and even playful. After laughing at my swim, they came up to me to tickle me, take my snorkel off or just pour water on me.
As soon as they were there, they were gone too. I knew it was time to leave when the little ones said, "click, click, click" and dived in.
"What a paradise"— I always said to myself.
This corner of the sea was like heaven on earth to me, but my wife did not see it that way. I had to escape from the house to get here, because she always said I could die drowned or poisoned by some "thing" of the sea. However, the only poison I knew was that of her tongue.
She was a great woman when I met her, but then her fears of loneliness corrupted her and made her want to keep me as a prisoner. On the other hand, my closeness to the sea set me free and made me want to accompany her again.
This sensational sunset not only marked the end of the day, but of the autumn as well. This was fatal, because the cold would not let me return to this little piece of heaven for a long time. Caged with my alleged owner I will be. An extremely cold winter.
As I was picking up my flip-flops, fishing rod and basket of small fish, I noticed a large wave coming towards the rock where I was standing on. I was so surprised that I ended up falling because of that and not because of the wave. My things were scattered and I almost froze, as the water was cold at nightfall. But, instead of feeling uncomfortable, I took such an event as Nature inviting me to stay.
And so it was. I floated on the sea, stripping myself of worries and soaking up the serenity that accompanies sea.
Bad luck then the Coast Guard appeared with my wife and interrupted my peaceful farewell.

I would feel honored if you read my story till the end. It is a great a pleasure for me to create or imagine stories from whicever source they come to. This time I thank @xpilar for providing me excellent visual art to do one thing I like.
Join this contest here.

Versión en español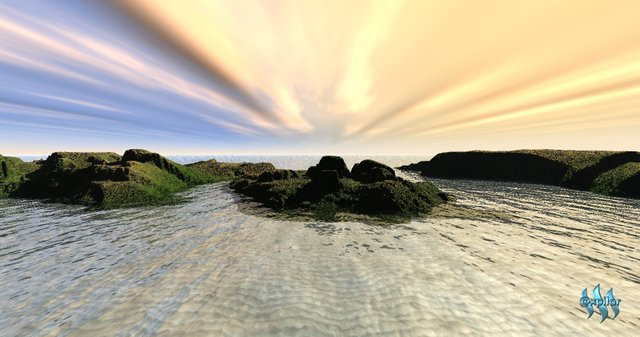 Último atardecer
Sentado en aquellas piedras limosas, celaba al mar por su constancia y al cielo por su belleza. Parecían victoriosos sobre el paso del tiempo, mientras nosotros los seres humanos acaso hemos sabido curarnos tras tantas derrotas.
El Sol doraba mis escamas de anciano y me preguntaba:
—Después de tanto, ¿qué nos hace humanos?, ¿cómo velamos en demasía por nuestros intereses sin advertir que esto luego jugará en nuestra contra? ¿cuándo dejaremos de lado la comodidad del egoísmo?
La brisa movió los tres hilos de cabello que aún tenía en la cabeza y me sentí listo para empezar a bucear. Como siempre, el agua era más transparente que nuestras intenciones y el arrecife de coral, más colorido que cualquiera de nuestros fuegos artificiales.
De vez en cuando salía a la superficie y nadaba en estilo pecho. Me gustaba pensar que podía imitar a los delfines que pasaban por el lugar. ELlos eran bastante agraciados y hasta juguetones. Pues, luego de reírse de mi nado, se acercaban a mí para hacerme cosquillas, quitarme el esnórquel o simplemente echarme agua encima.
Tan pronto estaban, también se iban. Sabía que había llegado la hora de marcharse cuando los más pequeños decían: «¡Hiiii!, ¡Hiiii!, ¡Hiiii!» y se sumergían.
«Vaya paraíso»-decía siempre para mis adentros.
Este rincón de mar era como el cielo en la tierra para mí, pero mi mujer no lo veía así. Yo me tenía que escapar de la casa para llegar hasta aquí, porque ella siempre decía yo podía morir ahogado o envenenado por algún «bicho» de mar. Sin embargo, el único veneno que conocía era el de su lengua.
Era una gran mujer cuando la conocí, pero después su miedo a la soledad la corrompió y la hizo querer tenerme como prisionero. Por otro lado, mi cercanía al mar me liberaba, y me hacía querer volverla a acompañar.
Este sensacional atardecer no sólo marcaba el final del día, sino que del otoño también. Esto era fatídico, porque el frío no me dejaría volver a este pedacito de cielo por mucho tiempo. Enjaulado con mi presunta dueña estaré. Un invierno extremadamente frío.
En lo que recogía mis chancletas, caña de pescar y cesta con pequeños peces, me percaté una gran ola venía hacia la piedra donde estaba parado. Me sorprendí tanto que terminé cayéndome por eso y no por la ola. Mis cosas quedaron desparramadas y yo casi congelado, pues el agua era gélida al anochecer. Pero, en lugar de sentirme incómodo, tomé tal suceso como la Naturaleza invitándome a que me quedara.
Y así fue. Floté en el mar, despojándome de preocupaciones y empapándome de la serenidad que acompaña a lo eterno.
Mala suerte apareció la guardia costera junto a mi esposa e interrumpió mi tranquila despedida.

Me sentiría honrado si leíste mi historia hasta el final. Es un gran placer para mí crear o imaginar historias que provengan de cualquier fuente. Esta vez agradezco a @xpilar por proporcionarme un excelente arte visual para hacer una cosa que me gusta.
Únete al concurso aquí.