It has been a tough 5 weeks for people here in Da Nang, Vietnam. Because the virus was re-introduced to the community thus resulting in 25 deaths, all of which were in advanced age and had multiple other health issues, the entire area was put under rather harsh lockdown restricting movement and closing almost all businesses and public areas.
As of the 5th of September we are going to have some of these restrictions lifted. It remains a little unclear as to how much freedom we are going to be given and the only thing we have heard thus far is that take away and delivery food will be available again. This is quite important to me on a purely selfish note because I do NOT excel in the preparation of food on my own other than steak, which I only recently re-learned how to do. One might argue it is still a work in progress.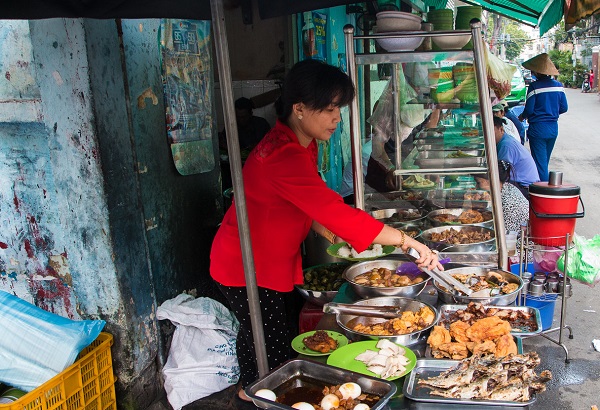 src
I will admit that even after several years of living here, I know very little about the local cuisine outside of a few noodle dishes that are basically forced upon you and everyone has them. But one of the best ways to get outside of your comfort zone and try some new stuff is to just rock up to a street stall and point at something. I know very little of the language so I normally have to pantomime what it is that I want. In the end I normally don't have any idea what I ordered but I'm pretty easy going and Vietnamese food tends to not be terribly spicy unless you make it that way with additives that are on the table. If you end up not enjoying it, you just be polite anyway and then throw it out and try spending 50 cents on the next stand instead.
src
We don't yet know if the beaches are going to be opened back up but I think I speak for most everyone when I say that I really hope so. This is, afterall, a major part of why it is that I decided to move here in the first place, and even though I don't normally even use the water very often until surf season arrives, I do enjoy being able to at least walk down there and get my feet in the water.
---
I really feel as though this country has gone too far as far as prevention is concerned and if there is any logic to the "you can't get over this virus as a community until a certain percentage of your population has caught it" then Vietnam is going to be a deep trouble for a very long time barring any sort of effective vaccine that I am sure they, and a lot of the rest of the world is banking on.
Regardless, I am pleased that some of our abilities to at least get something to eat outside of our own kitchens will be restored tomorrow. As much as I enjoy Netflix and playing video games, it's crazy to me how much out of love I fell with these things once they became the only things that I was allowed to do.
Once this is all behind us, I think that I am going to have a much greater appreciation for things that I took for granted for a very long time.... at least for a while.