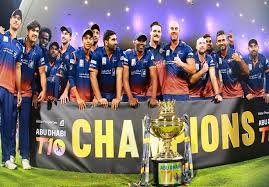 Maratha Arabians is the current 2019 T10 trophy winner with eight-wicket win over Deccan Gladiators. Maratha Arabians has dominated the game after losing the opening match of the tournament to the previous champions Northern Warriors.
Maratha Arabians showed a great overall bowling performance with Chadwick Walton wicket keeper smashing a fifty one off 26 balls thereby winning the game for Maratha Arabians.
Final Result Abu Dhabi T10 at Abu Dhabi, 24th November, 2019
Deccan Gladiators DG Vs Maratha Arabians MA
87/8 89/2 (7.2/10 ov)
Arabians won by 8 wickets (with 16 balls remaining)

Source
Player Of The Match: Chadwick Walton(Maratha Arabians)
Chadwick Walton did a fantastic job outplaying his opposition by scoring a fifty on 26 balls with six 4s and three sixes. This extraordinary performance went a long way rewarding him with Man of the match title.

Source
Player Of The Series: Chris Lynn (Maratha Ara)bians)
Batsman Of The Series: Chris Lynn (Maratha Arabians)
In this edition of the 2019 T10 league, Chris Lynn had an average of 53.00 and a strike rate of 236.30. Chris Lynn dominated the entire season and that helped Maratha Arabians to seal the champion's trophy.

Source
Chris Lynn was Man of the tournament as he scored a total of 371 runs with four fifties. Chris Lyn hit the maximum number of 4s (29) and sixes (31) in this current season.