Great news since the last time I have posted of my own personal affairs. The last time I had talked about a committee that I have engaged in, being the bridge between the parents and an organization that would bring activities to our families and even cultural events, my plan being to bring all people; French, English and Indigenous families together.
The great news that is happening with that is I and another member of the committee has been nominated to becoming co-president. This will bring on a lot of new objectives, exciting times and great experiences along with being trained in many different workshops that will benefit in other work areas. This also means that I could be in provincial meetings where I get to have travel expenses paid for (Perhaps something farther down the road if I can climb the ladder high enough) and the even more exciting part is that I would get to work with Indigenous groups. This is huge! We are too separated from one another in this small and tight community. Time to make it work and for people to learn about the First Nations people and their culture with the utmost respect and understanding. There is a lot to look forward to here.
The next thing that follows that is I was able to talk with our Mayor, explaining what I now do, what I plan on doing and where I am heading. He has mentioned that I am welcome to talk about the committee in their organized activities along with becoming a representative during the council meetings. Ya, that, here, does not happen to just anyone. So much is happening and its great growth for me and this tiny little town.
Next thing...
I feel like I need to put a little word out for something that is happening. There are so many things happening in the world, it gets kind of hard to pin point where our attention is most needed. Now there has been huge destruction happening in Australia. And a lot of attention is on that. It absolutely needs to be! They need help, like all hands on deck.
But for me, as a person with limited ways of helping, there isn't much I can do, apart from raising awareness and....also telling people they are being stupid when they think big companies should help their own town first that is not burning to the ground, before helping another that is in dire need.... another story.
Anyways, I'm derailing here of what I want to talk about... For those of us that want to help people in some way in even the tiniest gesture, we can look for whats going on around us... Or in my case, further north.
OMG WHAT IS FURTHER NORTH THAN I AM???? I mean I already get -40 celcius and then some (except this winter has been miraculously warmer... our coldest being -35 a couple of times... we usually get that steady around christmas and after till about March.) Why, it's Nunavut of course!
The Inuits are having a hard time. Basically the colonials, like many other Indigenous people across the world, have ruined their lives and culture, making them become dependent on systems that are costing them immensely. They are hungry and they are asking for help. Families are asking for sponsors to help them with the simple basic needs so they can afford to buy food.
Their communities consist of 1 store and the items are unbelievably expensive. Here, we can all afford minute rice for, what.... $5? How much do you think they have to pay for rice?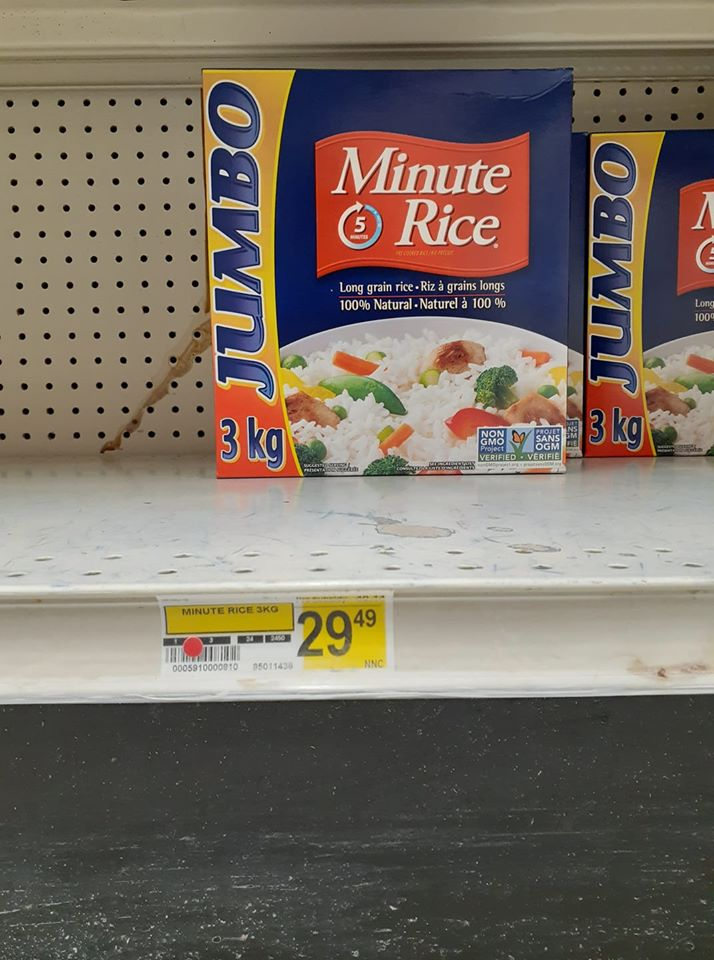 This picture was taken by Sheila Arnauyuk at their local store in Gjoa Haven. (https://www.facebook.com/photo.php?fbid=10156643861567007&set=gm.2446377938823887&type=3&theater&ifg=1)
Still not quite sure if this is real? How much do you think they would pay for asparagus in this case?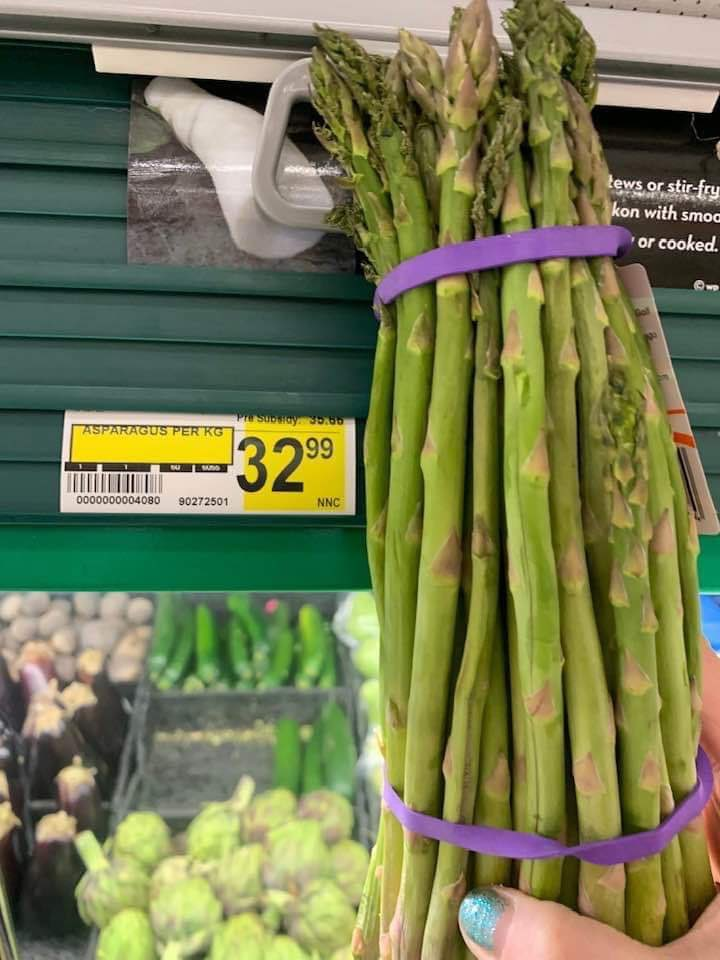 This image was taken from this link https://www.freshdaily.ca/food/2020/01/costs-asparagus-canada/?fbclid=IwAR2pZrrTWa5cGPIQJLAyYNyiSehIIsG4tRfVKyWMkwE_jmgYP6rTL3YRSvs and inside that article shares a tweet from the person who originally talked about it.
Really worth checking it out. These families are starving. They can't afford to buy potatoes because the price is so sky high and half the bag is rotten because of the time it takes to arrive there and its so cold.
So these people have no choice to eat things that we would consider unhealthy, like boxes of mashed potatoes, sidekicks and so on.
So I put my name out to sponsor a family. I was given the information that there are families that have been waiting 5 years and more to receive help. It's devastating and heart breaking. Our own country is starving people after they ripped them everything they had. And so as a Canadian, I feel like I need to help our fellow sisters and brothers in the north.
I was quickly given a small family of 3. A single mother and her 2 children. It is all I can afford to help at this time. All she is asking for and many others have asked for the same thing, is stuff like shampoo, soap, shavers, sanitary pads, school snacks for the kids lunches, little things that should be affordable, things we, here, could buy at the dollar store that are too expensive for them. Things that everyone has a right to have. It just blows my mind at how the basic necessities are untouchable.
Once I received information on the family, I was out the door next day to go shopping for them. Oh I was excited and determined. It was even hard to control what to buy as not to go over budget, make sure I can fit everything in the box to ship (there are 3 sizes of flat rate shipping boxes we can purchase at the post office. I was able to get the medium for $25) and make sure they are the right items, hoping I can send a little extra to the kids to make them happy. The extras I sent were paper pads, fun pencils they could use at school and valentines day thing they could share with their friends. Over there, they may not know about V-day. It's not in their culture, but it is something they have never seen and could be so exciting, new and different. We will see if they are interested in this things and if not, that's ok too. There are other things I could send out to the kids :D
It takes about 2 weeks for them to receive the box, so I am anxiously waiting to get news from the family. One of the kid's birthday is coming up in February, so I am hoping I can send a small box out within the next couple of days. Cake mix, a little extra gift and something else that could go in there to help them out.
It is not required to help monthly, actually they only ask us if we can send a minimum of 4 times in a year. In my own opinion, that is not enough but I do have to be very careful in not getting carried away with helping out the family so that I don't get into financial troubles too. I have done that before but at that time, I didn't have kids.
If you are interested in helping out a family here is a Facebook group that you can ask to join and become a sponsor, and if you are interested in helping but not become a sponsor, you can do that too. Just talk with the group administrator.
https://www.facebook.com/groups/HelpingOurNorthernNeighbours/
There is always someone in need in this world. A helping hand can be offering someone an ear for a moment in a day, handing out a blanket to a homeless person, or buying them a $3 burger from Mc Donalds, or even offering to give a mom and/or dad a break by taking their child for a few hours so they can sleep or catch up on errands. Give out a helping hand, it'll definitely make you feel good ❤✌🌹