Howdy,
This was the view out at Minneopa State Park, near Mankato, MN, on Thursday. The bison herd was lazily grazing in a sea of yellow wildflowers. The enclosure consists of a relatively large piece of prairie with a gravel road winding through it. There is a cattle guard at each end that keeps the genetically pure animals from escaping and hybridizing with non-bison bovines. I've come to refer to the enclosure as the Minnesota Safari.
[


](
)
It's amzing how such large animals can hide in the tall grasses. Sometimes, I'll drive through and not even catch a glimpse of them. Even with so much contrast, they can be hard to spot laying down. In this section, though, the wildflowers weren't quite tall enough for them to escape notice. Even if they hadn't been close to the road, they would have stood out.
[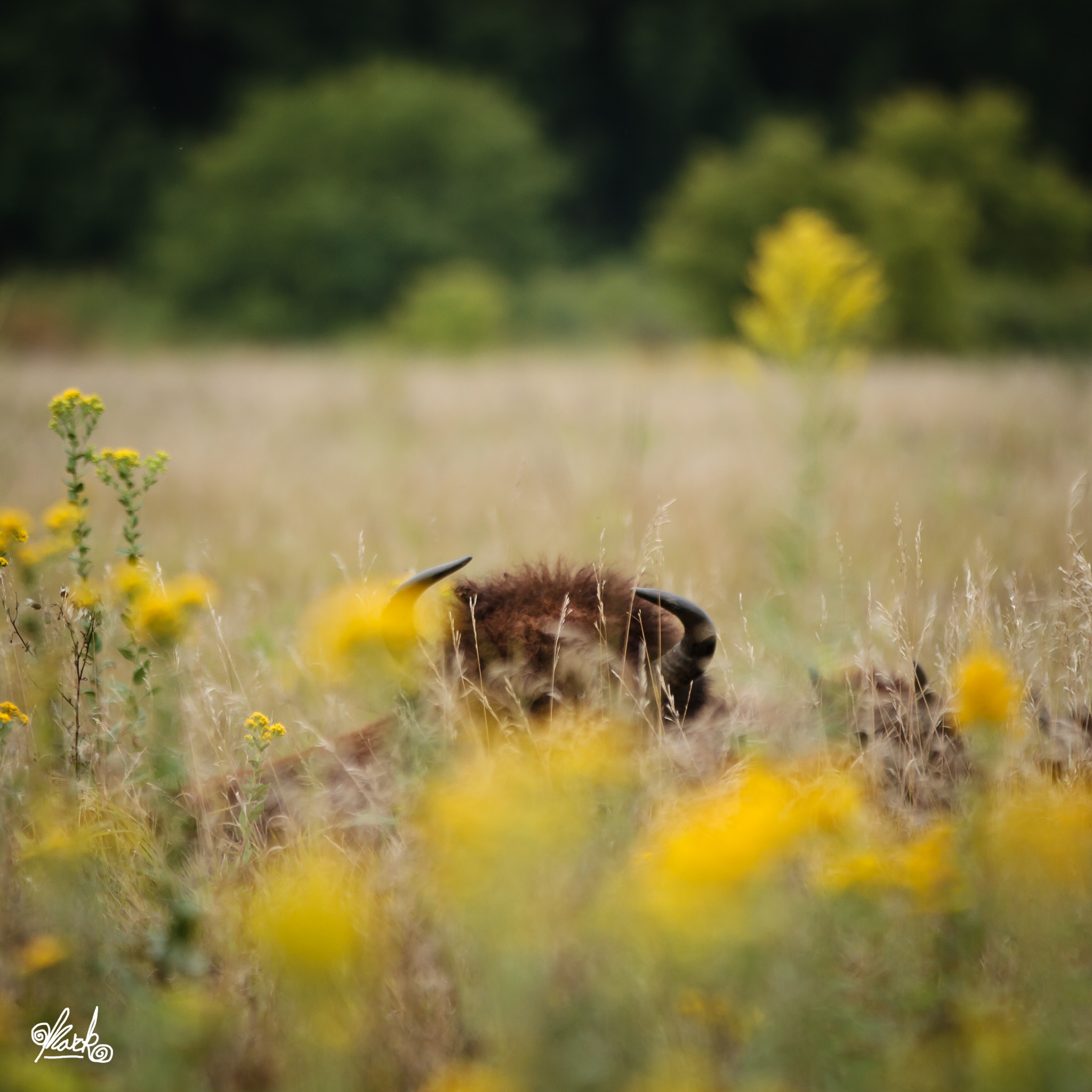 "You can't see me!"](
)
Some of them started to mosy over toward the road. That's when I noticed the line of cars that had pulled up behind my vehicle. I was actually parked on the wrong side of the road and looking through the 70-200mm bazooka of a lens, so I hadn't noticed the arrival of so many additional vehicles.
[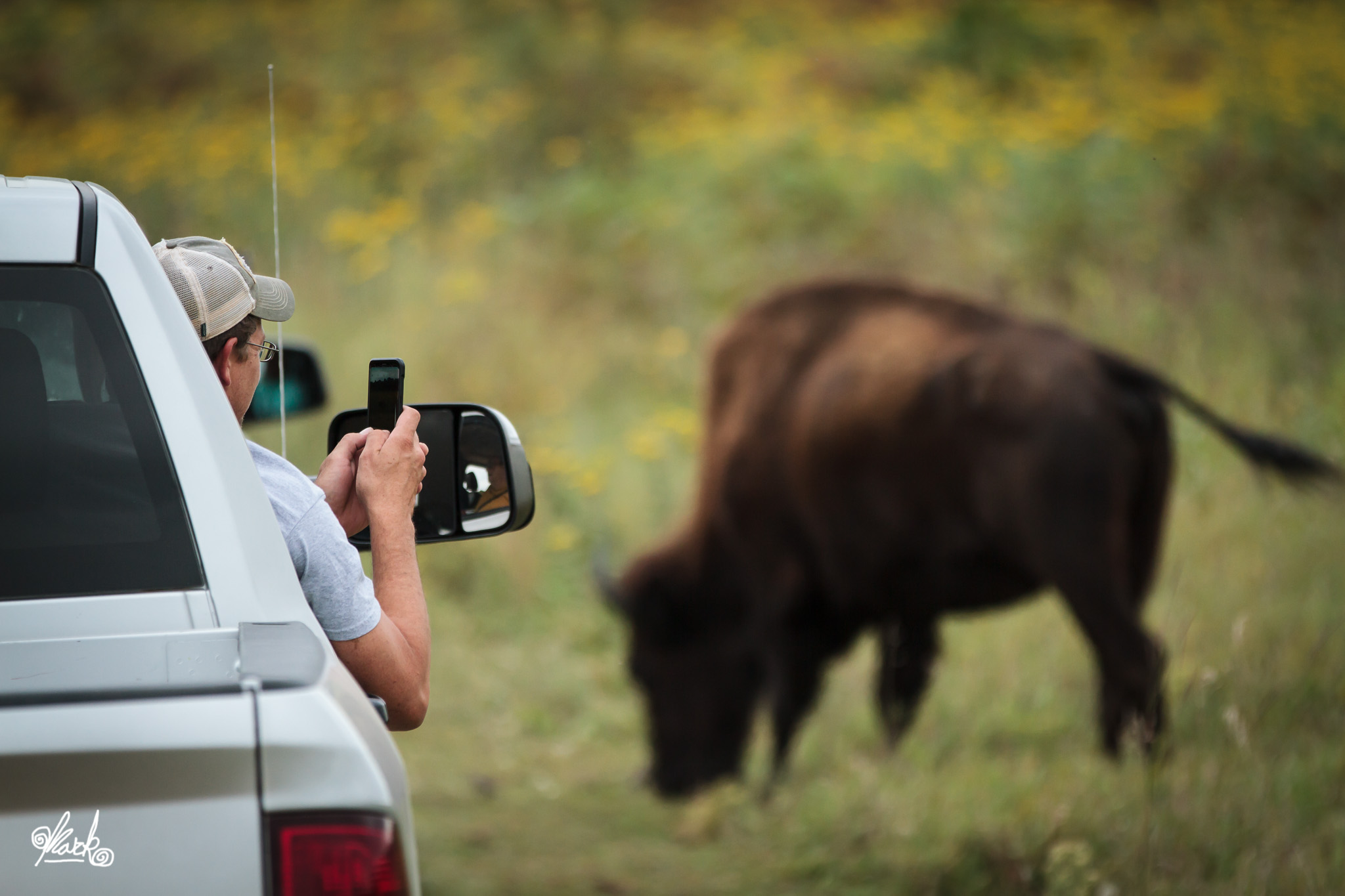 Minnesota Safari "Photographer"](
)
Earlier in the year, I hadn't seen any cowbirds. They were definitely around on this evening, though! These little insect-eaters evolved to follow the bison herds across the plain. One of their nastier adaptations is that they lay their eggs in other birds' nests. Far from being a daycare situation, the cowbirds will out-compete their "siblings" for food.
[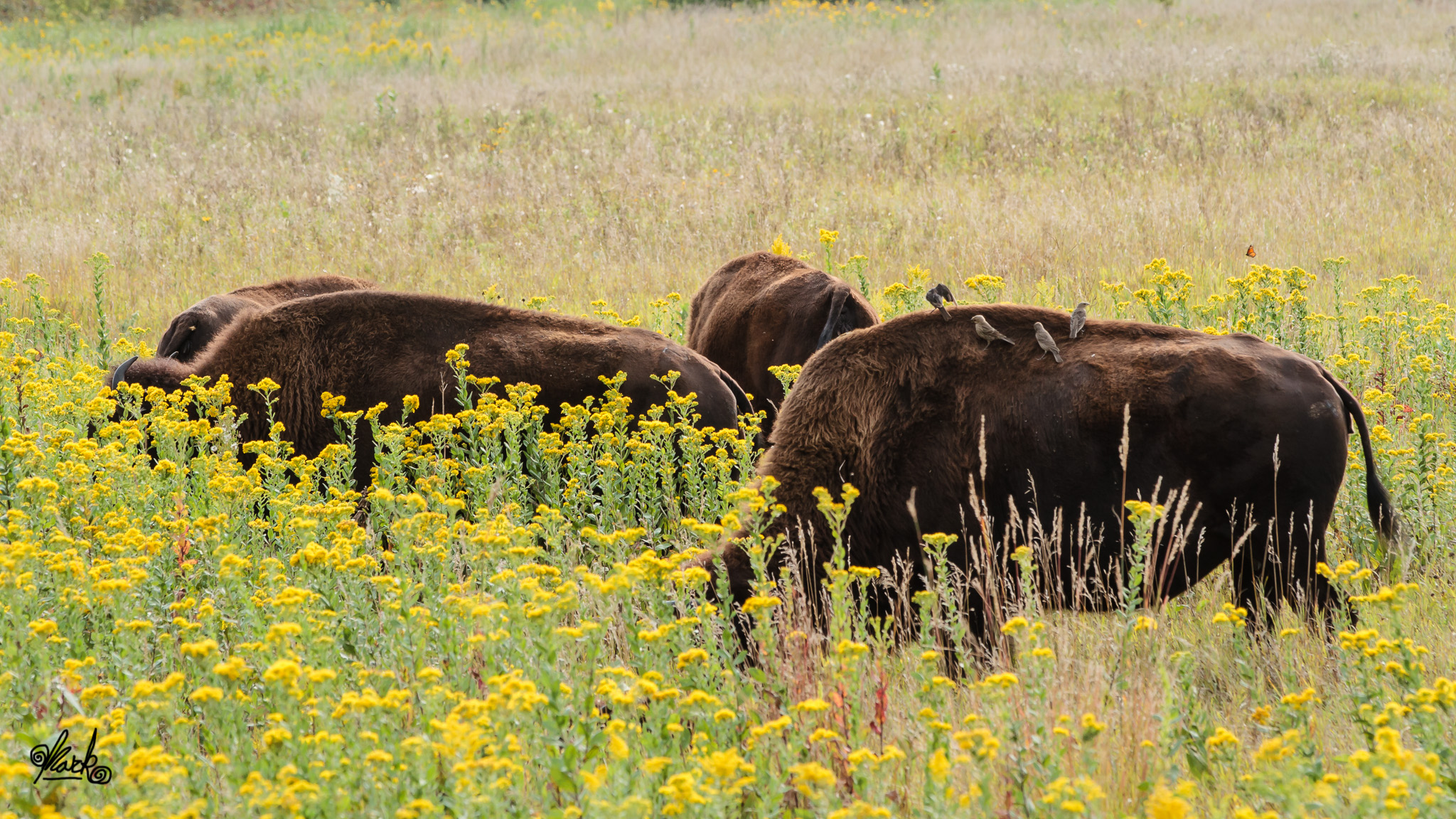 Cowbird Public Transportation](
)
There was another clump of bison in a slightly less floral spot, lying low and seeming to just enjoy the cooler weather. One or two did the "bison flop," though, so the flies must have been pestering them a bit.
[


The "Clique"](
)
For reference, here's what the "bison flop" looks like. They flop onto their sides and roll a bit, kicking up dust. If they're lucky, they might squash a few of the pesky insects in the process.
The photo was taken on a different day, in difficult lighting.
[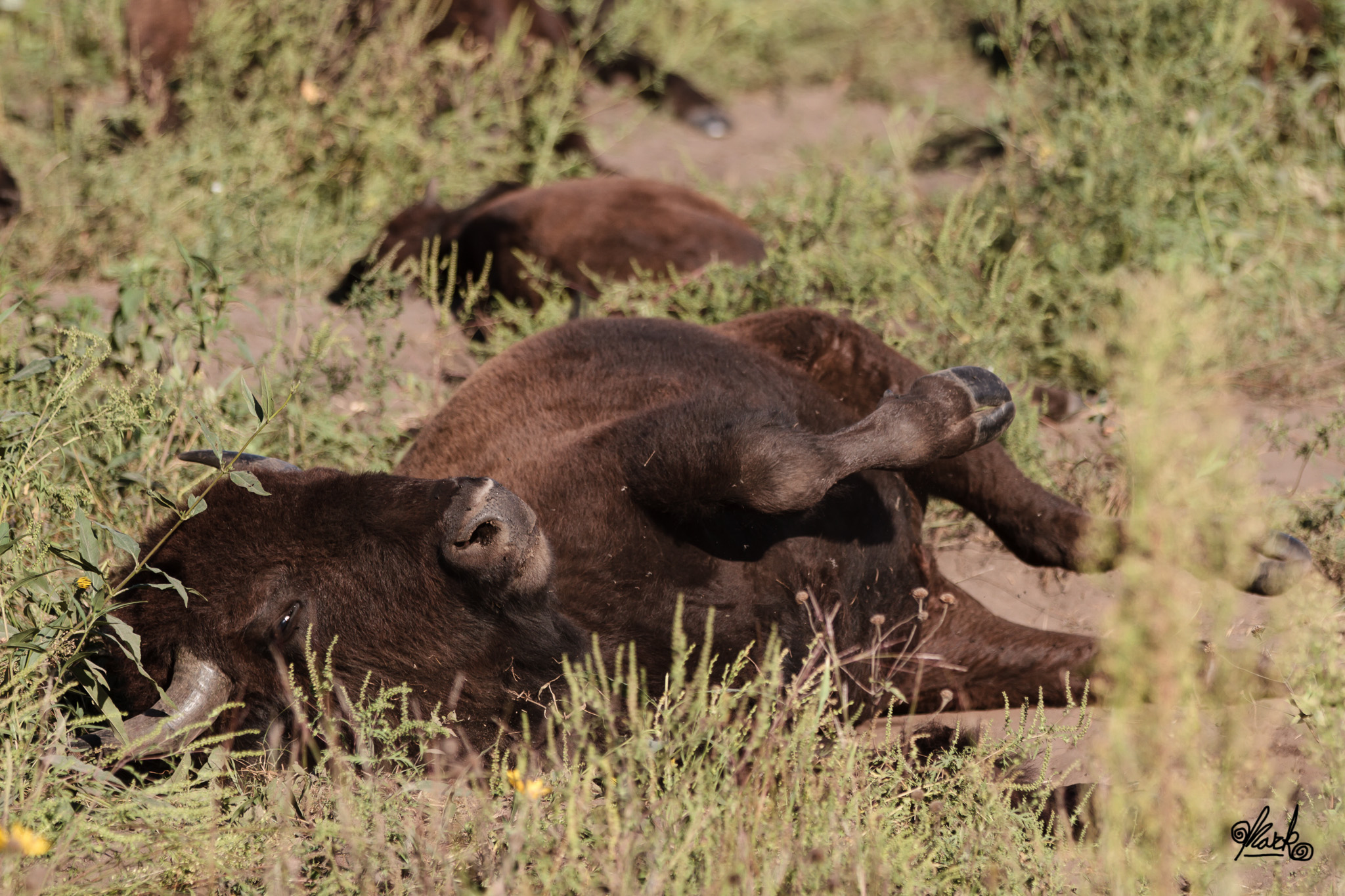 Does NOT Want a Belly Rub](
)
They really stand out nicely in these yellow flowers.
[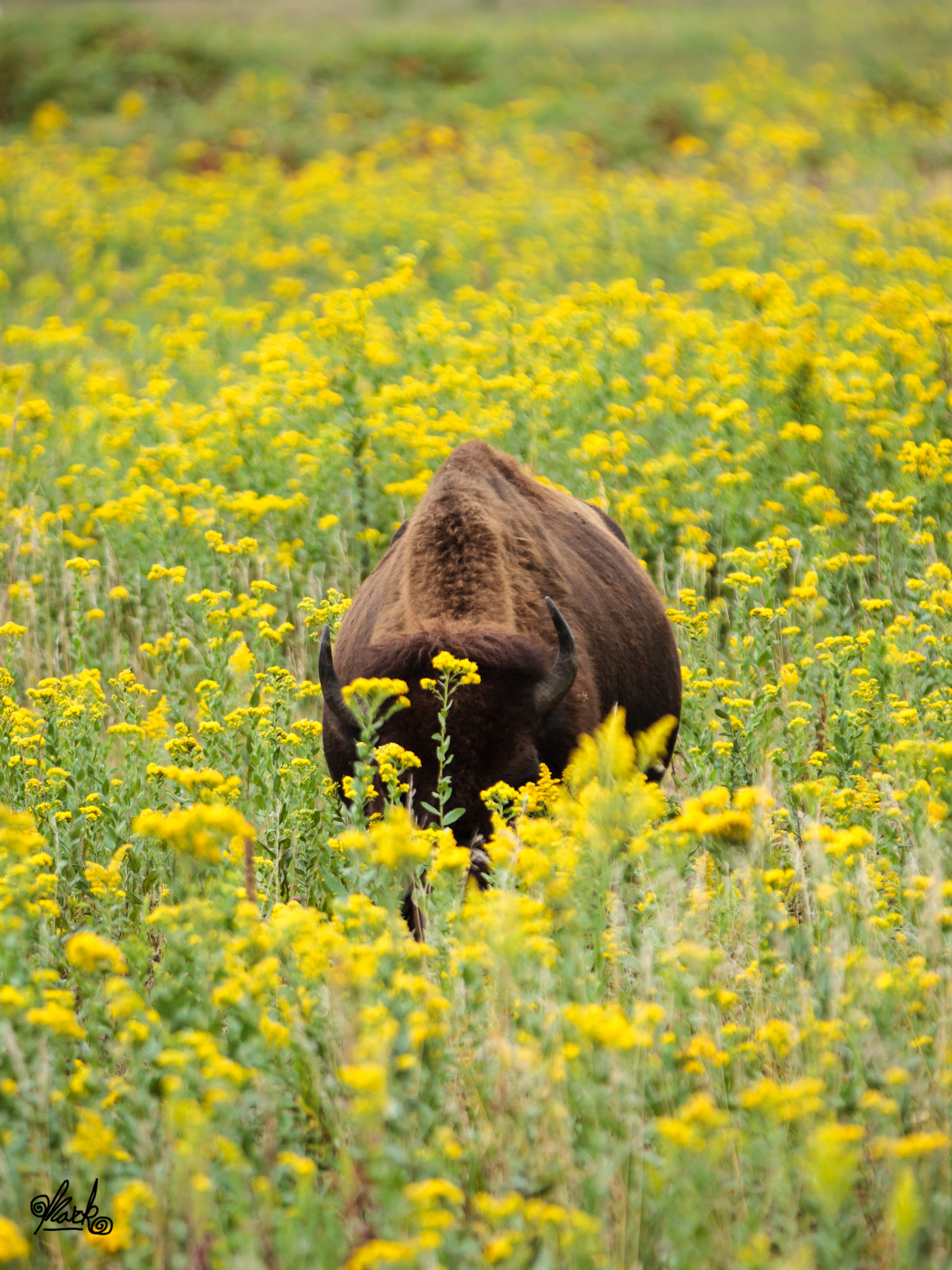 Yum. Yellow Salad.](
)
Thank you for taking a look! If you enjoy my work, please click the upvote button. Comments are also greatly appreciated.