Howdy,
It was overcast. Droplets formed on the windows, running together to create tiny streams that obscured the view through my bedroom window. A few taps on the phone, still charging on the folding table next to my headboard, indicated that the rain might let up for Herman Fest.
After pulling myself out of bed and getting ready for the day, I decided to try and walk to the coffee shop. Umbrella in hand, I set out and made it about twenty feet. My foot and ankle just started hurting for no apparent reason Thursday night and, though the swelling and pain had subsided, it wasn't up to the task.
Despite the morning's gloom and rain, things were looking better around noon and I decided to drive to New Ulm and see if the festivities were, well... festive. The rain mostly dissipated for the afternoon's main event and the music with live cannon fire went off without a hitch.
[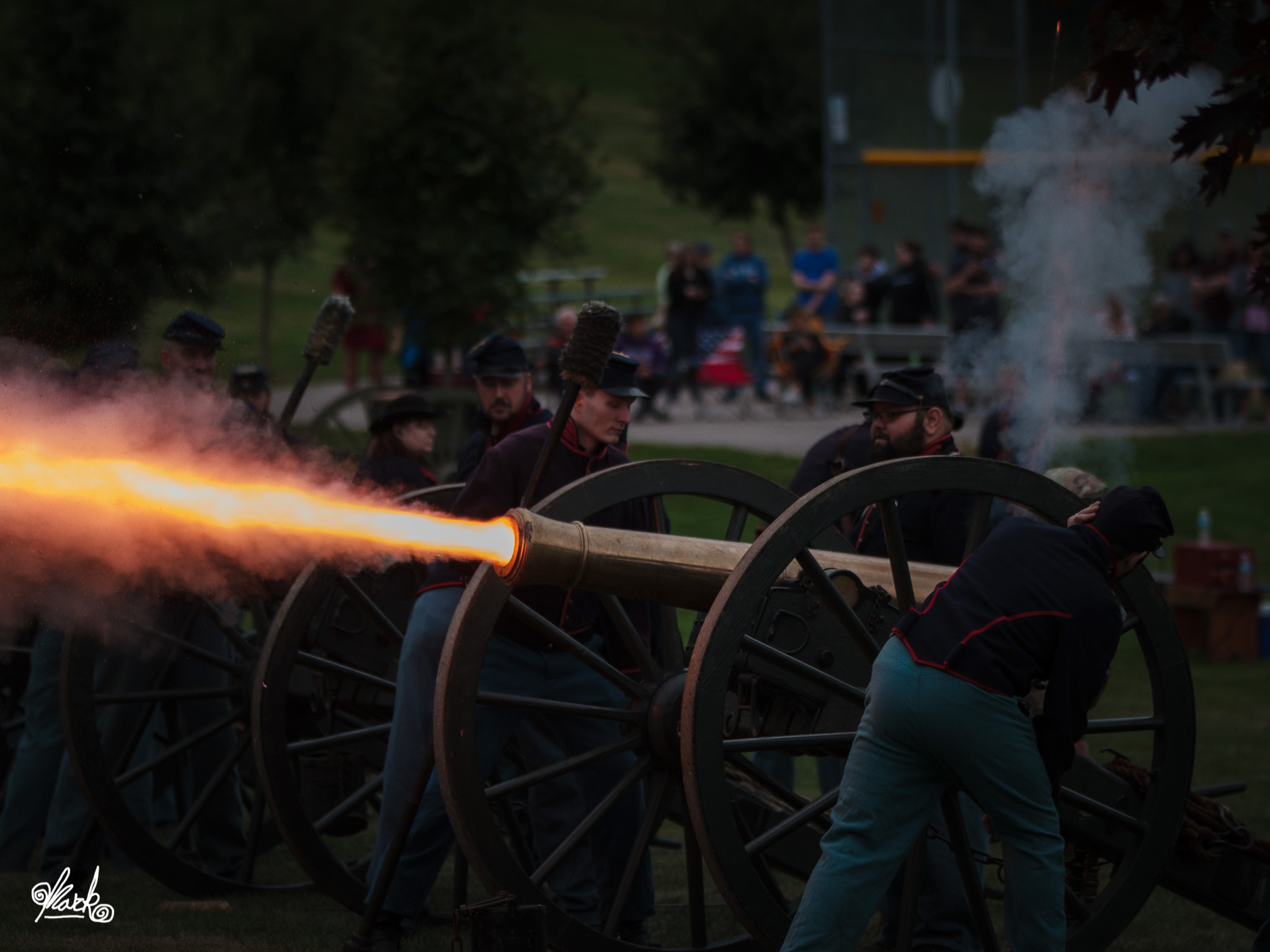 Defenders of the Ball Field](
)
After walking up to the Herman Heights park and climbing the Herman the German monument, I walked back down the hill to get some photos of the concert. There were a couple other photographers where i was planning on getting photos and we ended up chatting for awhile.
One of them told a terrible photographer joke: "What's the difference between pirates and photographers?"
[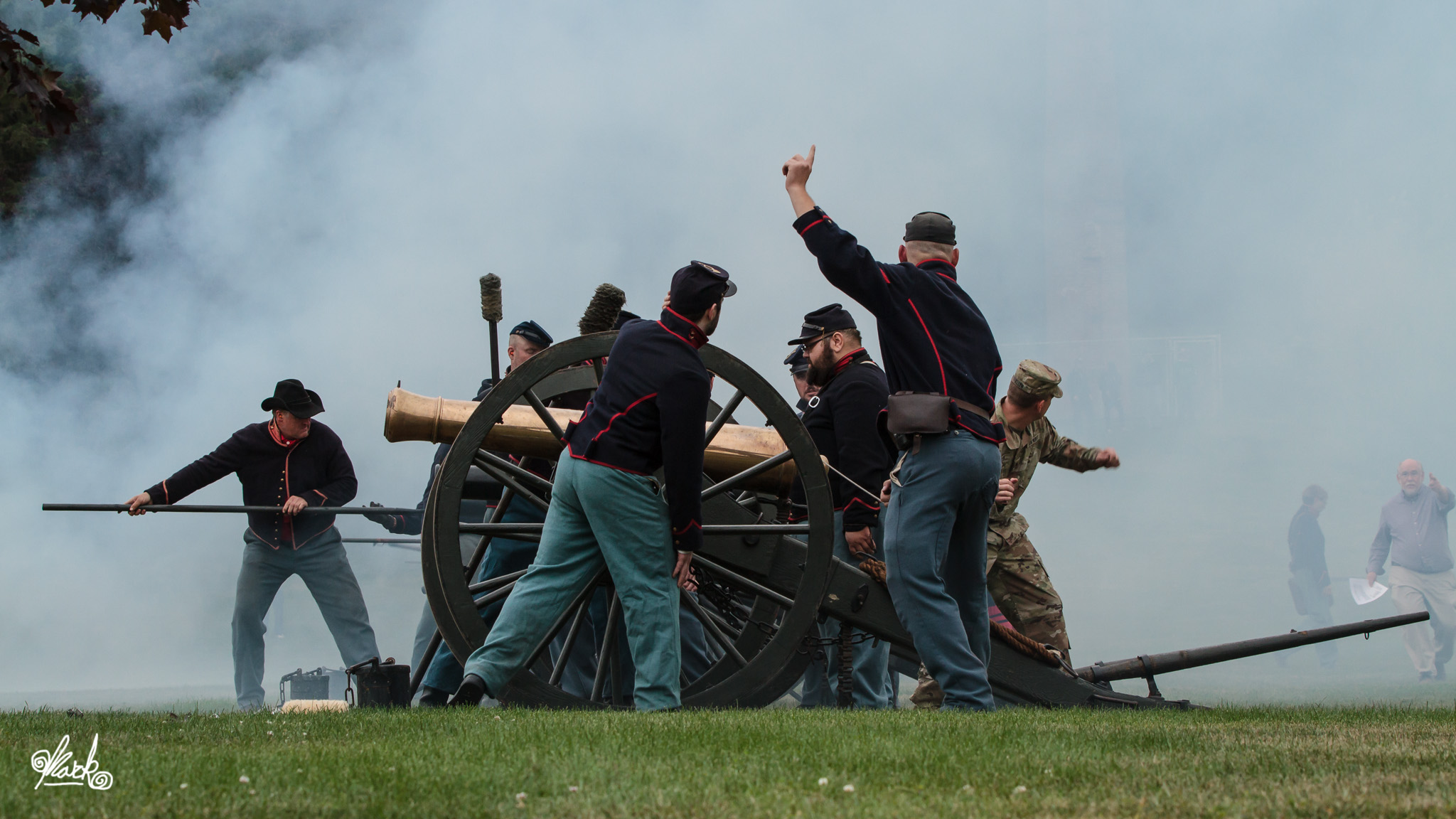 "Look! An eagle!"](
)
My vision isn't the best in the world, but I was actually able to keep track of the guy signaling when to fire, this year. It makes timing the canon fire a lot easier. Dressed in a gray outfit, he goes from cannon to cannon armed with sheet music. Apparently, he's a munitions and percussion specialist. Unlike the guy pointing at the sky in this last photo, when the signal guy raises his hand, the entire team looks tense.
... with good reason! The first blast was so loud, I jumped! I wasn't the only one. Even knowing it's coming doesn't prepare you for that first blast! Another of the photographers got a great photo of the grass!
[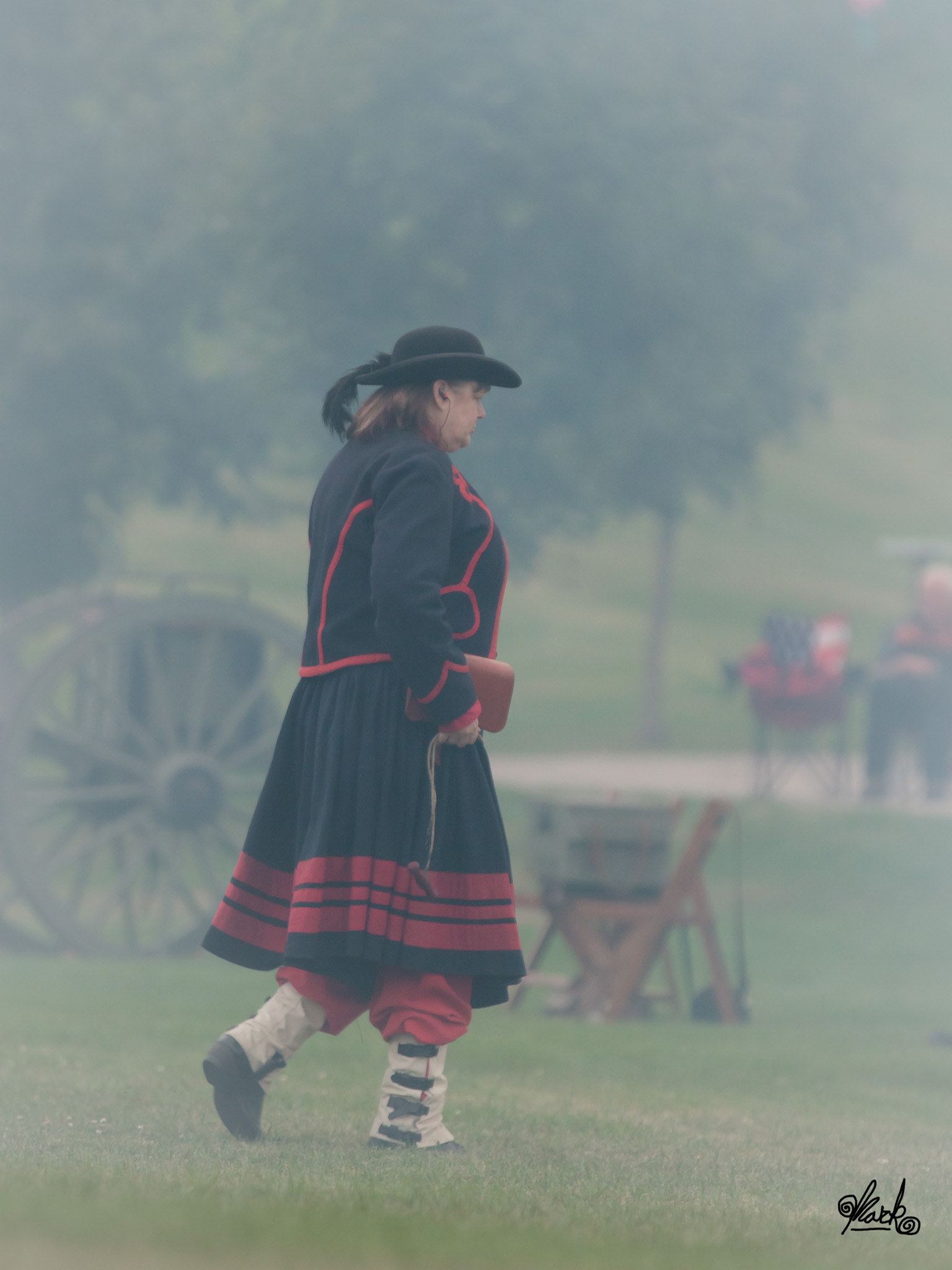 Nice Outfit](
)
This guy's role was a little unclear. He seemed to walk between the cannons and musicians a lot. I was hoping to get a photo of him coming toward me in this spot, but the smoke only worked out in this particular instant. What's with that right sock?
[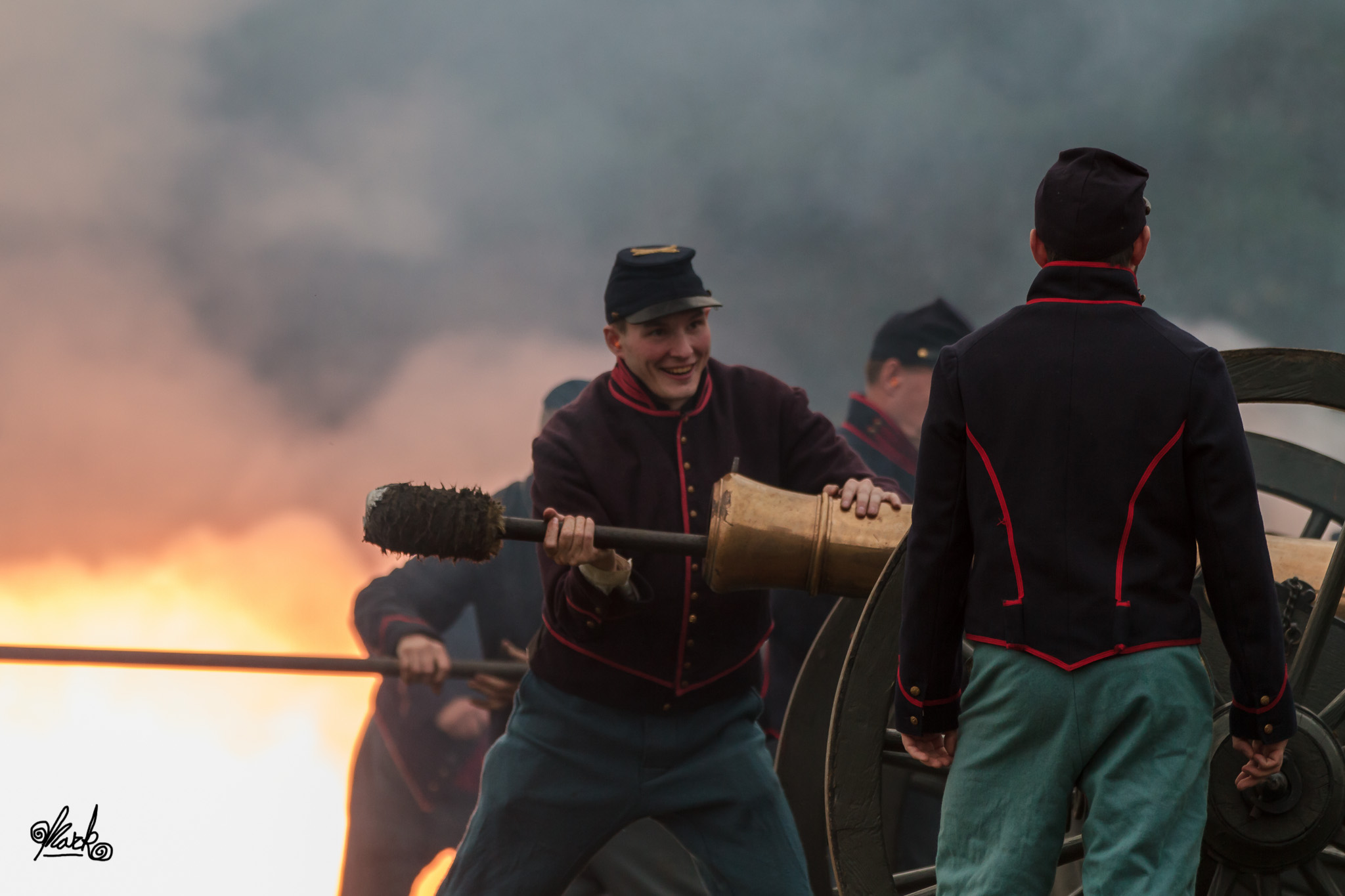 When You Love Your Job](
)
This kid was having a blast! (Sorry about the pun!) Seriously, though, he seemed to be having a great time with the cannons. Then again, playing with a piece of 19th-century artillery does sound like a lot of fun. I was focused on the cannon, but he's still in decent focus.
[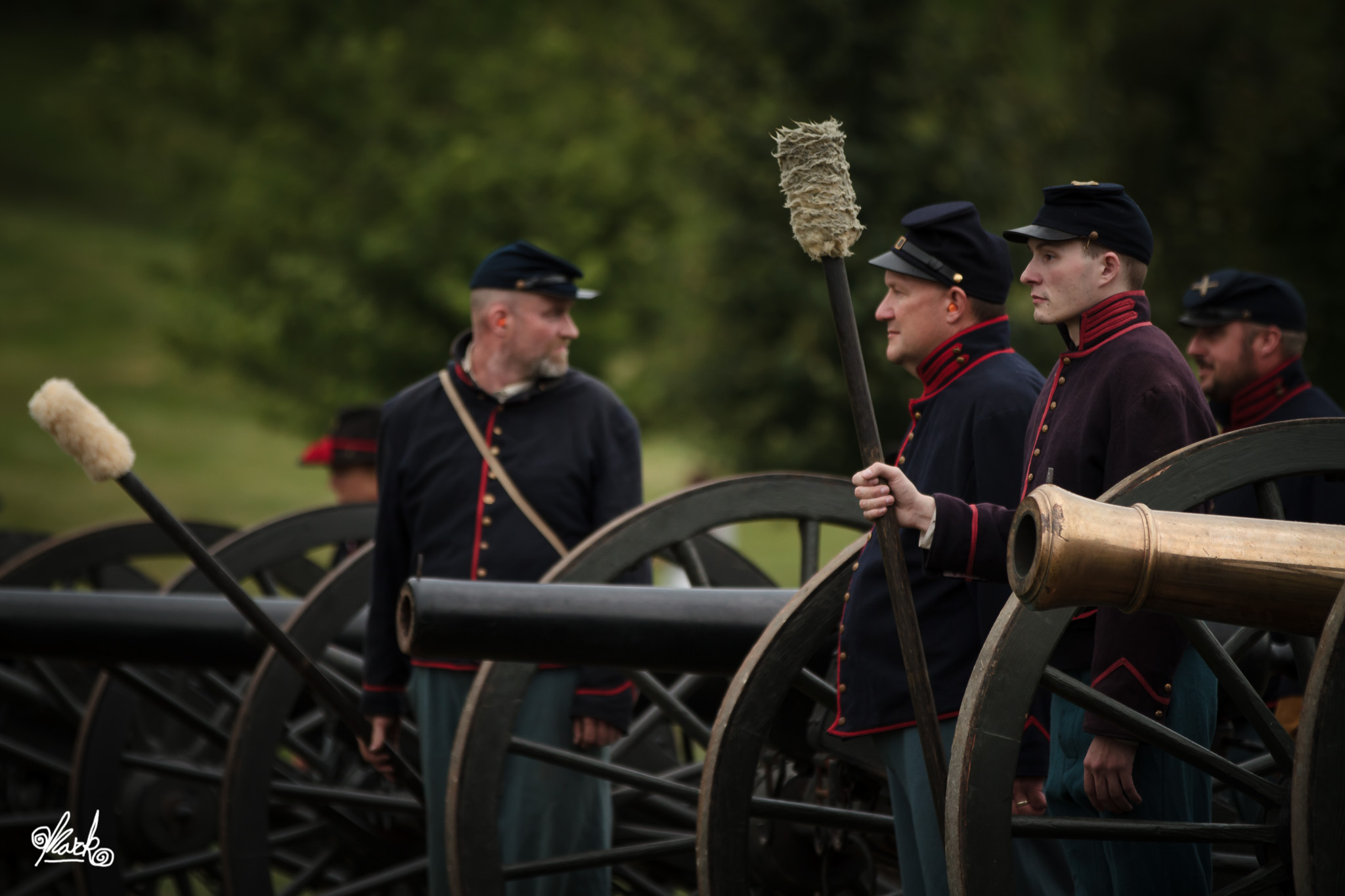 Waiting](
)
This is one I took before things got loud. They were still pulling cannons onto the field with four-wheelers at the time. The combination was a little strange to behold.
[


Home Team Advanatage](
)
Deciding not to stay for the fireworks, I headed off toward my distant Jeep. Surprisingly, walking around in hiking boots actually seemed to improve my foot and ankle. I would have stayed longer, but had to make the trip back to Rochester, MN this morning. I'll be watching Vern (my parents' dog) for the week, while trying to find work. I will also be setting up an Etsy store, or possibly go through another site, while I'm home. If I can sell prints, maybe I'll make enough money to warrent upgrading my camera some day.
Thank you for taking a look! If you enjoy my work, please click the upvote button. Comments are also greatly appreciated.
"Pirates shoot Canons. Photographers shoot Nikons."