Ghana is a frustrating country for photographers. Here, you'll find some of the most spectacular photo opportunities in your entire life … but you'll also find a people who are extremely reticent to have themselves, their families or their homes photographed. We got yelled at so many times, that we eventually adopted a policy of not bringing out the camera, unless it was absolutely clear that taking pictures was going to be cool.
Further down this post you we also posted more than a handful of gifs, giving you a true slice of life and our time in Ghana. It is true that a gif says more than a thousand words. Once you scrolled through all of them you'll pretty much got a good sense of how our 3 month in Ghana was. They've been generated from our videos and if you see a gif which interests you, you can find the full length video on our Ghana Playlist on Youtube.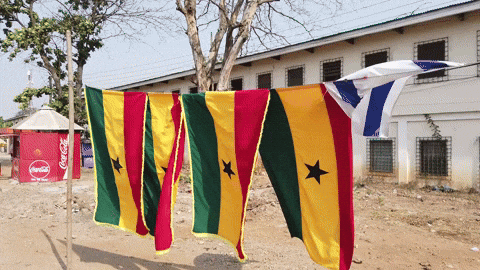 During our 3 month in Ghana we took over 10,000 pictures and filmed hundreds of minutes of video. Once we published our last post about Ghana (we got two more to go) we're going to compile posts showing off our best photos and we will edit two best of videos, one best of our Drone footage and one best of DJI Osmo pocket videos.
Planning to travel with your drone to Ghana and have questions, feel free to reach out to us on Discord or leave a comment. There are some tricky parts on how to import your drone and on how to obtain a drone flying license. It's not the easiest but it's doable.
This posted via our Ghana Travel Blog
Photos not published yet:
So, we don't have as many snapshots of Ghana as we wanted. Yes, we have thousands, but could have easily gotten into the tens of thousands if allowed to photograph everything we wanted to. Here are some of our favorite pics (and GIFs!) which don't fit into any of our other articles.
If Gifs are not moving, click here!
---
View this post on TravelFeed for the best experience.