Introduction
Zoom is a video conferencing application that became so popular since the COVID-19 pandemic broke out in 2020. Physical distancing became the order of the day. People avoided meeting in large groups and it became necessary to hold large gatherings virtually. This gave more popularity to Zoom video conferencing app. There are many other apps that people use to hold virtual gatherings, but Zoom has seen a great rise in the number of personal and corporate users globally, even as the pandemic continues to limit in-person meetings in various parts of the world.
Zoom - great Features for virtual gatherings
Zoom is a video conferencing app that makes it easy to hold meetings virtually. Participants can connect from different locations and are able to see and hear each other during discussions. The paid version of the Zoom app can accomodate in excess of 200 participants for virtual meetings. Zoom has a lot of features which makes it a popular choice for video conferencing. Some of the features indlude:
Audio/Video Connections: Participants in Zoom meetings are able to see live video of others that connected to the meeting. Once the audio and video connections are established, those that are part of the Zoom meeting can see each other and also talk and hear each other. This is a basic and iimportant feature of any video conferencing application.
Breakout Rooms: Zoom breakout rooms allows the host of a meeting to split the meeting into smaller groups or sessions for more personal interactions. The host can assign participants to a room or allow participants to manually join any rooms of choice. Depending on the account features, Zoom can allow up to 50 different breakout rooms. Breakout rooms are important for meetings with a large number of participants. It splits the participants into groups that are smaller in size, allowing the participants greater opportunity to interact with other participants in any breakout room.
Reactions: The reactions is a useful feature in Zoom app. It gives participants the ability to respond to the host through emojis and other buttons. For example, if a participant wants to talk or draw the attention of the host, he can use the raise hand feature to do that. Once clicked, a raised hand will appear on the screen of the participant. The host can see it and then give them the opportunity to talk. Other emojis include smiling face, like, heart, and may others. Through the reactions panel, Zoom meeting hosts can get vital feedback from participants.
Screen-sharing: This is a very important feature of the Zoom app. The host can make all the participants see what is on his screen by sharing the screen to them. Through the screen-sharing feature, the host can show participants some text, picture, play audio or even a video. This is a powerful feature which makes it easy to let participants see what the host wants them to see. Because of the importance of this feature, I will now demonstrate how to share screen as a host on the Zoom app.
How to Share Screen in Zoom
In this tutorial, I will demonstrate how to share screen using the Zoom desktop client. Its pretty the same steps if you want to share screen from a Mobile device. I have already created an account and logged in as meeting host. So lets take it up from there.
Step 1: Having Signed in, I will start a new Meeting by click New Meeting tab. (See Image Below)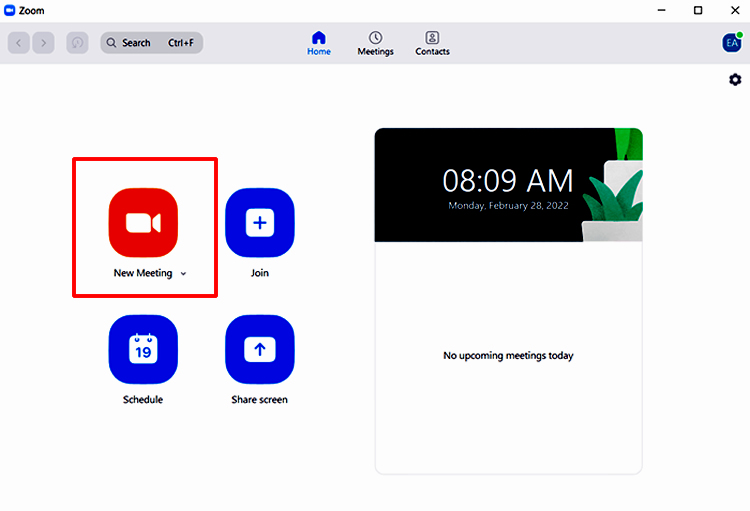 My Screenshot
Step 2: The next windows asks for audio connection. So I will click the button labelled Join with Computer Audio. (Check Image below)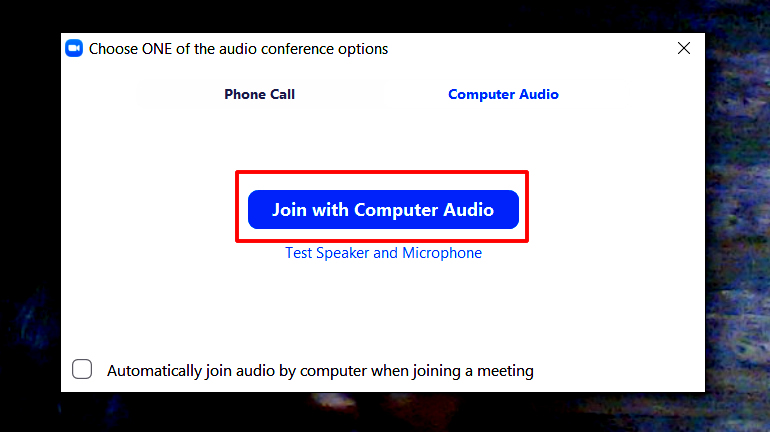 My Screenshot
Now you can see that the meeting has been Set up. For the sake of making the tutorial comprehensive, I will join this join meeting from my mobile device so that the meeting will have at least one other participant besides the host. So I joined from my mobile device. So there are two participants as show below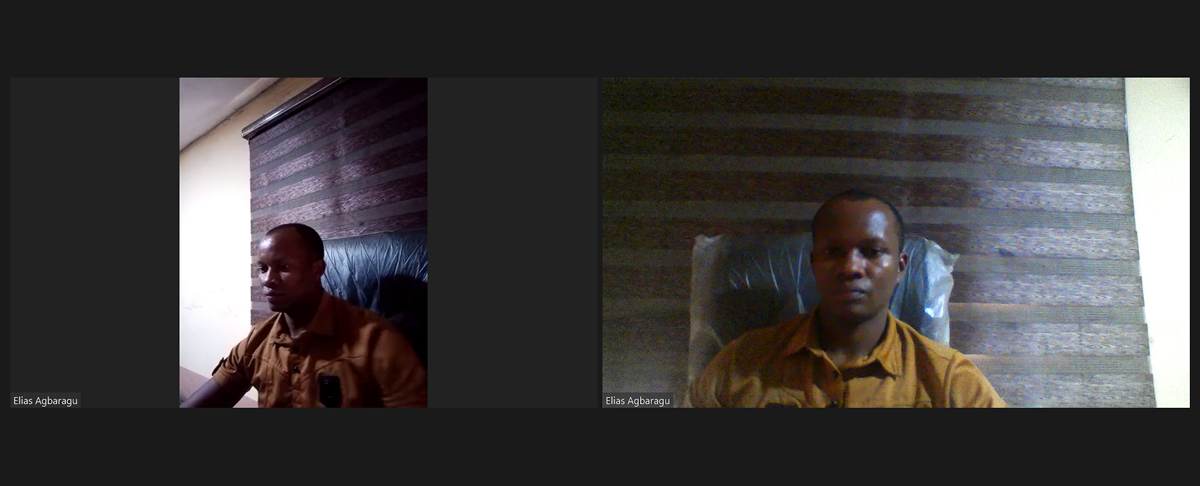 My screenshot
Step 3: I will now share my screen. I want to share the screen of my video player playing a video for the participants to see. I have already opened my video player and loaded one video which I will share with participants. Now to share, check the buttons at the bottom of the screen and click Share Screen. Check image below.

My screenshot
Step 4: The share Screen dialogue will ask me to select the screen to share. So I will click on my video player screen. Then I will check the Share Sound box at bottom left so that the sound will also be shared. Finally, I will click Share at bottom right to complete the screen sharing process. (Check image below)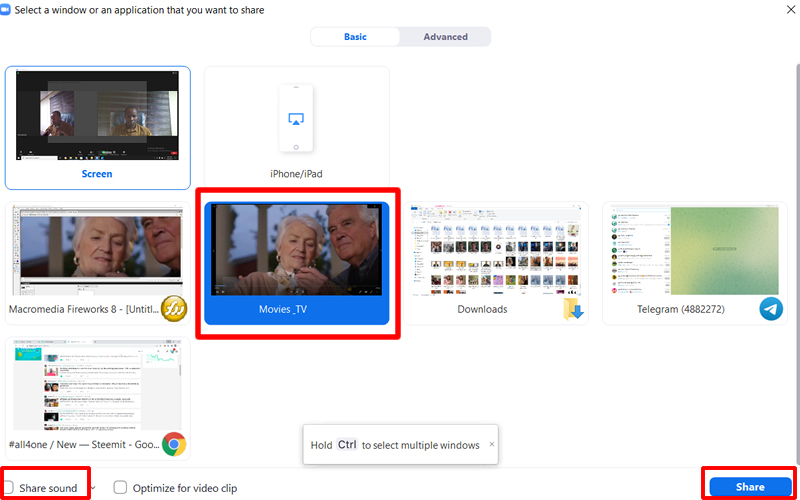 My Screenshot
You can now see below my screen being shared to all participants that joined the meeting. See below how the screen looks from my computer which is the host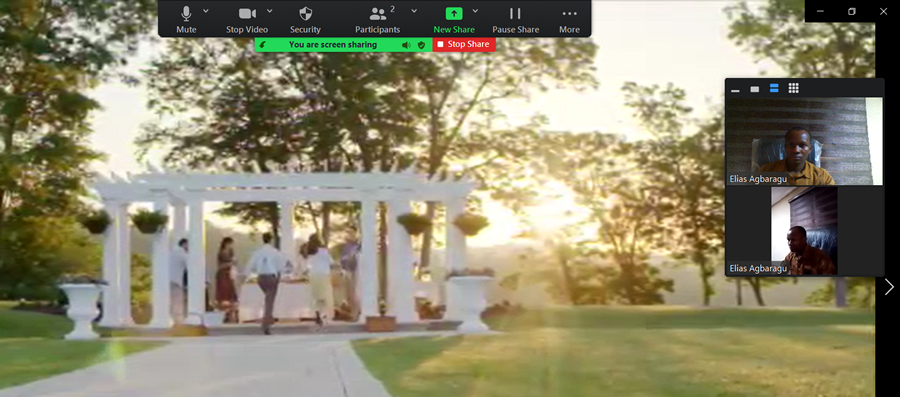 My screenshot
Now see below how the shared screen looks from my mobile device which I used to join the meeting as a participant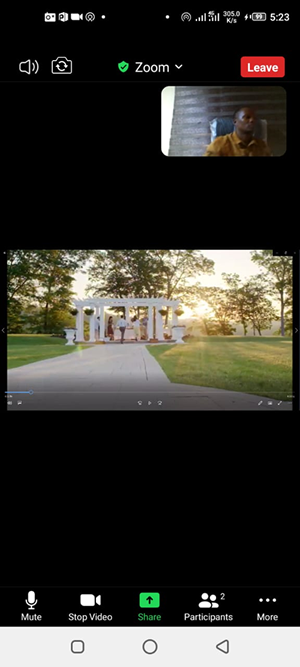 View from my mobile device
Conclusion
Zoom is a very useful app for video conferencing. Many organizations use it to hold virtual conferences. It is convenient, efficient and cheaper than hosting in-person gatherings. If you have not used the zoom app before, try it out. There are loads of awesome features you will enjoy. Of course, you wont miss that important meeting again because of distance - or COVID.
Delegate to SteemAlive

Subscribe