[LRC/USDT TRADING- BUY] Crypto Academy Trading Competition - S6T4 | TEAM REMINANE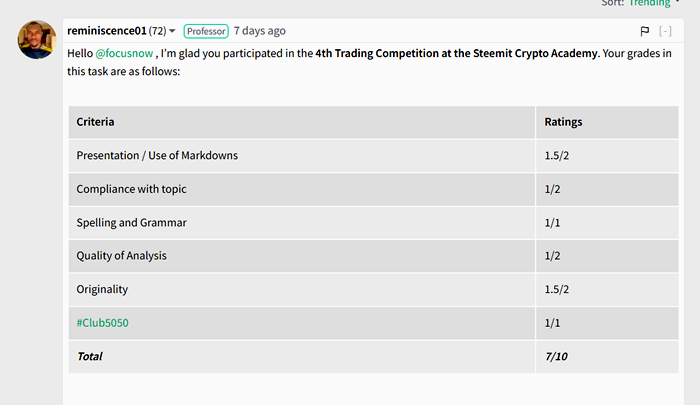 Hello friends. I hope we are all doing great. today, I'm happy to join the trading competition with TEAM REMINANE. Well! I traded the LRC in a buy position using futures. Thanks for patiently going through.

The name and introduction of the project token, which exchanges it can be traded on, project / technical information of the coin/ team background, etc.

The project token I will be sharing today is Loopring Token LRC
This is an Ethereum and Neo Blockchain aligned crypto token project that was designed for inventing other crypto exchanges and the project was founded in 2017 by a Chinese software Engineer called Daniel Wang who also serves as the CEO of the foundation. In the same year, the company was able to launch its initial coin offering (ICO) while deploying their first protocol mainnet on Ethereum mainnet in December 2019.
The main idea behind the creation of this project is to merge the elements of decentralized and centralized crypto exchanges as to sustain a protocol that will dissipate inefficiencies.
The the exchange is it can be traded on includes the following even as indicated on the screenshot.
| S/N | Exchanges |
| --- | --- |
| 1 | Coinbase Pro |
| 2 | Bilaxy |
| 3 | OKEx |
| 4 | Binance |
Some technical Information about this project
The screenshot above is a 24hrs time frame of this token and it indicates that it's price has devaluated within this period in view.
Statistical Over view of this token

coinmarket cap
From the screenshot above, we can observe that this token has a total market capitalisation of $1.676Bn, 24hrs trading volume of $972.36m, maximum supply of 1.37Bn, circulating supply of 1.33Bn, all time high of $3.827 and an all time low of $0.01986.

Why are you optimistic about this token today, and how long do you wish it could rise?

I'm optimistic about this token because it is currently in a region where traders could buy a reasonable quantity of the coin and then hold till the price rises to the point they could make an ample profit in the cause of holding it.
Although it is currently down, I believe that the token will rise and also keep rising once it strikes a good support region which could be as a result of large number of buyers who may wish to take advantage of the low market price.

How to analyze the token? (This can be technical analysis and trading strategies learned from professor's courses) - This section is very important.

There are basically two ways of analyzing a token and they are technical and fundamental analysis. But I'll be analyzing this token using technical analysis by specifically deploying MACD, and RSI in 5min time frame using a buy option.
Now using the MACD, it is believed that when ever the upper chart is in dominance, this indicates a short bull or the beginning of a true bull trend. On the other hand, when it's lower chart dominates, this indicates that there is a devaluation of any asset in view or that a real bear trend is about taking place.
Moreso, using the RSI for instance, it is believed that at about 30% and below of its movement, a bullish reversal should be expected within a short period. And around 70% and above of its swing, a bearish price reversal should also be expected.
Finally using the explanations above, I usually initiate market entry when the MACD is taking an upper dominance and exit when it starts depleting. I also make my entry when the RSI has gone below the 30% region and started coming up again and then take my exit by carefully observing the MACD using 5min time frame and this we will be observing as I practicalized it below.

Binance
Nevertheless by observing this market, I noticed that it has already gone so low and the MACD was taking an upper chart dominance while the RSI was also taking bull. First I entered using 1min while my risk rewards positions at 1:1 and then after the trade has gone so high, I then turned to 5min time frame to observe whether the trend will still continue, happily It was still on till it was able to fill by order. And all these are indicated in the screenshot above from the point I marked entry and to the point of exit.

Your plan to hold it for a long time or when to sell.

I never intended holding this token for a longer time since I'm currently trading on futures with a high leverage, but I sold it at the point my deployed indicator signalled a downtrend action.
Trade position
The screenshot above indicates my trade position while I was still on active trade with 18%profit
Trade History

Binance
The screenshot above also shows my trade history specifically my point of market entry and exit and other market occurances.

Do you recommend everyone to buy this token? Give reasons for your answer.
Any other thing you might want to share about this coin/token.

I'm not really sophisticated in trades but with what I have observed so far from the market, I would advise spot traders to buy this token as its price is currently down and has the tendency of rising in no distance time. Moreso we can observe that the price of BTC is currently up as it is also adding some margins each day. So I believe that as it keeps rising, it will definitely affect the price of this token positively.
Finally there is nothing much about this token than for everyone to trade it with a good understanding of how the crypto market works which also has an influence on this token. So let's buy at proper market positions and sall at the appropriate time.
Conclusion
I would advise every trader to deploy a technique that is best familiar to him and not trying to learn new things that may proof unprofitable at the end of the day. Finally whether you are a future trader, spot trader or any type of trader you are, always trade cautiously with indicators and a time frame or time frames you as best use to as there is an adage that "consistency is the mother of greatness" Thanks.