[CHZ/USDT TRADING- BUY] Crypto Academy Trading Competition - S6T4 | TEAM REMINANE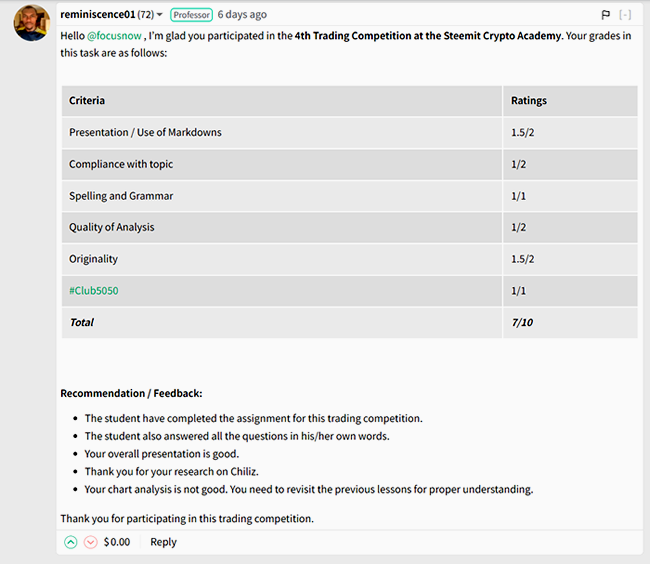 Hello Friends, it is my pleasure to participate again in the trading completion of this week where I'm trading with TEAM REMINANE, thanks for going through.

The name and introduction of the project token, which exchanges it can be traded on, project / technical information of the coin/ team background, etc.

The project token I would be sharing with us today is Chiliz CHZ
This project token was invented in 2017 by Alexandre Dreyfus, a web developer. This project is functionally a leading cryptocurrency for entertainment and sports as it enables its users to actively participate in the governance of their favorite sports. The native token of this project "CHZ" which serves as the foundation's internal currency is used in obtaining fans' tokens through smart contracts.
Nevertheless, during the launch of this token in October 2018, a total of 8.8bn CHZ was minted, and this was distributed to its early investors. Hence, a full percentage of the token was shared as follows: Strategic acquisition of 15%, 5% to the team, 7% to team investors, 3% to advisory board, 15% to marketing, user base reserve of 20%, and a token sale of 34.5%.
The exchanges it could be traded on include but are not limited to: Binance, Huobi, Coinbase, FTX etc.
Some technical Information about this token

coinmarket cap
The chart above indicates a 24hrs price movement of this token and it indicates that the price of this token has been down within the period in view.

coinmarket cap
From the screenshot above, we can observe that this token has the following statistical view. $1.827Bn market capitalization, 24hrs trading volume of $850.291m, maximum supply of 8.889bn, circulating supply of 6bn, an all time high of $0.8915 and an all time low of $0.004001.

Why are you optimistic about this token today, and how long do you wish it could rise?

I'm really optimistic about this token because of its price devaluation where many buyers can benefit from buying a larger quantity as compared to when its price was higher than what it is today. Moreso, I believe that its price will definitely rise once it hits a good support region in the market.

How to analyze the token? (This can be technical analysis and trading strategies learned from professor's courses) - This section is very important.

I will be analyzing this token basically using technical analysis while deploying two basic tools I'm well acquainted with, which are the MACD and the RSI in a minute time frame on Binance futures.
Using the MACD for instance, when its upper chart is in dominance, we believe that the asset price in view is on the increase and hence, a price decrease should be expected as it starts decreasing. On the other hand, when the lower chart of the MACD is in dominance, this means that price action has gone down within the period in view and further, a price increase should be expected as it starts decreasing and this I will be displaying as I take us through the practical aspect of it.
Furthermore, using the RSI we believe by default that when the RSI has gone around 30% of its position and below, price increase should be expected within the nearest possible period as it starts reversing to the bull again. Moreso, when the RSI is within 70% and above, a price decrease should hence be expected and finally I'll be displaying this below using a 5 minute time frame.

Binance
From my two explanations using the explanations above, I entered the market as the RSI has gone below its 30%region and then started making a reversal and also looking at the MACD, its lower chart has fully depleted as the upper chart started taking a more obvious position so I made a buy entry even as indicated from the screenshot above and finally after my entry, I set my risk reward positions which finally filled my order although I tried adjusting it while the trend was still in my favor till it filled my final risk reward position.

Your plan to hold it for a long time or when to sell.

I didn't plan holding this token for a longer period as I trade on futures with a higher margin rate of 25 adjusted level. Moreso, I laid it off as it got to my set reward position although adjusted. Nonetheless, we can see both my trade position and history which indicates the point I laid it off below.
My trade position


Binance
My trade history


Binance

Do you recommend everyone to buy this token? Give reasons for your answer.
Any other thing you might want to share about this coin/token.

Really I don't recommend a token for traders as I believe that everyone trades at his discretion but on the other hand, I would recommend spot traders to buy this token as its price has gone very low and would be reversing sooner as it strikes a good support region. Nevertheless, I would also recommend future and other riskier market participants to buy this token at strategic positions and also sell once they have made some profit against incurring unnecessary losses.
Conclusion
Finally I would advise everyone to master a particular sequence of trade patterns rather than trying to learn new strategies which may not work in the long run. More so, every trader should also try to always use an indicator and time frame that always suits his trade and if you are a high risk trader, always trade with what you can afford and endure to lose or possibly trade on spot as we are informed to buy from the deep and sell at the peak thanks.
Cc: @reminiscence01