Introduction
Goodevening friends and welcome once again to another business review post. This time around, I went to review a furniture business located in the same property as our Steemit training center. Ladies and gentle men, permit me to introduce to you Precious UB & Sons Furniture. This business is located at the ground floor our our training center building - 208 Azikiwe road Aba. I will now take you on a journey as we tour and review this furniture business.
About Precious UB & Sons Furniture
Precious UB & Sons Furniture. is a furniture manufacturing business in our city Aba. The business has been doing all kinds of furniture in the last 17 years. It has a staff strength of 6 persons and according to the CEO, they can produce 25 wooden doors per week. They work with all kinds of furniture machines and always stick to high standard furniture products. Little wonder they have clients both in the city and outside the state.
Precious UB & Sons Furniture. produces the following types of furniture
Bed
Door
Cabinet
Dinning Sets
Wooden frames
Side Stool
Desks
Recliners
Sofa
Wardrobe
Etc
When I went to their mini showrrom, I was able to see some finished furniture that has been sampled forsale or awaiting the owners to come and take them. I would like to share a few of them with you here.
Product Samples from Precious UB & Sons Furniture.
I captured the following samples from mini showroom
1. Center table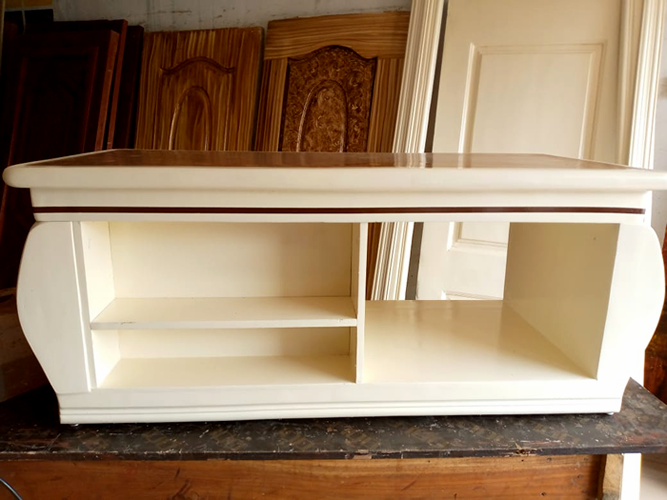 This was the first product that caught my eye. This center table has a rich cream color. When I asked aboutthe wood used in making this table,I was told its red hard melina wood. Its a high quality wood for this kind table. This particular table was waiting for its owner. When I asked about the price, I was told it costs NGN22,000 (95 Steem). The price is very nice for the quality.
2. Door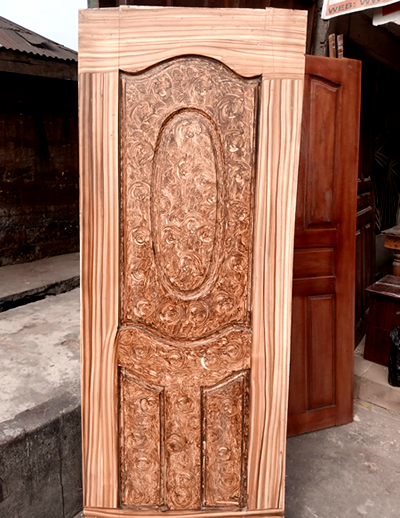 This door is prominently displayed so you can appreciate its beauty and quality as you walk into the showroom. I was told it was custom-made for a customer that lives in a nearby city Port Harcourt. The door is made of solid wood and spray-painted to look this nice. They said it took just 48 hours to finish producing this door from scratch. The cost of each unit of this door is NGN18,000 (78.2 Steem)
3. 3-in-1 Detachable Sofa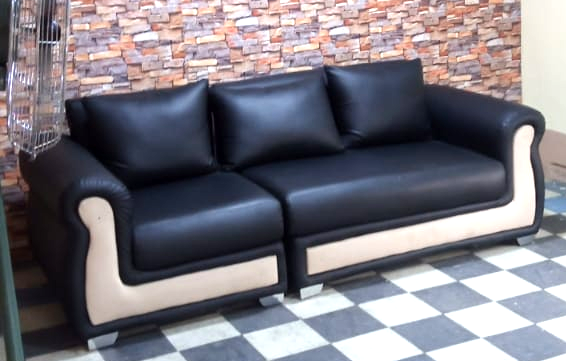 Have you seen this sofa before? Probably. This is the Sofa in our Steemit training center. Remember I told you that Precious UB & Sons Furniture share the same office facility as our Aba training center. The CEO of this business is a great friend of mine. He made this sofa for us last year (2021) May. I went for the best in wood and leather. This sofa can be detached to form 1 single and 1 double sofa. If you watch closely, you can see the lines. I paid NGN120,000 (521 Steem) for this 3-in-1 detachable sofa, with 3 pillows. Nice price for a high quality office sofa.
4. Home/Office Drawer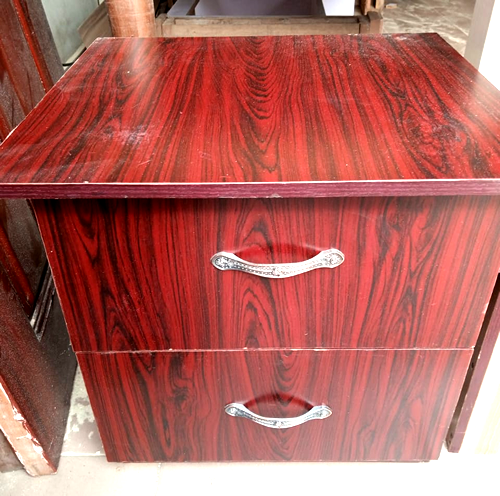 Another quality product on display at Precious UB & Sons Furniture showroom. This drawer set has two drawers and is suitable for all your small belongings like keys, calculator and cash. The drawer has a smooth and seamless finishing, bring out the beauty and elegance of the work. This drawer set goes for NGN12,000 (52 Steem)
5. Door Designs
This furniture business makes lots of doors. I was fortunate to see this two designs on display here. Like I said earlier, they make upto 25 doors weekly and supply. So its not a surprise if they have so many different samples. The two above are just a few of the samples on hand. I was reliably informed that this particular design door costs NGN17,500 (76 Steem). I can say this is really a competitive price.
6. Sidestool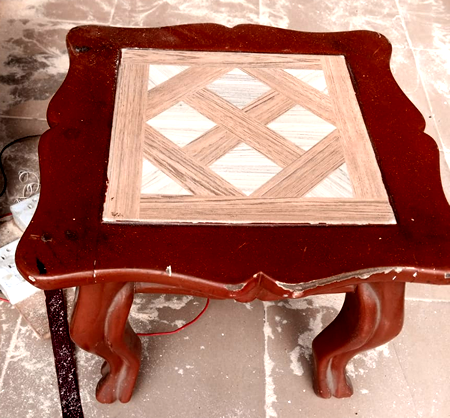 This sidestool is waiting for the last finishing touch to remove the few scratches you see here. The design has a marble top, which makes it very smooth and great for dropping items on top. You can order a set of 3 or 6 sidestools per customer request. Each sidestool is about NGN3000 (13.04 Steem).
End of the Review - Meet the Spray-Painter
The sales girl helped me to do this tour. But unfortunately, she had to attend to something outside the showroom which made her unavailable when I needed to take a selfie with her. However, i was able to capture john, one of the spray-painters as he worked on one of the doors. Because of work rules, he did not agree to face the camera. I was able to capture him doing his work.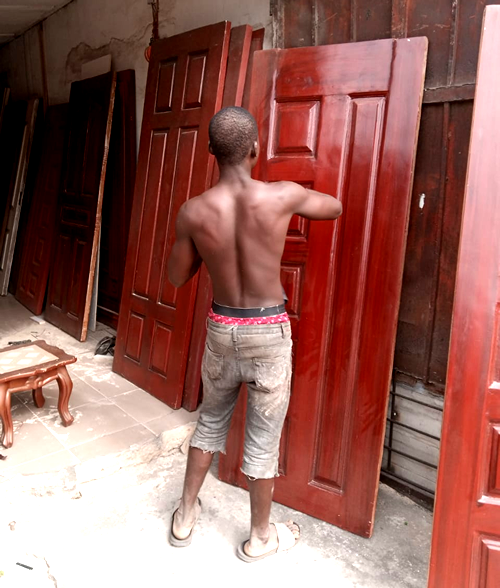 Shot of John the Spray-painter*
Conclusion
If you need any furniture products or services anywhere in Aba and beyond, I would be glad to recommend Precious UB & Sons Furniture. They are known for high quality products and service delivery. I appreciate their competitive costing which makes it possible to get their services and products at pocket-friendly prices. Am sure you would like to patronize them, would you not?
Note: All Images are orginal and captured from my Infinix S5 mobile device.