Introduction
Its time again to take you on a tour of a local Jewelry Dealer in my City Aba. Friends, I introduce you to Lelenwa Jewelry Shop, your popular destination for everything Jewelry. We are going to look at some of the different Jewelry you will see in this shop and their prizes. I would not waste much time to start this review. Here is a background information about this particular Jewelry dealer.
About Lelenwa Jewelry Shop
Lelenwa Jewelry Shop is a whosale and retail Jewelry shop located in Line D, Shop 17, Ariaria Int'l Market Aba. Lelenwa is a well known Jewlery Whosaler and retailer as well. When you visit this shop, you will probably find everything you are looking for so long as its Jewelry. Lelenwa is actually my supplier and I have done business with her for some years now. She delivers real quality Jewelry at pocket-friendly prices.
When you walk into Lelenwa Jewelry shop, you will see all kinds of Jewelry. Below are some of the types she selle:
Earrings
Necklaces
Male/Female wrist watch
Leg chains
Rings
Chokers
Bangles
Pendants
Nose rings
Waist chain
Etc
Of the above categories of Jewelry, you will find both local products that are durable, as well as international products too. I visited this shop last weekend (Saturday 2/3/2022), and I was able to buy some Jewelry for my clients, as well as capture images for this review. So below are some of the products I saw when I was in the shop.
Jewelry Samples from Lelenwa Jewelry
Check out the products and their prices from B'Done.
1. Traditional Stone necklace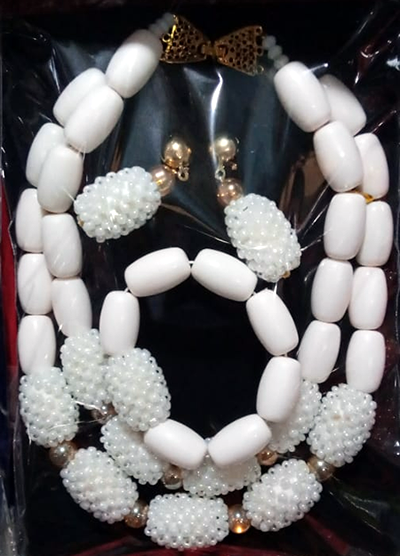 You will find this type of Necklace in traditional events, such as traditional weddings, chieftaincy title events, and other traditional ceremonies. They are worn by ladies as part of their traditional fashion. As you can see, the complete set comes with a Necklace, earring and bangle. When I inquired about the price, they told me its NGN4,500 naira (19.5 Steem)
2. Choker Set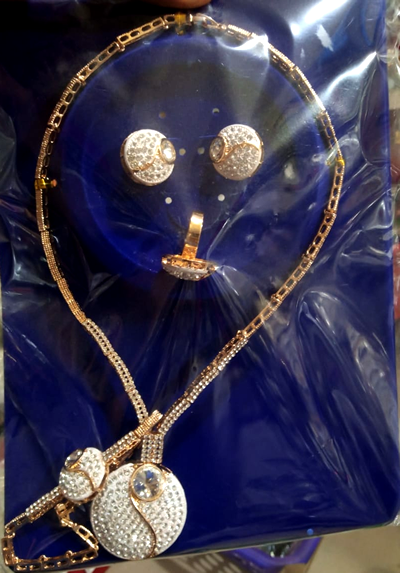 I saw this choker set when I saw it. I have ordered it for a customer before. So I decided to capture it and include it in this review. This is original gold plated choker set. It comes with the choker, the earrings and a ring. Many customers love it. When I asked about the price, I was told its NGN5000 (21.7 Steem)
3. Male Wrist Watch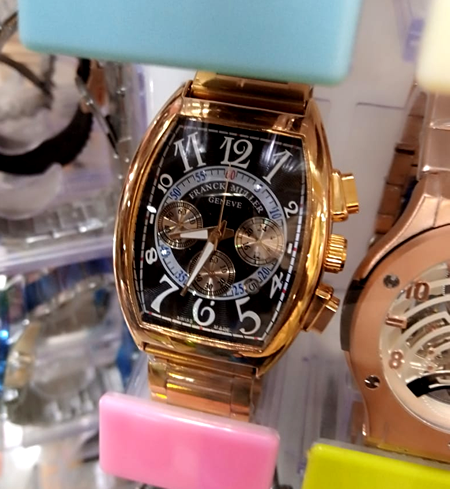 When I saw this watch, I instantly knew I would capture it. Its so nice looking at it, and the seller assured me of the quality. I asked about some of its features. She told me its dust and water resistant. Its original gold chain. When she told me the price, I knew its some average watch. The price is NGN17,500 (76 Steem)
4. Male Wrist Watch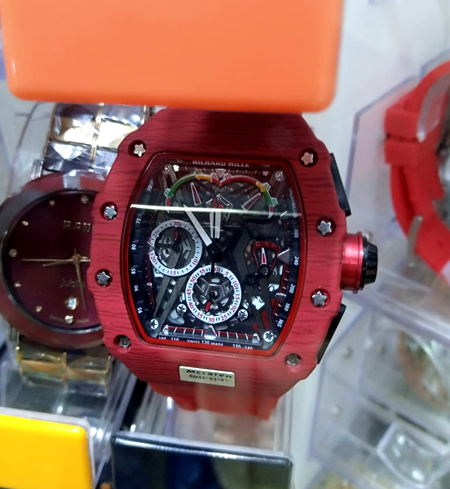 This is another watch in the same category as the one I just reviewed above. I actually love the dark red color of the face. The hand has the same color. Like the one above, its also water resistant and can fight dust. The price is slightly lower than the one above. They said its NGN16,000 (69 Steem). Its a great price for watch of this quality.
5. Silver bangle for ladies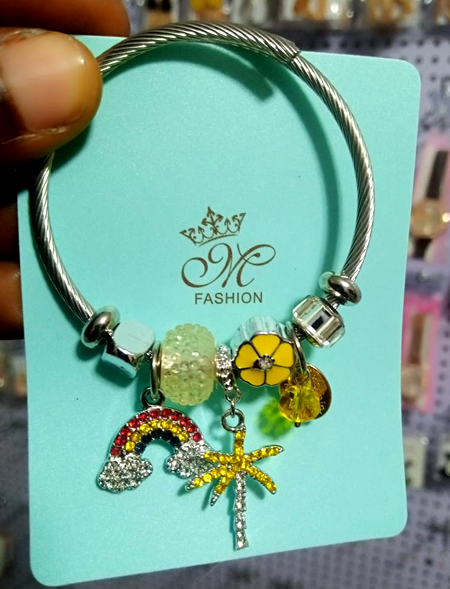 This bangle is actually trending. Young ladies have placed many orders for it and I supplied. I discovered they are excited about the dangling pieces around the bangle. Its also durable. This is the superior quality for this bangle. There is a lower quality, with reduced price. When I asked about the price for this bangle, I was told its sold for NGN2000 (8.6 Steem)
6. Fashion Earring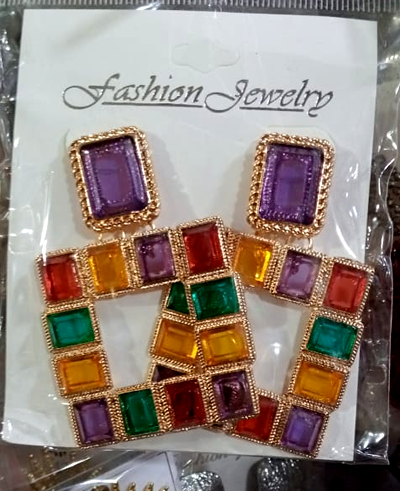 I saw this earring on the earring section of this shop and I think I liked it. I captured it because it look mature and exotic. I was expecting it to be heavy, but was surprised when I saw it was actually light. So lots of my female customers would appreciate the bright colors as well as the weight. The price too is not heavy on the pocket. Just NGN950 (4.1 Steem).
7. Earring and Necklace Set
Most ladies would always go with a matching set of earrings and necklace. I was actually attracted by the color of this set. The dark green would be suitable for many fashion wears. Women in this part of the world love green color. I actually was surprised at the price too. Just NGN1500 (6.5 Steem).
End of the Review - Meet the Sales lady
My review of this shop would not be complete with this calm sales lady. Here name is Miss Chinenye. Her mum actually owns the business. She was really cool with me all the time. She supplied most of the information in this review including the cost of items, quality and customer preferences. With her type of reception, customers will keep on coming back to buy. I appreciate her a lot. I had to capture a selfie with her as you can see below.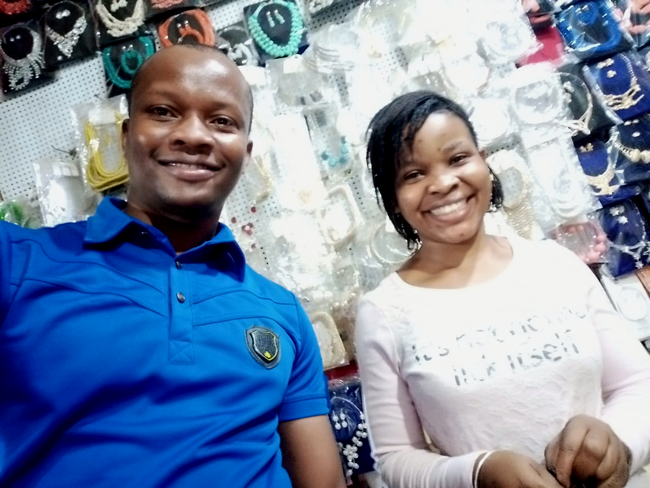 Selfie with Sales lady Chinenye*
Conclusion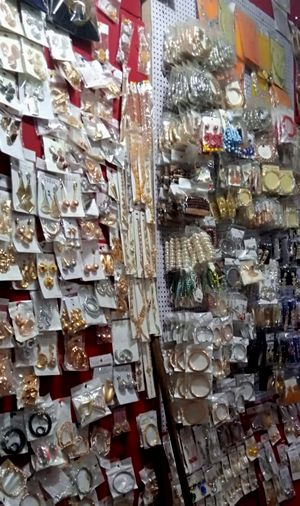 A section of the shop
I have been a customer to this shop for more than 4 years now. I can relaibly say I am satisfied by their customer relations and product quality. I will give them a 5 star rating anytime,anyday. If you come to Aba and need to buy Jewelry in bulk, then I would be happy to make you another customer of Lelenwa Jewelry Shop, Aba.
Note: All Images are orginal and captured from my Infinix S5 mobile device.