Introduction
Goodmorning friends and welcome to my blog once again. Its nice to write about my activities for the day, starting from when i woke early to check on community notifications to when I came back after the days hustle. Sit back and enjoy reading my story.
Morning Activities
It started very early around 4.20am when I woke up to look at some of the notifications I have got for the community and for my personal account. I read some of the messages left for SteemALive before heading over to focusnow to reply a few comments. I ddid this while I waited for the rest of the family members to wake and join for our morning worship.
Our morning worship started around 5.40am and we took the discussion from Daniel 2:44. The discussion centered around Gods Kingdom, which our Lord Jesus Christ asked us to pray for. We saw that it is the only and permanent solution to mans problems. After discussing about how to show support for that kingdom, we prayed and dismissed.I came back online to finish some of the morning tasks.
The first task was to make our top 5 posts. This post is now published in the morning. I had to carefully check to see those that are participating in at least club5050. I also made sure they have not been recently selected. When I finished the post, I shared the links to our various WhatsApp groups so that our members will be able to engage with the post. I did a few tasks online before went to take my bath. After that, I took my breakfast and left for the office.
I arrived the office around 10am and there was light. So I started work Immediately. I first tried to reinstall an operating systemin my uncle's laptop, which was not successful because the hard-disk was bad. I went to a computer shop and got the hard-disk repaired. I came back to the office and then completed the installation. I left the office again around 12.30 noon to run some errands.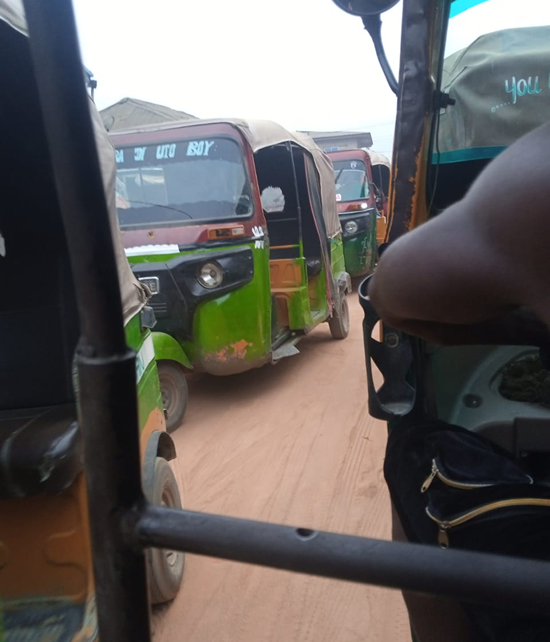 Traffic on my way to work
Afternoon Activities
I went to the local Bureau de change to help a friends change her $75. When i went there, I got a very good exchange rate from one of the operators. So I was able to change the money quickly and then returned to the office. I finished setting up the system which i was working on before I left. I was hungry and about going out for lunch around 3pm when I got a call from @whitestallion. He told me that he is coming with someone special, that I should wait a bit. I waited. And he arrived with @ngoenyi.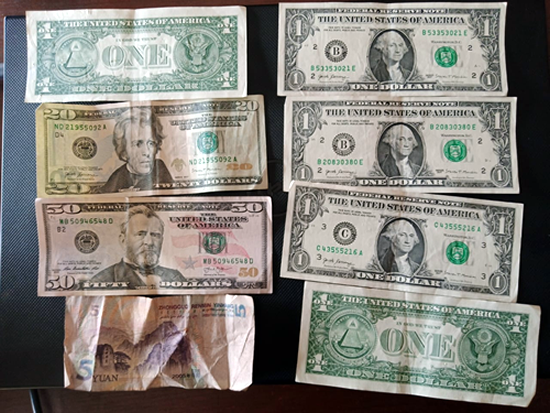 The money before I exchanged it
I was happy to see and welcome them. We had some quick chat and them left together for the lunch. We went to Chicken republic and ate some nice food. We stayed their and had some moments together. We chatted as we ate and before we knew it, time was really running fast. @ngoenyi had to return to Uyo. So we left the eatery. Each of us boarded taxi going to our separate locations. I returned to the office. Since it was already getting late, I closed for the day.
Evening Activities
I packed up and left the office around 4.50pm. There was a little traffic congestion along the road. But it quickly disappeared. I came down to the Ngwa road market and bought some fruits which I planned to eat at home. Then I took the last taxi home. Once I arrived, I went and took my shower and them enjoyed the fruits. I rested and had dinner around 7.50pm. Then I came back online around 8.30pm to make a post for the community. We had reached 40k SP, so the post was an announcement post. I dropped the link for our members. I also chatted with some of the leaders before going to bed around11.50 pm.
This was how I spent today. I will tell you about my tomorrow in another diary post. Thank you so much.