Introduction
Yesterday was the third day of my Nexit training program in the beautiful city of Aba, Abia State. Remember, Nexit is an empowerment program by the Federal Republic of Nigeria to help graduates become entrepreneurs and contribute positively to national economic growth. So on this third day, the lectures focused mainly on how to prepare an important aspect of a business plan - the financial plan. Before I tell you a little about it, here was how my day began.
Morning Activities
As usual, I have to rise early to attend to some important activities, otherwise I will not meet up. So by 4.25am, I was already up. While waiting for other family members to wake and join the morning worship, I have to get busy with community notifications. I checked and replied to important comments. I usually do same with my personal account. So within the next 20 Minutes, that was done. I moved on.
The next activity was to get the top 5 posts ready. I have seen that there is an advantage doing this post in the morning - our members will have more time to engage with the selected posts. It took around 25 minutes to get the post done and drop the link in our WhatsApp groups. By 5.30am, everyone was up. We did the morning worship as a family after which we all dismissed to face our day. I came back online a did little engagement with the selected posts before I left for the bathroom.
After taking my bath, I had my breakfast of tea and bread. Then I put on my cloths and left the house around 7.25am. The roads were less busy, so in the next 30 minutes, I arrived the office and dropped my system. Then I stayed back a little to do some transactions. A left the office for the training center around 8.30am. When I arrived El Dorado where the training is going on, I queued, got admitted into the hall and waited. The lectures started around 11.40am.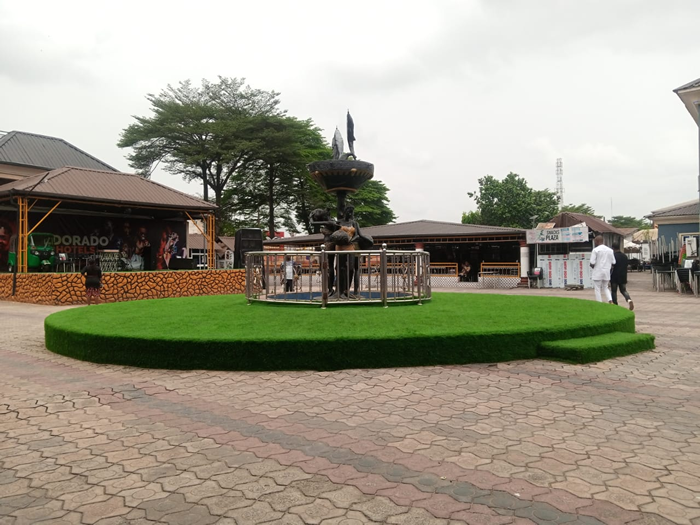 Captured this shot of EL Dorado Event Center as I walked in
Afternoon Activities
The speaker for the day spoke on the importance of having a realistic financial plan for the new business. He explained that we need. Some of the things explained included how to make sales forecast, building an effective pricing strategy and fixing other components of the financial plan like making a competitive analysis of other products/services in the sector.
The second speaker took her time to explain how to calculate sales forecast for a 12 month period. Two sample businesses were used to explain the 12 - month sales forecast table. They used bottle water company and Fruit Juice company. After the examples were shown and figures plotted, we really understand how to do the sales forecast. It was really an eye-opener. By 3.25pm, everyone was hungry. So they called for a lunch break. They served us lunch and water as you can see some of the beneficiaries enjoying below.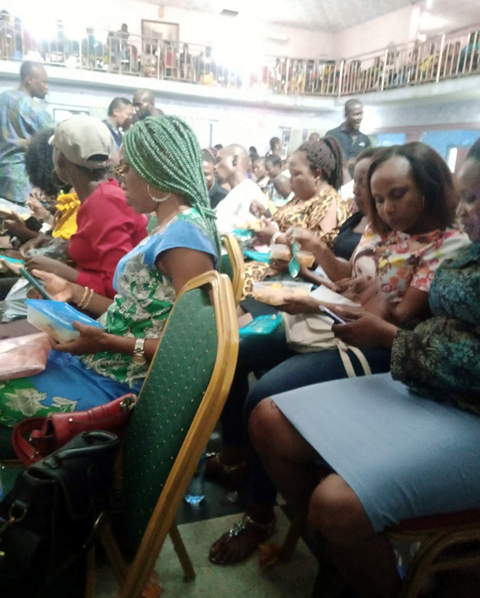 Nexit beneficiaries enjoying during the lunch break
Lectures resumed after the lunch break. For the next 1 hour, the last speaker explained other aspects of making the financial plan. We were asked to start working on our financial plans. The class dismissed around 4..35pm.
Evening Activities
I cam back to the office and it was already getting late. But I was able to quickly do a post - My town in 10 Pictures. It took almost 40 minutes to complete. After publishing the post, I packed up and left for home. As I will always do, I dropped at the market to pick some fruits. I bought apple, water melon and carrots. I loved the watermelon as it was being cut when I saw it. I even took a shot.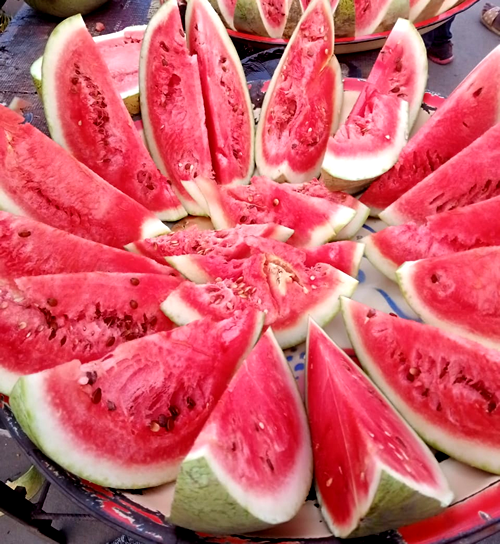 Fresh Watermelon I bought
After picking up the things I needed, I boarded a taxi and arrived home within 40 minutes. I went straight to the bathroom to take my bath. Then I relaxed with my fruits and waited for dinner too. I could not do much in the night, other than chat with a few friends. I slept off around 9.40pm. It was a fulfilled day. I really look forward to the next training day being the 18th day of March 2022.
Thank you friend for reading up to this post. See you in my next articles.
Check out my most recent posts