Introduction
Another day has come and gone. Goodmorning friends, and welcome once more to my blog. Its a second day of the Nexit training and I was there as expected of all beneficiaries. I would say it was a great and wonderful opportunity to expand what I already know about writing a great business plan. So here was how the day started and ended.
Morning Activities
The experience of the first day taught me to try and arrive early at the training venue. Of course,It has become a part of me to always wake early for the day. SO by 4.30am, I have stood up. I quickly went to check the notifications for our community SteemALive. I replied a few comments and also did same for my account - @steemalive. Then I quickly went to get the top 5 post for the day ready. Doing this early has given our members more time for engagement. So within 30 minutes, I completed the post and dropped the link for our members to engage.
I went to take my bath around 5.30am and brush my mouth too. In 25 minutes time, I was done with those activities. Then, my tea and bread was ready and I took them. by 6.40am, I was already leaving the house. Its quite early and there was no heavy traffic on the way. So it took less than 30 minutes to arrive at the training venue. There was already a long queue as beneficiaries were being admitted and attendance taken. I joined the line and within 25 minutes, I was admitted into the hall, ready for the lectures.
The lectures started around 11.20am and it was all about Making a great business plan.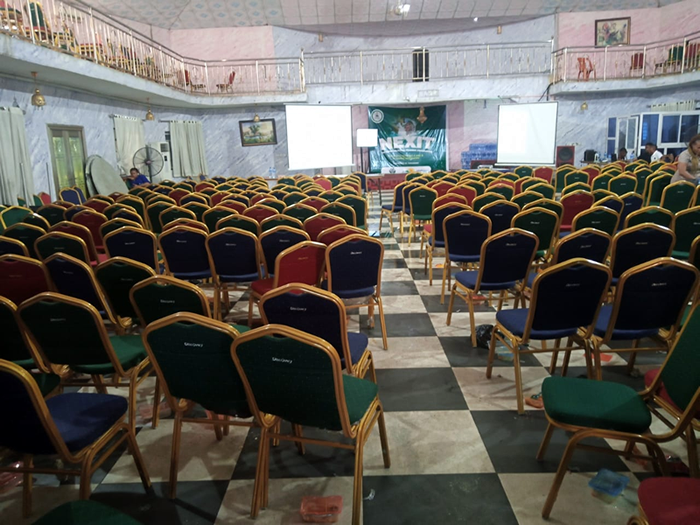 Inside the EL Dorado Training hall
Afternoon Activities
Nexit Beneficiaries queue up for admission into the venue
The lecture went on well into the afternoon. The first speaker explained the first components of a chapter one of a business plan. It includes executive summary. The executive summary, while it appears on the second page of the document, is usually written after every other thing has been written.
According to the speaker, there are other things to be included in chapter one such as vision statement, mission statement, objectives of the business, challenges and a few other things. The second speaker explained how to prepare a financial plan which is in chapter 2 of the business plan. He took his time to explain the chats and other stuffs. At around 3.30pm, they served us lunch of Jollof rice and meat. They also gave us bottle water.
After our lunch, we continued. The final part of the presentation explained how to prepare the cost analysis, which is still under chapter two. After about 40 minutes, we dismissed. I left the venue around 4.50pm and returned to the office. I quickly made a diary of the previous day activities before leaving for home.
Nexit beneficiaries during lunch break
Evening Activities
I closed our training center around 5.50pm. I dropped at the market to pick up some fruits and buy fuel too. I also did POS withdrawal so I have something to spend for the next day. I also tried but failed to buy some fuel because the petrol station had no products. I arrived home at 6.30pm.
I took my bath and later ate the fruits. Then I rested. Dinner was ready around 7.30pm. I ate and had to rest outside because of the warm weather. Then I chatted small with the leaders before I slept off. It was a busy, but fulfilling day.