Introduction
The fourth day of our NEXIT training program has come and gone. Just like the other days, it was full of learning opportunities, fun and networking. We ended it tired and hungry, but the effort is well worth it. Everyone was happy they attended. Before I go on to tell you some of the things I learnt today, it all started like any other day for me. Lets start from the beginning.
Morning Activities
When I woke and checked the time, I discovered it was 4.30am. Its like i had programmed myself to always wake around that time. Once I stood up, I said a morning prayer personally, then waited for the family to rise and meet in the sitting room for morning worship. But then, I had to stay productive while waiting. So I checked on steemalive notifications and that of focusnow too. Then by 5AM, the whole family was ready for morning worship.
It involves considering some bible passages and discussing how they impact our lives. The scripture we discussed was 1 Timothy 1:18. The lesson there is that we must continue to fight to defend the truth, just like a soldier fights to defend their country. After prayer, we left to start the day properly. I moved immediately to get the top 5 posts ready. I wsa able to complete it fast and publish the post. Then I dropped the link in our groups for comment.
By 6.20am, I headed to the bathroom to take my bath. Then I took tea, bread and fried plantain as breakfast. I left for te office around 7.20am. I stayed at the office close to 2 hours, doing some stuffs. From the office I went to El Dorado for our NEXIT training. Once I arrived, I took attendance and entered the hall. The lectures started a bit late, around 11am.
The host made announcements that are very important, especially since the program would end in the next day. After the announcements, she invited the first speaker to take the stage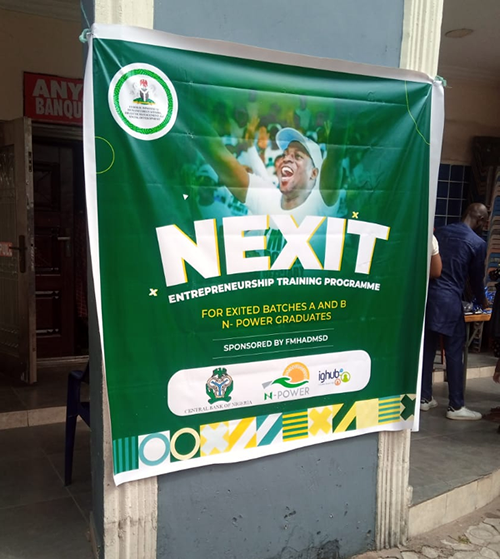 I captured this NEXIT banner at the entrance of the lecture hall
Afternoon Activities
The first Speaker lectured us on how to choose a great business idea for our startup. Since we are solely relying on funding from the government, the speaker explained that Government is looking for startups that will contribute more to economic growth and development. They are especially looking for startups that will create more jobs because unemployment is a big problem in Nigeria. The speaker was able to help us learn how to pick the right projects so we have a better chance of getting the financial support.
After that the speaker when on to revisit how to make a great financial plan. This time around, he used a case study of Poultry business to run the financial analysis. He showed us how to check the monthly operational costs, direct and indirect cost, and how to do sales forecast for raising 100 birds over a 12 month period. He really helped us understand making the financial plan well through this example. He then encouraged us to do so with any other business of choise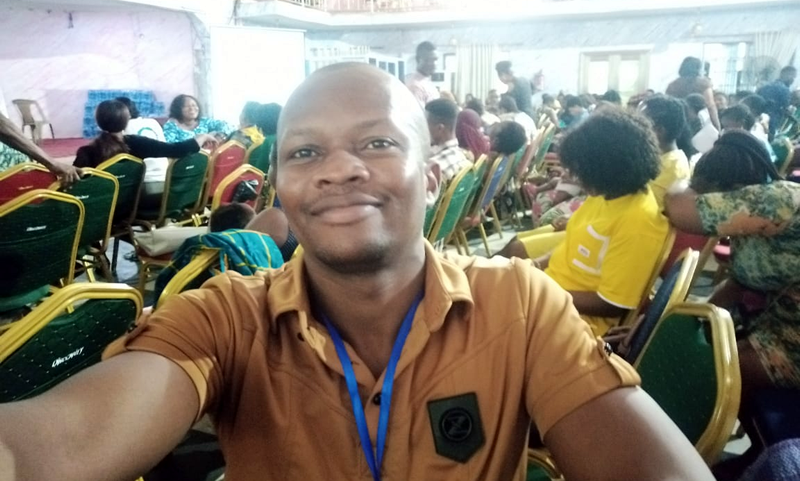 Selfie during lunch break
After the lunch break, the lecturer finished us the financial plan table for the Poultry business. We closed the training around 4.40pm. I left the venue and returned to the office.
Evening Activities
When I arrived at the office, there was no light. So after resting a bit, I picked up my bag and started returning home. As I would always do, I branched off the market to pick up some fruits. There are too many to miss. I bought star apple (Udara), carrots and a few others. I then boarded Keke home and returned around 5.40pm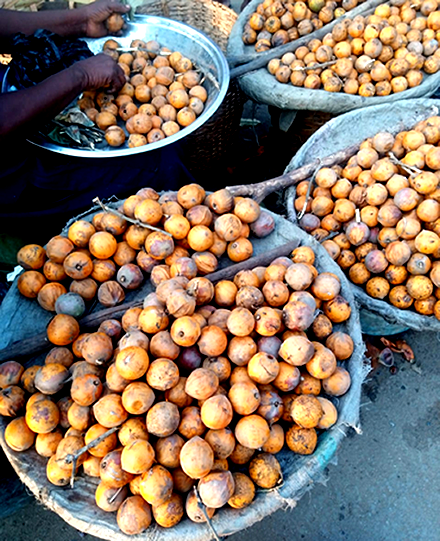 Woman selling Udara
I took my bath immediately. Then, I ate the fruits and went to take a quick rest. I returned after 1 hour to take my dinner. I then chatted with a few friends before making my CR report. After the report, I made this post. I will sleep off after i hit the send button. That was how I spent a busy and great day.
Check out my most recent posts