Introduction
I want to officially announce that I have reached 15,000 SP yesterday after powering up 50 Steem. That means I am now a 3 times dolphin. Congratulations to me. I want to appreciate all SteemAlive community leaders and members that have always been by my side. I want to say a big thank you for the amazing love and support you friends have shown. Thank you @steemcurator01. You friends are simply the best.
To celebrate this feat, I want to give out 15 Steem to five persons -but you must power up.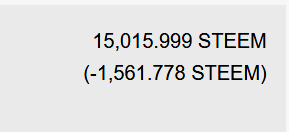 My wallet
Power up now and share in 15 Steem Prize pool
Since getting to this feat is all about powering up, I would like to celebrate it by giving out 3 steem each to first 5 persons that will power up at least 20 Steem. Yes, its easy. Just power up not less than 20 Steem and drop the screenshot as a comment on this post. The first 5 persons to do so wins 3 steem each.
Small Rules of the Contest
Make sure you are at least in club5050
You must be a verified member in SteemAlive
Comment meaningfully on this post and resteem
Drop a screenshot of your powerup as a comment on this post
Note: If you power up a much bigger amount, I will send you additional bonus steem at my discretion. This Contest ends once I get the first 5 powerups
4 Reasons you should power up Regularly
Powering up is something we value so much in SteemAlive community - and Steemit in general. Here are some reasons why doing so should be a priority:
1. Upgrade your Club Status and get more Support: You should know about club5050, club75 and club100. These are ways of indicating how much of your earnings you power up. Remember that the higher your club status, the bigger the votes you get from curators. Someone in club5050 will receive less voting value than someone in club75. Those in club100 get the biggest votes. Of course remember that getting votes for the Steemit team is not guranteed. However, being in a higher club gives you the opportunity to get such support. Powering up is the only way to upgrade your club status. DO it Now.
2. Increased Curation Rewards: How much do you earn weekly from voting other people's posts? You can go to your wallet and check under curation rewards. Basically, what you earn as curation reward is a product of your Steem power. And the only way to grow your Steem power is constantly powering up. So if you wish to earn more from voting, then powering up is the answer.
3. Help communities grow: The growth of communities is directly connected with the growth of its members. So if each member is growing their account by powering up regularly, then the community grows. With increased steem power, you can increase your delegation to the community. Or if you are part of community curation trail, the voting value of the trail grows as the accounts following it increase their steem power. So we want you to help SteemAlive community trail vote with higher value. So friends, power up.
4. Contribute to a healthy price of Steem: If there are too many users selling off their steem constantly, it will affect the price of Steem negatively. Although many factors affect the price of cryptocurrencies like Steem, creating scarcity by having less Steem in circulation will do the price of Steem a lot of help. So if you dream of a future where 1 Steem equals 1USD or more, then always power up.

Can you Power up if you do not publish regularly and earn?
You probably know the answer - NO. So one solid way to earn which you can power up is to publish quality posts consistently. Generally, a serious blogger on Steemit should make 1 quality post each day. Continue to do this regardless of the initial support or lack of it, which you will experience. Effort and persistence pays on this platform.
If you do not know what to write in order to earn, then I have the solution. You can make more 50 different types of articles and get support from curators if your post has quality. Get details in this post below:
Conclusion
Whether you walk, crawl, run or fly, the most important thing is that you must be in motion. Do not do business as usual. Always strive to do better. Work harder. power up daily, or weekly. Join club75 or club100. Your dreams of becoming successful on Steemit cannot be separated from constantly powering up. As I aim to become a 4x dolphin, I wish you all the best.