Introduction
WhatsApp is an instant messaging application that many people enjoy. The application has billions of users across the globe that chat with friends, family, and virtually everyone. WhatsApp has even seen corporate relevance as many organizations stay in touch with clients through the app. The application is so popular that many users already know most of the features and do use them regularly. However, I will show you in this article 2 features of Whatsapp you probably did not know, and how these features serve very useful purposes. Take a look:
Secure your chats with Whatapp Finger-lock Security
Restrict contacts from Seeing your Updates
Alright, now lets look at each of them one after the other and see why they probably would be useful to you.
Secure your chats with Whatapp Finger-lock Security
Data privacy is a very important thing today. Unsuspecting eyes may want to see who you are messaging recently or want to get some unauthorized information by trying to see your whatsApp conversation. Your phone probably has some form of security such as PIN or finger-lock. But what if this person, maybe a family member or spouse, asks to make a call with your phone, while they simply want to view your whatapp conversation. In this case, a second layer of protection like WhatsApp Finger-Lock would be useful.
With Whatsapp Finger-lock, no one will be able to open your Whatsapp without first passing through finger-lock security. So let us see how you can set it up.
Step 1: Open your WhatsApp and click on Settings
Step 2: Next, click on Account.
Step 3: Click on Privacy. (Check the illustration below)

Screenshot from my Infinix S5 Mobile device
Step 4: Scroll down and click on Fingerprint Lock
Step 5: Enable Fingerpint lock by check the button. Then put your designed finger in the fingerprint space at the back of your phone and allow your finger print to be captured. It will tick good when done.
Step 6: Choose how long it will take for Whatsapp to demand fingerprint after you opened it. I choose Immediately. (Check the image below)

Screenshot from my Infinix S5 Mobile device
Congratulations, fingerprint lock has been set for your phone. Now close your WhatsApp and open it. You will be asked to put the finger print, otherwise access wont be granted.

Restrict contacts from Seeing your Updates
WhatsApp updates is an important way to let your contacts know how you are doing. MAny people share updates regularly and through this means, they help people in their contacts learn how they are doing. Each time you share a Whatsapp update, everyone in your contact sees it by default. But there are times when you would like a select few to see your update. Or there could be time when you want some contacts to not see your updates. After all, not everyone is happy with your progress. Do you want to prevent your ex, village people, your boss or some other people to be prevented from seeing your updates? Here is how to do it.
Step 1: Open your WhatsApp and go to Privacy, under Settings
Step 2: On the Privacy Page, Select Status.
Step: 3 On the new Window, you can select who sees your Whatsapp update. The first Option is My Contacts which is the default. All your contacts see your update with this setting. The Second option is My Contacts Except. When selected, all your Contacts will see your update except the contacts you will mark. Once you select this option, a new window will load your contacts and ask you to select the ones you do not want them to see your update. The Last option is Only Share With. This option will also open your contacts list and ask you to select the contacts you will allow to see your update. Only those selected will see your updates. Once you are done, click Done at the bottom of the page. (Check image below)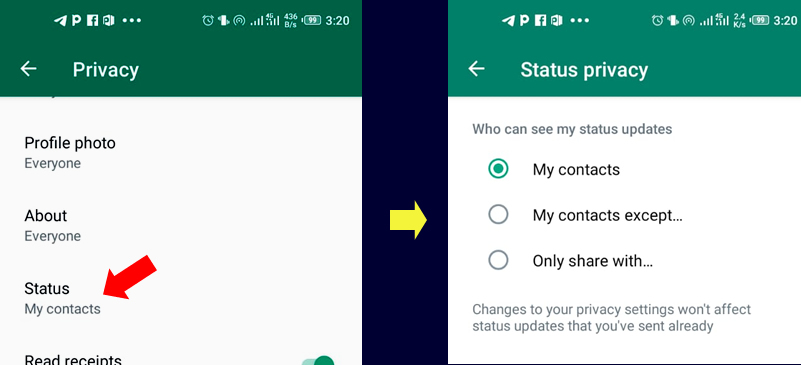 Screenshot from my Infinix S5 Mobile device
So with these settings you can restrict selected contacts from Seeing your status update.
Conclusion
Whatsapp is an important application for instant messaging. You probably cannot end a day without visiting your Whatsapp to check on your friends. However, you can really use the app in a smart way by taking advantage of some features that most people do not know. In my next publication, I will highlight other features that are interesting. I hope you will be back on my page for more.