@trumpan gave me the idea of exhibiting my old things and telling you where they came from. I am a friend of used things. Not only because vintage and fashion and furniture from past decades often have a much more beautiful design than contemporary furniture from discount stores, but also because a history and memory is linked to what you buy and where and from whom you buy or get something gifted.
I see the fact that used things are about avoiding new purchases as an upgrade. In a world in which there are millions of copies of a thing and new things always mean processing valuable resources such as water, wood, plant fibres, oil and other materials, buying used things is a gentler way of dealing with matter.
Starting with this beautiful chest of drawers. At the end of the 90s, when I was just moving to Hamburg, I afforded to go shopping at the weekly flea market at the former Hamburg Slaughterhouse. This picture shows you the place where the market still happens every Saturday. At that time not so many people were interested in old furniture.
I saw this piece and thought: Oh, my goodness, how wonderful these curved lines are! Although the glass plate was already missing, I made the purchase. I paid, I think, 70 German Marks for it. The shine of the surface still delights me when I stroke it or look at the light reflections.
On the same day I bought the three-legged hairy thing from someone else. I intended to use it with the make-up table (for which I never used it).
Below: I picked up the chair with the red fabric upholstery from the street. It was standing on the side of the road about two years ago, not far from my home, and I carried it happily to my apartment. The flaking white color doesn't bother me at all and I leave it there. It is comfortable and I like to sit on it.
The cocktail chair I got as a couple from the sister of my first longtime friend, with whom I was together for seven years. He is a train driver and we met at a disco called "Airport". He himself was unique in terms of trends and clothing. At that time he dressed completely contrary to the usual fashion, I still remember that he wore dungarees with too short legs and turquoise shaft sneakers as well as a red close-fitting scarf. It was 1987. Listen to the hit parade from that time. Sometimes he also was in full suit and tie. Never saw anybody else wearing those clothes.
He had his hair half-long and the natural curls fell into his eyes. He loved David Bowie, Prince and the Blues Brothers and introduced me to the film of the same name. We went to the movies and put on black sunglasses or maybe it was the others with the glasses, I don't know anymore.
We also later watched "Sex, Lies & Videos" together with a very good friend who was terribly heartbroken because her Italian boyfriend had left her. We were eighteen at the time. I admired the cocktail chairs when we visited his sister and I found her taste to furnish herself exquisite and exciting. Nobody in the '80s was known to have furniture from the '50s. She had the armchairs upholstered and covered and left them to me for a small price I don't remember.
I discovered this chair together with a friend from Hamburg. About a dozen of them were simply placed on the street in Hamburg's Schanzenviertel for disposal by a restaurant, about seven years ago, when we had a drink there in summer. We walked by and thought: "Oh, but they are of good quality!" He managed to get a chair, I managed to put two of them in the trunk. I think I got the car I was driving with my ex-husband and we squeezed the chairs into it.
Every time he visits me, he says: "I wish I had taken more of them". When I look at the chairs, I think of the street full of cafés and restaurants where you still meet too many people crowding and eating, drinking and partying there in high season. The chair seems to be indestructible, it is very stable and will last for a hundred years without any problems. Maybe even five hundred. ;-)
With this tripod here - I think it's a flower stool? - I really like the black and white design. It's a pretty cheap thing, not very well crafted and it's already collapsed once. I fixed it makeshift. I bought two of them as a pair, also at a flea market for too expensive a price, forgot the numbers. I think it was about 15 years ago.
The history of this kimono here is old and new. Old, because I picked up the cloth for it as bed linen from the street or the linen was in a cardboard box, near the [Johanniskirche](https://de.wikipedia.org/wiki/St._Johannis_(Altona)#/media/Datei:Johanniskirche_Altona.jpg) (district church) some years ago, also where I live. I looked at it and although the zipper was defective, I took it with me. But it bothered me and since I started my new passion, sewing, I have been looking for beautiful fabrics. The motif is Asian - fans and fruit blossoms - so it fitted very well to make a kimono out of it. Here you can see the fabric victim lying dead on my floor. I am not sorry. It was reborn into a much better life.
This very very red blazer from a very robust fabric has a classic cut and I liked the too short sleeves and the fact that it is an absolute quality product (probably a designer piece). I got it from my favourite second-hand shop - mano a mano e.K. - in the district where my sweetheart lives. I go shopping there regularly and my man knows that whenever we go down there to his place, I will dive into the Souterrain and either he sits outside on the chairs and smokes a cigarette or he goes ahead and waits for me at home.
, over which one comes in touch in the district with neighbours. So a thoroughly local project and a good thing!
Actually I saw a woman on the "market place" offering this picture frame and I made an appointment with her. On the way - it was spring or summer - I picked her a small bouquet of flowers from the roadside out of a whim. There are always flowers growing around the said church and I only picked those that were half out of whack anyway. Then I rang the doorbell.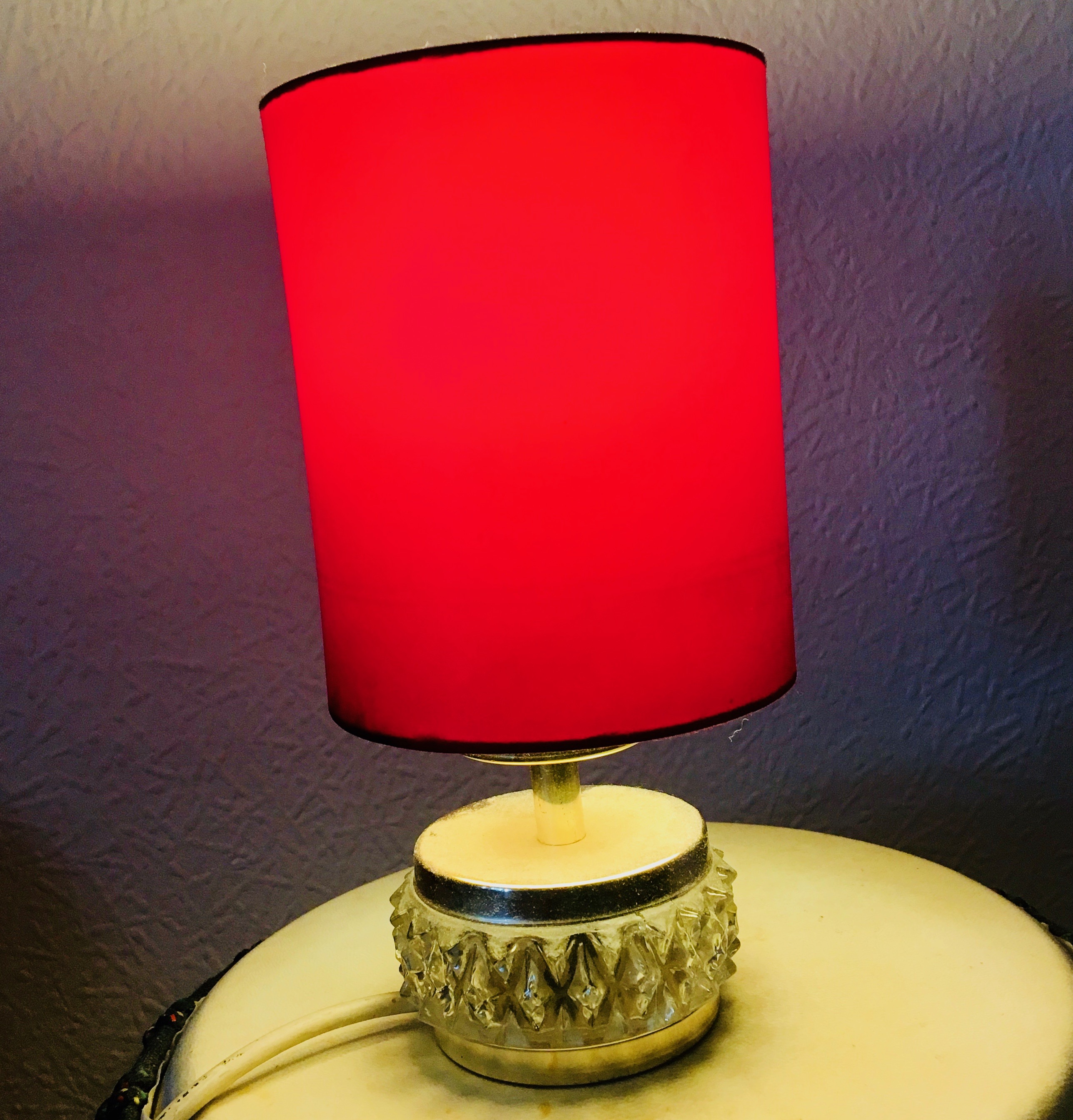 is housed with her. There is no more space here.
The wardrobe is really unique! It reminds me of the vanishing cabinet from Harry Potter, with which Malfoy made the access to Hogwarts Castle possible. A clever coup of the young gal and a tragic one, as this caused Dumbledores death. I really would like to pay a visit at Borgin & Burkes. In reality I got the cabinet from my man this year. He saw it either on nebenan.de or eBay and one day he transported it to my place by a hand truck. What a good man!
The black & red dress you see hanging there, is making my title picture. It's a close up from the dress's pattern design. I got it from a Turkish woman at a flea market. Very 70s. I wore it with a very tight hair bun high up on my skull, like the mature Romy Schneider. Eyeliner very pronounced.