🇩🇪 Dear fellow Steemians 🇩🇪
Today it's getting fruity, fresh and classic! It's mother's day and I am baking a surprise for my mum....but I would like to also share with you!

Here it comes, the traditional German recipe of my home made Rhubarb and Cherry Cake!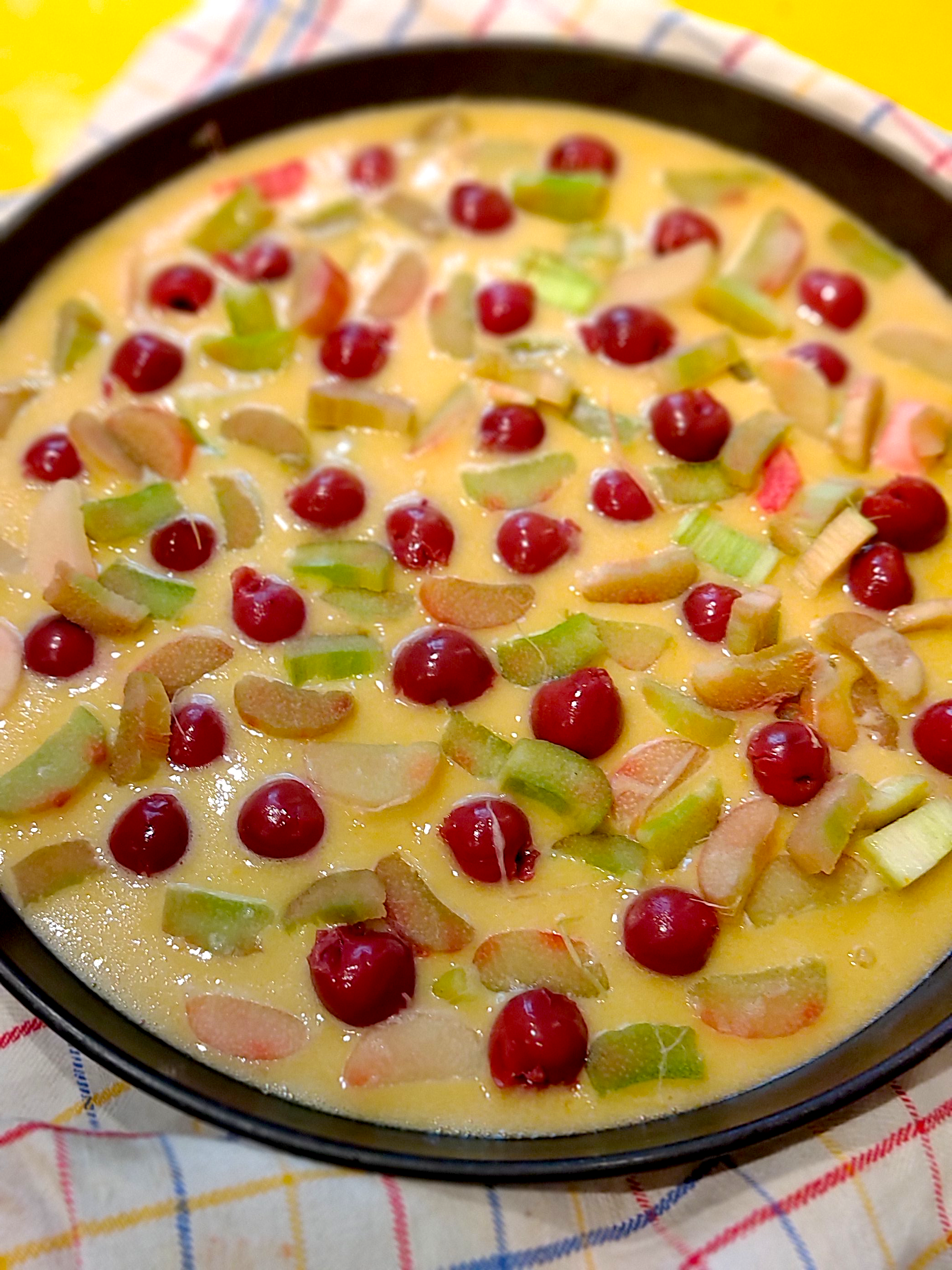 Fruit cakes are not just with apples or strawberries on it. Rhubarb and cherries really go well together, if you like the amazing bitter-sweet taste of it! I will guide you through my own recipe step by step, and I promise you: it is not so difficult to cook, just make sure you have fresh ingredients.

INGRIEDIENTS
*120 g butter
100 g of sugar
1 teaspoon lemon peel
a pinch of salt
3 eggs
200 g of flour
2 teaspoons of baking soda
2 sticks of rhubarb
150 grams of pitted cherries
a dash of milk
powdered sugar*
Preheat oven to 180 degrees. Wash the rhubarb, peel off the skin with a sharp knife and cut into small pieces. Wash and stone the cherries.
Beat the eggs with the sugar for about five minutes until you have a thick, creamy mixture.
Melt the margarine and stir in with the salt, lemon and vanilla sugar. Mix flour with baking powder and fold in.
Add milk until a dough that is compact but not too tough is formed. It keeps the fruit in place better.
Spread in a springform pan. Press the cherries and rhubarb into the batter and bake everything for about 40 minutes. Halfway through the baking time, put a hood made of aluminum foil over the springform pan so that the cake does not get too dark.
Take the cake out of the oven, let it cool down slightly, put powdered sugar on top, and cut it slightly warm!
Guten Appetit/Buon Appetito!
Yours,
🍋Elena & Ale🍋