Disclaimer: All photographs in this post is property of steem.amal and originally from steem.amal respected third-party implementing partner. Steem.amal has full right to use all those photographs in a proper manner of reporting purposes
The steem.amal has implemented third party response on the emergency, this decision was made to accommodate responding the emergency in other areas that are difficult to access by the steem.amal volunteer on time. The strategy is mainly aiming to promote the steem platform in the outer rings of the steemian. Even though this strategy is still under close monitoring and evaluation but it can works as expected. Taking this initiative with proper financial management as transparent as possible by transferring the fund directly to the supplier of the goods and service including transferred the cash assistance to the affected families.
As it is the first time and as the study case, @radjasalmana, @anroja and I monitored the whole process closely and maintain communication and coordination with the third party in the field.

Suhardinsyah, our implementing partner while he is delivering steem.amal emergency response aid kits

Suhardinsyah is presenting the origin of the aid in his speech while delivering aids
The assessment was conducted by Suhardinsyah, the head of Ulun Tanoh village as we have already known him as our close friend in the college organization and besides, he is one of the exemplary heads of the village in Indonesia and has had a successful record for the Villagers Community Empowerment Program implementation. His track record has demonstrated the ability to be the Steem Amal Implementing Partner. Suhardinsyah is well known as a public figure with a good reputation among the villagers in the area.
Emergency Respon on Fires in Gayo Luwes
The fire incident took place in Rema Baru village, Kutepanyang Kabupaten sub-district- Gayo Lues, Aceh-Indonesia. 5 unit houses burned out in the accident with the affected family as below list:
Date/Time: Monday, October 4th/ 10 AM
Location: Rema Baru Village, Kutepanyang- Gayo Luwes
Contact Person: Suhardinsyah Ulun Tanoh Head of Village, M.Isnan Amin, S.IP, M.Sc Kutepanyang head of sub distric
Link Survey Update by @radjasalman: https://goldvoice.club/steem/@radjasalman/update-survei-steem-amal-pada-selasa-5-oktober-2021-terhadap-kebakaran-5-unit-rumah-di-desa-rema-baru-kecamatan-kutepanyang
First Family
|No| Name| Age | Sex| Position|
|---|---|---|---|---|
|1| Abdullah| 58 Yo| Male| Head of Family|
|2| Nuriah | 56 Yo| Female| House Wife|
|3|Jainuri | 20 Yo| Male| Son|
Second Family
|No| Name| Age | Sex| Position|
|---|---|---|---|---|
|1|Sulisman|31 Yo| Male| Head of Family|
|2|Siti Johra|30 Yo| Famel|House wife|
|3|M. Arkan|4 Yo| Male| Son|
Third Family
|No| Name| Age | Sex| Position|
|---|---|---|---|---|
|1| Zulkipli|26 Yo|Male| Head of Family|
|2| Diana Novianti| 23 Yo| Female| Wife|
|3| Aufaniara Putri |2 Yo| Female| daugter|
Fourth Family
|No| Name| Age | Sex| Position|
|---|---|---|---|---|
|1|Nasril | 31 Yo|Male|Head of Family|
|2|Arma Mariana |35 Yo| Female| Wife|
|3|Jihan |6 Yo| Female| Daugter|
|4|Hilia Azanahla| 2 Months Old (MO)| Female| Daugter|
Fifth Family
|No| Name| Age | Sex| Position|
|---|---|---|---|---|
|1|Samsudin |48 Yo| Male| Head of Family|
|2|Sri Minta| 46 Yo| Female| Wife|
|3|Mega Lestari| 17 Yo| Female| Daugter|
For detailed information please check the link below:
https://goldvoice.club/steem/@radjasalman/laporan-survei-steem-amal-kebakaran-5-unit-rumah-di-rema-baru-kecamatan-kutepanyang-kabupaten-gayo-lues-aceh-indonesia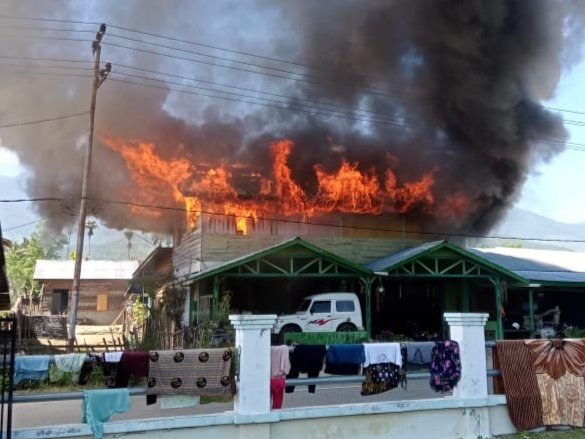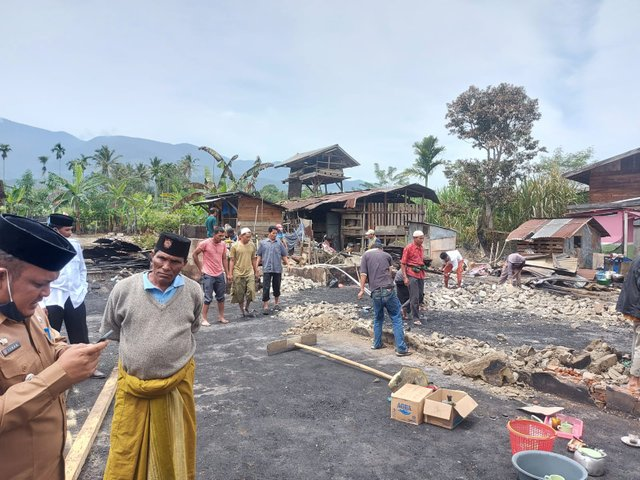 The total budget expense for the fire emergency response in Gayo Luwes is as below: