Today I am incredibly excited to announce a new partnership for the INCOME entertainment Fund - @radaquest. We have just completed the swap seen below: 1000 Taruk in exchange for 770 INCOME.


Notice that the INCOME came from @ecoinstant's personal horde of tokens, that he has already purchased, but the swapped TARUK was powered up directly to the fund on @ecoinstats.
---
WHAT IS RADAQUEST?
@radaquest is an immersive universe under construction by @marcosdk and team. They earned their first INCOME token participating in the SELFIE PROJECT BUILDER BONANZA.
This project is currently backed by the ART created, a very creative step! The TARUK token allows the fund to participate in the weekly dividends and other benefits. The fund already had 1010 staked TARUK, and now moves to 9th on the TARUK richlist:
There will only ever be 500,000 Taruk, and maybe less, as announced by the project. They have recently released a minigame, and continue to be active with the new production of art and high definition posters and other material.
@radaquest also has partnerships, and apart from being one of the top BATTLE token holders, it is now the second highest INCOME token holder:

It is these deals, alliances and partnerships that have resulted in an incredible fund growth.
According to the STEEMLEO Dex, our steem-engine fund holdings are worth some 9603 steem: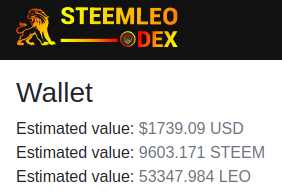 This portion of the fund is the most volatile, even among crypto, but because we have favored SP and other Asset-backed projects in the fund, we are primed for growth in the upcoming bull market as well.
Our SBI units are valued at 0.5 x 11267 = 5633.5 STEEM

The STEEM and STEEM POWER currently total 2485 STEEM:

Thus our fund is currently valued at approximately ~17721.5 STEEM. With 10,000 tokens outstanding, that puts us at 1.77 in assets for every INCOME token.
---
The fund recognizes that the information available and the communication about the fund needs to improve. We are working to support and synergize with project builders who have chosen to use #STEEM. For now, we have mainly approached each project leader individually through discord. We will continue to update the progress of the entertainment fund.
Posted via Steemleo