Here is a post that I can send people to to read more about INCOME token, what it is and what to do with it.
@ecoinstats account represents an attempt to create a positive force in the world that has taken the form of a SYNERGY FUND. Through the mechanism of the INCOME token, any account can participate in the exciting benefits of the INCOME SYNERGY FUND.

Are all the information here correct and up to date?
That depends on when you are reading this. Look at the date this post was published. That was the day all this information was accurate. Use this article as a guide to the operations of the INCOME SYNERGY FUND and the INCOME token, not as a rulebook. Flexibility is one of the Fund's strength's, and we use it to its full advantage.
How many INCOME token are there?
The current supply is 10 thousand, and there will be no more new issuance without a major announcement. New tokens will only be issued to facilitate the inclusion of major new assets or partners into the fund. This is at the discretion of management but we will emphasize major, since any interested parties can still buy INCOME freely on the market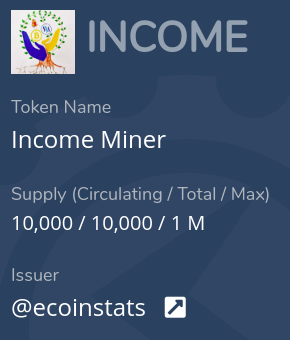 What happens if I have INCOME token tied to my STEEM account?
If your STEEM account has INCOME token assigned to it under the steem-engine token protocol, you are entered each day into drawings for exciting prizes. So far the fund has done SBI units and now is doing liquid STEEM distributions, in the future there could be even more types.
INCOME holders also become members of the SYNERGY Fund, and can participate as full members in all of the current activities of the Fund. The Project Builder Protocol will assist projects across the STEEM blockchain to achieve their full potential.
If I hold INCOME tokens that means you will vote my posts?
No. But maybe! We will consider your posts if you have more than a few INCOME token, but having INCOME is not required to be part of the Project Builder Protocol, nor is having INCOME a guarantee of votes or support!
What does it mean SYNERGY FUND? What is a member vs a non-member?

The Fund was born when it was ironically noted that basically everybody that is still on #STEEM had their own project. By using this activity as a metric for potential success, we quickly saw that these active builders needed more than money, but also encouragement, marketing, votes, advice, tutelage, services, support and good old fashion conversation.
By offering our strategic support, (through Automagical Services, Project Builder Protocol, The Council of Heroes and other codenames yet to be released) we can further benefit the success of each of the projects we are participating in.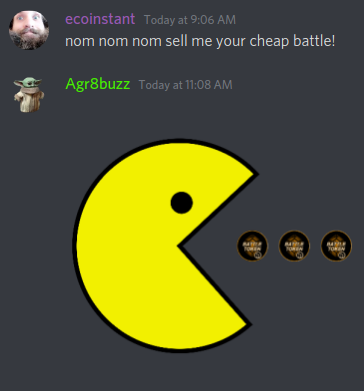 Does the Fund vote with any tokens other than STEEM POWER?
Yes! And we continue to attempt the dangerous mission of powering up various tribe tokens when the prices appear appealling. We say dangerous, because it is important to distinguish between an undervalued token and a token whose price has just dropped. Undervalued requires there to be actual value in the token, its community and its future.
Here are the current Tribe Voting stats at the time of posting: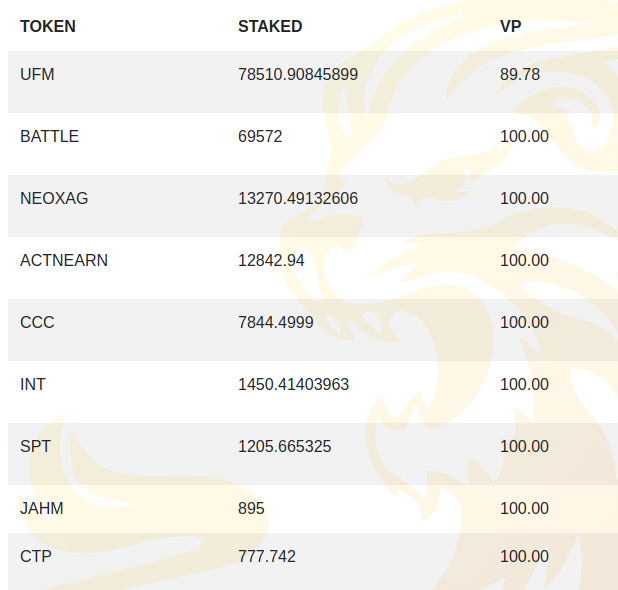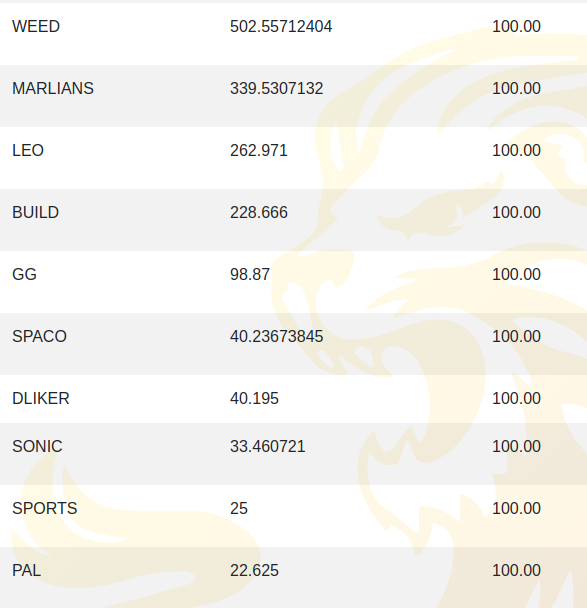 Notice that every tribe besides UFM is at 100%! Does this mean that we do not use them? No, that is unlikely because we do get curation rewards in a lot of these communities. But because we are currently voting about 40+ members per week, the votes get divided up between only those who use them. Members, take note of this list.
So I should use all of these tags to get free tokens?
No! Please do your own research into each community, most of them probably don't want you. But probably some of them do!
But generally we have found:
UpFundMe (UFM) is a goal setting, fund-raising community that is very supportive of general posting.
BATTLE is for gaming and games.
NEOXIAN (NEOXAG) is a fun and funny community that supports members in all areas of life. They do not like multi-account usage.
ACTNEARN is a community to reward incentivization on social media. I read this as, any posting asking someone to do something.
CREATIVECOIN (CCC) is for creative works. They have a pretty ample definition of creativity, but some subjects are not creative, like crypto news.
INT is for INTrepreneurs, which I think are thoughtful entrepreneurs, but I might be wrong.
JAHM can only be used to talk about Carribean topics, like reggae music.
What price is INCOME token on the market?
This is changing daily. You can see the current order books at @cadawg's tool:
All 10 thousand tokens have been sold, and now members including @ecoinstant can sell them at any price they want. Any fund members, even those that have swapped, are allowed to sell at any time, the Fund does not judge. Here we see that member @radaquest has marked 2 steem as the price to beat, perhaps since the post where we showed our steem-assets per token at approximately 2.2 steem.
We are quite happy with the historical candlestick chart provided by LEOdex, that shows clearly how we are managing the price over time. This is a generally low volume market (although we have made the top 25 list a few times!), and I recommend to each interested person to consider listing a buy a bit lower, as INCOME is mineable in the @ufmlotto, and not all winners will know enough to hold on to the relatively rare INCOME.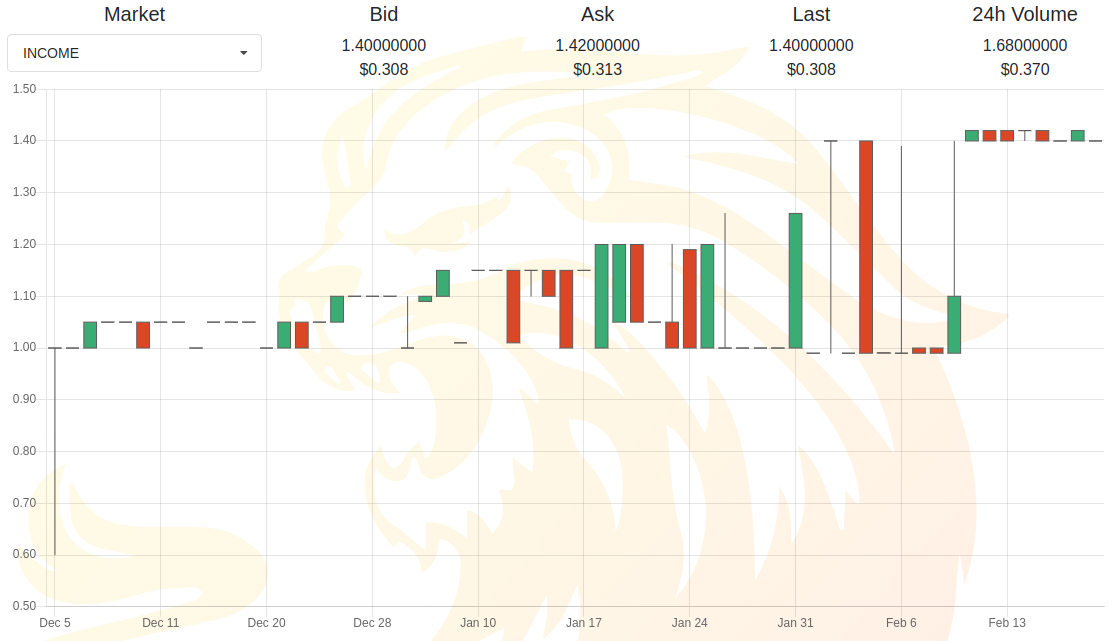 Please ask us anything, or ping @ecoinstant for faster replies (@ecoinstant#9078 on discord)
Posted via Steemleo