Have you heard of the STEEM farming sim HASHKINGS?? Are you watering your plants? Do you use automation?
---
STEEMians, gamers and fellow travelers across the blockchain multi-verse, I come to you today with a querious question pertaining to HASHKINGS:
HAVE YOU EVER HEARD OF IT?
HASHKINGS joined #STEEM in January of this year, and has made some waves in the #canna-curate and #weedcash communities. This is a Cannabis-focused Farming Simulator based on the #STEEM blockchain. Developers are introducing a hybridization and trait based NFT based on seeds. Planting your seeds and tending to them will yield something different in the end - as well as solid SP growth along the way.
HAVE YOU EVER PLAYED IT?

While HASHKINGS does require a small upfront investment, just by farming players earn STEEM-based rewards like SP. Like other games bootstrapping themselves on blockchain, the game is releasing features one by one.
ARE YOU WATERING DAILY(ISH)?

Only by keeping your plants watered can a player ensure to protect their investment, in this case the game is higher risk that most farming simulators like HARVEST MOON or STARDEW VALLEY - where there is literally nothing to lose.
Even if its only the daily reward at stake, these mechanisms keep players interested and coming back.
ARE YOU AUTOMATING YOUR WATERING?
For the longest time I struggled with the desire to treat my plants right, like they deserved, but limited connectivity, time and 'read life' always tended to get in my way. I thus turned to automation.
Happily checking on my perfectly healthy plants, I want to know how many farmers out there automate.
BONUS QUESTION: Please respond in your comment -
DO YOU OWN ANY KFQ?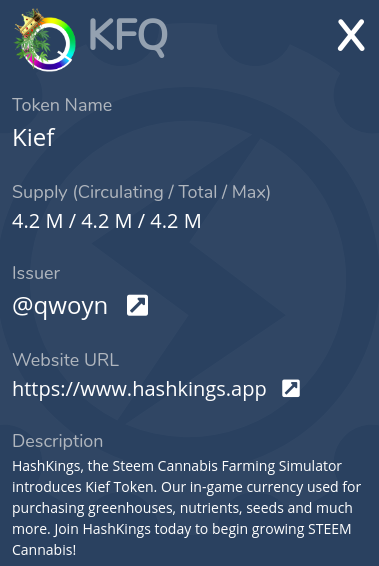 It was recently announced that KFQ can now be staked, and that the Board of Directors of the GAME will consiste of those staking 21000 KFQ or more! An exciting development in decentralized projects, I will be keeping my eye on this one - as I check in on my delicious Colombian Gold plants.
Thank you for participating in my poll!
---
I have never heard of this in my life.


---

I have heard of HashKings, but I've never logged in.


---

I logged in once or more, but never made a purchase.


---

I bought stuff and started playing, but stopped.


---

I always forget to water, but once in a while I still do.


---

I continue to water daily(ish).


---

I automate my watering and produce perfect plants.


---

Answer the question at dpoll.xyz.