Today is #MarketFriday initiated by @dswigle (Denise, that's me!!)I hope you will join us as we share the different markets. It has been such a pleasure to see markets from all over the world. Who doesn't love to see what they are selling? There is always a curiosity attached to foreign ingredients, different produce or any product sold. So, yes! I would love to see yours! Don't forget to take photos wherever you happen to be shopping - whether it be the grocery, art galleries, wherever money is exchanged for a service or for merchandise. Don't forget to use the community tag #hive-196308 or hashtag #MarketFriday and @dswigle. I know, so many are confused by how/when to use these tags. If you use a community tag, it must be posted first. (the hive tag)
Please leave the link to your post on here so it can easily be found by others. They will all be in one place. Where else can you take such a quick trip around the globe? Thank you! ❤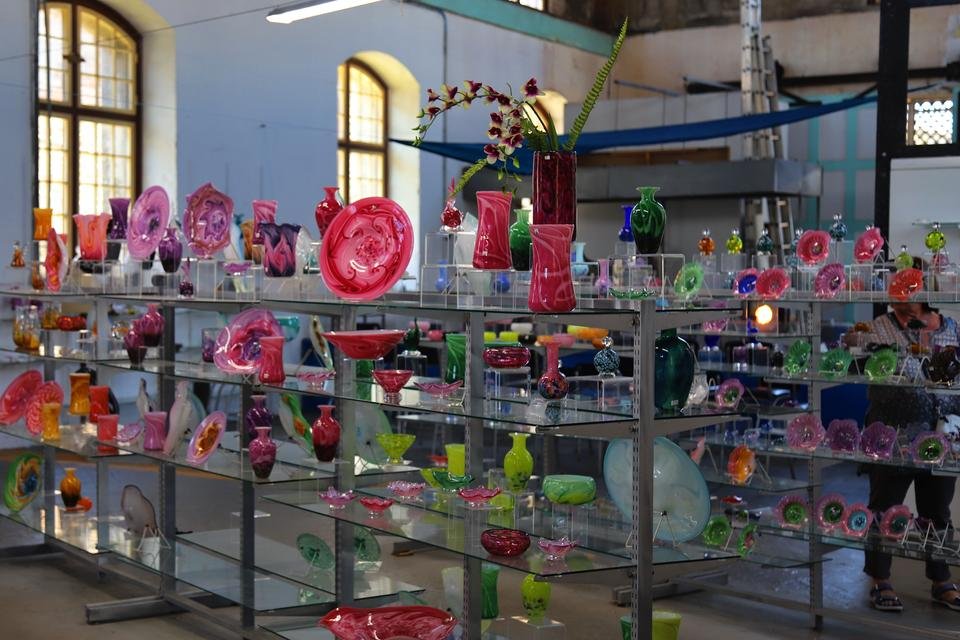 I have not made it a secret that I was hiding out in Bermuda about a month ago. It is like a mini paradise. (I say mini paradise because the entire island is 22 miles long and 1 mile wide!) So, I was taking a walk through the Royal Naval Dockyardsand I came to a sign that said."Bermuda Glassblowing Studio and Rum Cake Factory."
In we go! Who could resist a glassblower? Not this girl. I was told they demonstrate and have a small gallery from which you can watch. They set up a few chairs and do all of their creating right there, on display. All that fun and money too. What a great way to make a living!
<

![7ohP4GDng image #3...]()

[7ohP4GDMGPrUMp8dW6yuJTR9MKNu8P8DCXDU9qmmoqngCHauoReFq9muP4sdhkPvYe1MYN99tqowcB9tpoCjDHMbRm3Esfvr3CbR.jpg](https://cdn.steemitimages.com/DQmWikEqGcrtVmcs7suNjbDCozKygvqdGUU2sF1DLVUrjmx/7ohP4GDMGPrUMp8dW6yuJTR9MKNu8P8DCXDU9qmmoqngCHauoReFq9muP4sdhkPvYe1MYN99tqowcB9tpoCjDHMbR

#alwayssaflower

*Oh! But, first a flower!
I am always about the flowers.
Thank you for indulging me.*




The glassblowing was fascinating to watch. I asked if I could take pictures and they were very happy to accommodate me. Most places seem to be amiable about taking pictures if I ask permission first..

So, I usually do.

As you can see in the set of four pictures, the girl puts the molten glass in the furnace (or crucible) They said they heat it to almost 2,000 degrees. Holy moly. Heating it makes it easier to work with and shape. I was amazed at how they used tools to make bowls, dishes, and glass animals.

See more here



There were several people doing the more intricate work of small flowers. It was truly fascinating to watch them heat up and pull the petals a certain way, right before my very eyes, making nothing into something.
They are complex and layered, such beautiful objects of decorated art.
Handmade, beautiful and each and every piece is a unique piece. It is in this warehouse/gallery that they showcase the designs and intricate work that goes into glass blowing. Some pieces are shaped after they have been heated and some are blown.
Did I happen to mention that their flowers are always in bloom?
I am going back in a short bit. When I do, I am going to come back with one of these beauties in my luggage. I wanted to have one made for me that would mean something, soI put off buying one this trip.
I am always enamored by people who had the talent, learned or inherited, to create such beauty. I had a wonderful day, and the time was well spent. I am looking forward to going back again.
I never showed you the rum cakes, but, that was because we ate them all up. I know! I know! But, believe it or not, everyone in there cleaned them out. And that was the warehouse.
Le Sigh.
Next time. The first thing I buy will be a rum cake so I can take a picture of it for you. Then eat it.
Much appreciation for following and reading #MarketFriday! It is such a great pleasure to see all of you again! Thank you!!! ♥ ♥ ♥
Let the sun shine in on your life, so the joy may touch your soul. As always, keep on singing that song!! And just like that, this post is done. Thank you for stopping by and saying hello, leaving your words behind... and just so you know, although much sun and shine were used up today, I can guarantee that there is still a little left in my heart. Have a most fabulous day ahead!
Thank you for visiting my post 💖 Because of you, I come back to post, again and again. Keep it classy, people. Kindness counts. Wherever you go, whatever you do.

https://ipfs.busy.org/ipfs/QmbYLixGCCBYVyoz9MiDCDREAXiy8H8PQ2Sqo9UdNShUbs
**
*they set my aunts house on fire
i cried the way women on tv do
folding at the middle
like a five pound note.
i called the boy who use to love me
tried to 'okay' my voice
i said hello
he said warsan, what's wrong, what's happened?*
*i've been praying,
and these are what my prayers look like;
dear god
i come from two countries
one is thirsty
the other is on fire
both need water.*
*later that night
i held an atlas in my lap
ran my fingers across the whole world
and whispered,
"where does it hurt?"
it answered,*
*"everywhere"
"everywhere"
"everywhere"*
warsan shire
#Steemusa is a growing community of quality-content people from the United States or those living here. Check us out on Discord!



I miss you Steem Engine!