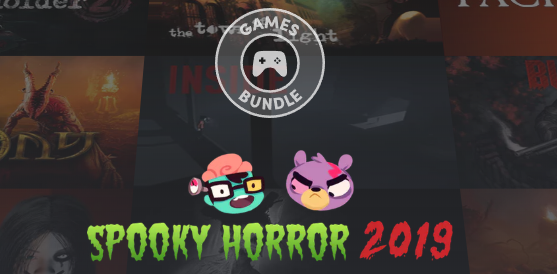 ---
[DE]
Unsere untoten Freunde Frank und Barry sind zurück, um uns daran zu erinnern, dass Spuk keine Saison hat! Mach das Licht aus, schnapp dir einen Controller und nimm dieses Paket voller Horrorspiele wie INSIDE, Darkwood, Beholder 2, Pacify und Agony.
[EN]
Our undead buddies Frank and Barry are back to remind us that spookiness has no season! Turn off the lights, grab a controller, and pick up this bundle full of horror games including INSIDE, Darkwood, Beholder 2, Pacify, and Agony.
---
PAY $1 (ABOUT €0.90) OR MORE TO UNLOCK!
Agony
Butcher
The Town Of Light
---
PAY MORE THAN THE AVERAGE OF $4.30 (ABOUT €3.88) TO ALSO UNLOCK!
The Jackbox Party Pack
The Jackbox Party Pack 2
---
PAY MORE THAN THE AVERAGE OF $12.98 (ABOUT €11.69) TO ALSO UNLOCK!
Darkwood
Beholder 2
Pacify
---
PAY $10 (ABOUT €9.02) OR MORE TO ALSO UNLOCK!
---
[DE]
Ich muss zugeben, ich kenne nicht einen der Titel. Aber der Preis schaut gut aus für die Menge an Spielen. Und wie immer bei Humble Bundle unterstützt man mit seinem Kauf auch einen guten Zweck.
Außerdem könnt ihr auch mir was gutes tun, wenn ihr meinen Referral Link dafür benutzt.
Hier geht es zum Bundle
[EN]
I must admit, I don't know any of the titles. But the price looks good for the amount of games. And as always with Humble Bundle, you support a good cause with your purchase.
You can also do something good for me by using my referral link.
Here it goes to the Bundle