It is time to HULK OUT!
It's not easy being green.💚
This beauty of a coin, struck by the Perth Mint, is number SEVEN in a series of Marvel Super Hero coins. Each has a face value of $1 Tuvalu 🇹🇻. The coins are 1oz of .9999 fine silver and have a limited mintage of just 50,000.
Steemit knows, I can't resist a series!
The first six coins released in the Marvel series.
The six original coins in the series include:
Spider-Man
Iron Man
Thor
Black Panther
Deadpool and
Captain America
I have no idea how long this series will continue, but I KEEP HOPING some Marvel ladies will finally get representation. You hear that Perth Mint?!!! Give some coin love to the gals of the Marvel Universe. It's not like Marvel is lacking female options (Black Widow, Valkyrie, Captain Marvel, Wasp, Gamora, Storm, Scarlet Witch, Rogue)... but I digress.
That time my husband challenged the Hulk to a battle in Texas.
The hulk is the creation of Stan LeeLee and Jacirby. He was first introduced to comic reareaders via his ownmic in May, 1962. At 57 years young, the Hulk appears to be at his prime on this 2019 coin. 😄
![r>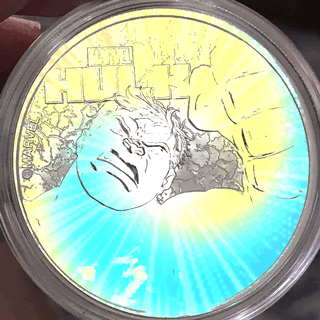 Enjoy the weekend everyone!
---
Proud Member of:
steemsugars, teamaustralia