Good evening, I hope you can receive my homework with pleasure, today we will talk about privacy currencies, thank you for the information provided professor.
---
Now let's start the development of the task.
---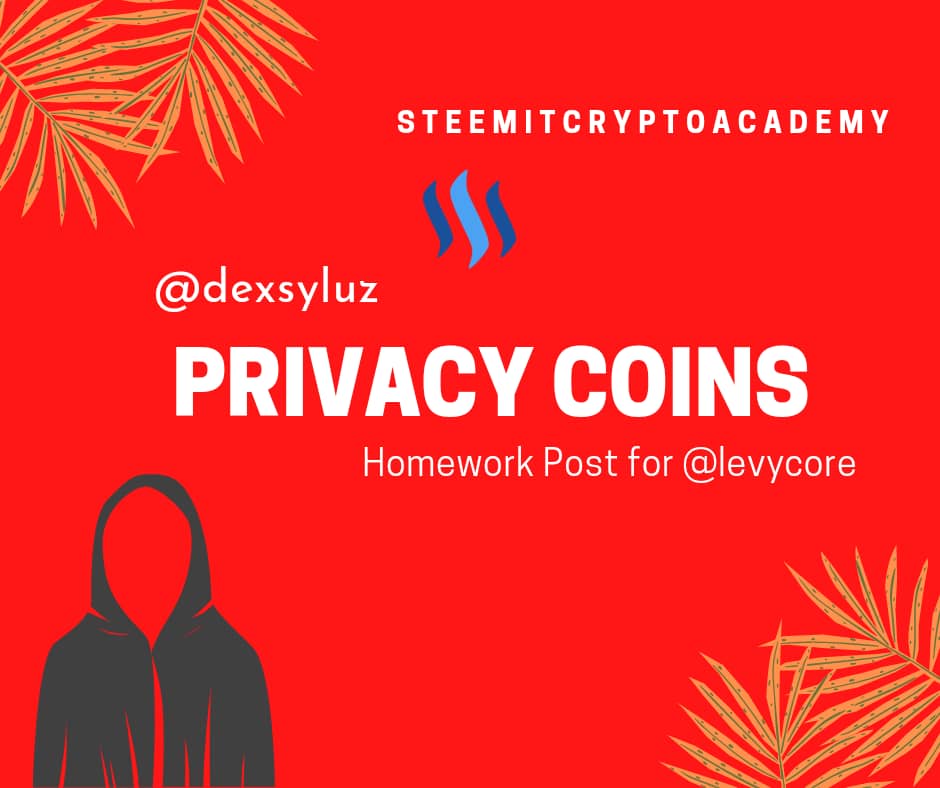 Fuente
---
1. Choose a privacy currency and perform a detailed fundamental analysis of the currency
---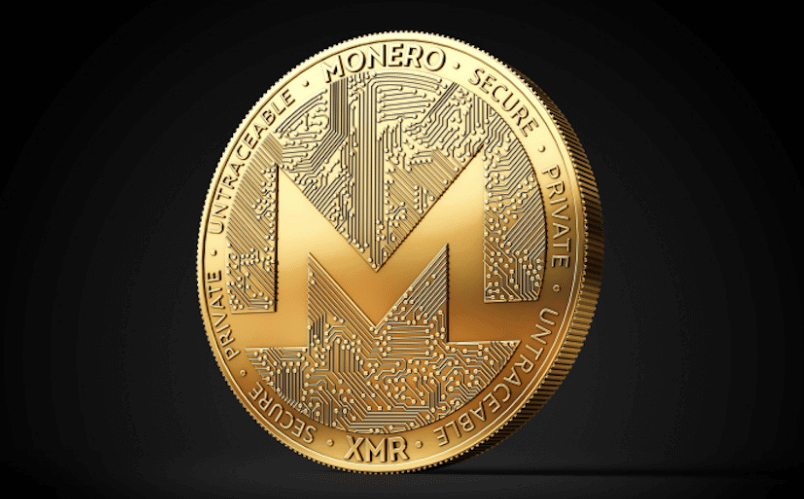 Fuente
---
I chose this coin (MONERO) thanks to the class given by the professor, it is very curious that it is chosen for its anonymity and privacy as we saw in the class.
---
Many people do not like the idea of a decentralized system with transparency in transactions, that is why the creation of Privacy Coins occurs, as coins that could not be distinguished much in the conventional centralized system. These coins, although they do not work in transparency, they do work with the decentralized system that allows you to have total control of your money when you make a transaction, and the user can have a greater demand for privacy when moving in the market.
---
Monero (XMR) was created in April 2014, with the purpose of providing privacy to the user who obtains it, who was not on a transparent decentralized system.
---
One of the characteristics of Monero is that it offers payments that are impossible to keep track of, in addition to the fact that transactions are not handled with links to each other. By this I mean that if two transactions are analyzed, it is impossible to determine that they were made by the same user.
---
At the moment of receiving a transaction, this money is not sent to a usual address where we have our funds, but the XMR we just bought end up in an address which will have no relation with our main address generated with random numbers, to make the transactions untraceable.
---
The development team is composed of 9 developers, with up to 200 collaborators involved in its development, it is presumed that Satoshi Nakamoto was a collaborator at the time of its development.
---
Its name at the time of creation was Bitmonero, but over time it was adapted to its current name (Monero). The privacy it offers at the beginning facilitated its use in the dark market of the Internet, thanks to its untraceable transactions, and its usefulness in the dark market grew when AlphaBay allowed its exchange in its shopping platform.
---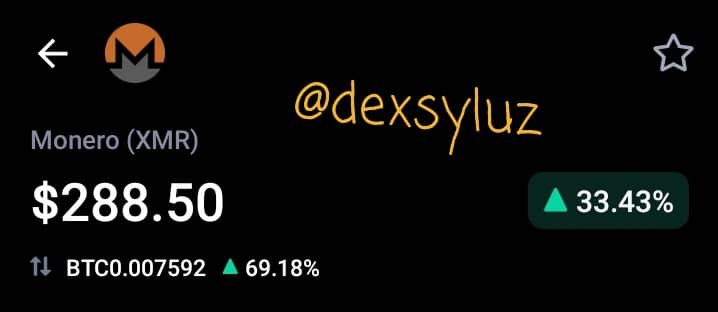 Screenshot by @dexsyluz
It currently has a price of $288.5 on CoinMarketCap, in addition to having a total of 17,923,277.20 coins in circulation to date. It has a market capitalization of $5,157,024,213 and is positioned in the 26th tracking position on the CoinMarketCap platform.
---
Which is why from that moment on Monero was directly linked to organized crime on the internet, for the purchase of drugs or illegal weapons. In 2017 the AlphaBay platform was shut down by internet security, even though Monero had risen in value from $15 to $305 in the same year. Then this price decreased drastically to below $100.
---
Actually when we send XMR to an account, the receiver receives the amount I set, but in different transactions made at different times, getting the total of the money sent, so that the transactions cannot be traced. You can also talk about monero as a project where the developers introduce I2P p technology so that the IP addresses provided end up in total anonymity. I would define this as a foretaste of the future.
---
The user will be able to have control over anonymity and his money in particular, different from the BTC working system. Monero is decentralized, you will not depend on external entities to control your transactions or your money, besides the privacy is due to the CrytoNote protocol it handles.
---
CryptoNote works with several cryptocurrencies and is an application layer that guarantees total anonymity. This protocol handles a transaction ledger which we cannot see as with BTC and other cryptocurrencies, we can know approximately how many transactions have been made but we cannot track them. Monero applies the ring signature technology that will allow us to sign a message from a particular group.
---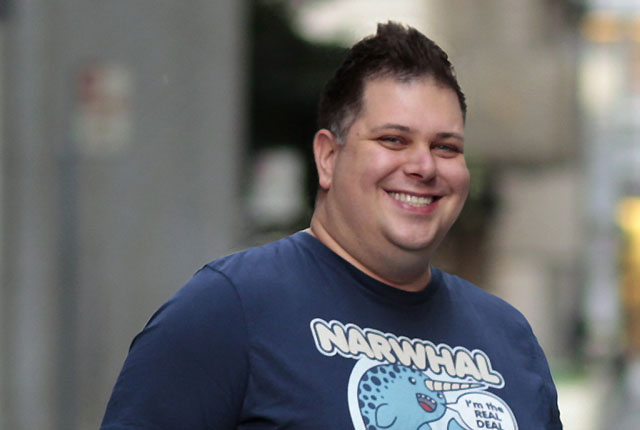 Fuente
---
WitherPaper was launched by Nicholas van Saberhagen, it is said that it was just an alias that was used to publish WitherPaper and then just disappeared. Monero was officially released to the public by someone with the alias thankful_for_today, which also disappeared.
---
Thanks to the media, we know that the main developer of Monero is Riccardo Spagni, known by his alias ''fluffy pony''.
---
These are the most important points that Monero focuses on, in providing you with security it is going to support the fact that the project is going to support your privacy and protect your money or your transactions from being seen by other people. Privacy in terms of protecting your information. Raggedness in the handling of money and in the conduct of transactions, you will not be dependent on a third party.
---
2. Describe the steps to create a wallet for the privacy currency of your choice. (Screenshot required)
---
I decided to use my phone to ask this question, the first thing I did was to download the application through the Play Store for android.
---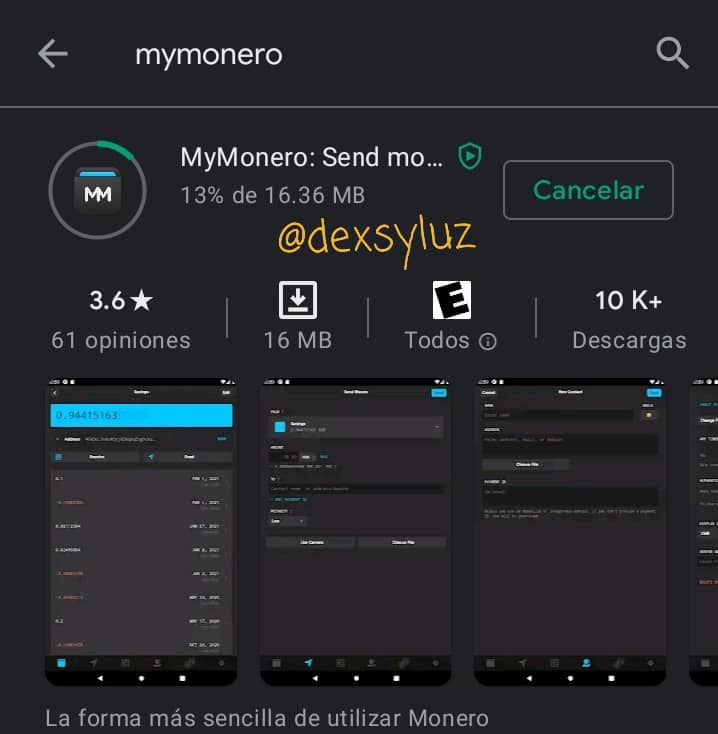 Screenshot by @dexsyluz
---
After installing the application, select the ''create new wallet'' checkbox.
---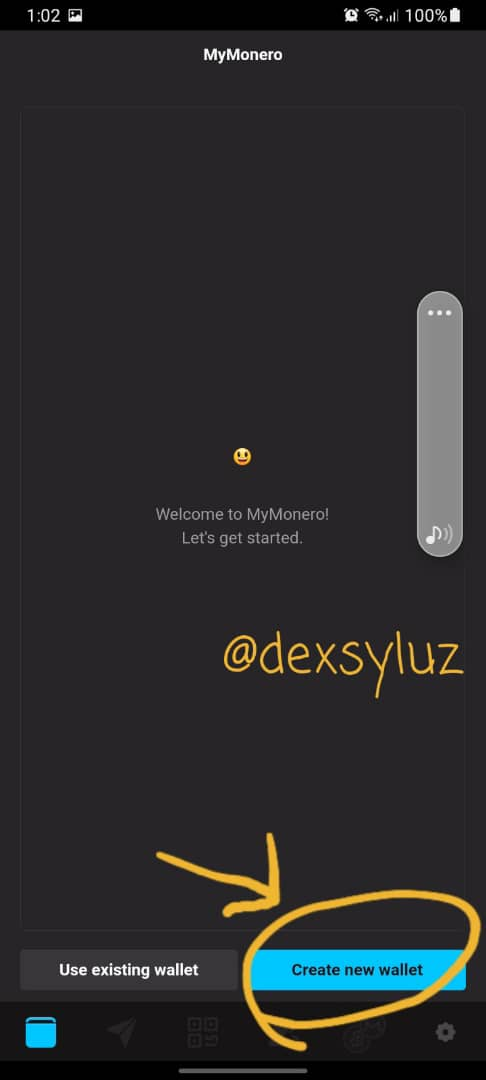 Screenshot by @dexsyluz
---
We are going to place the name of our purse and select a color of our preference, I selected yellow.
---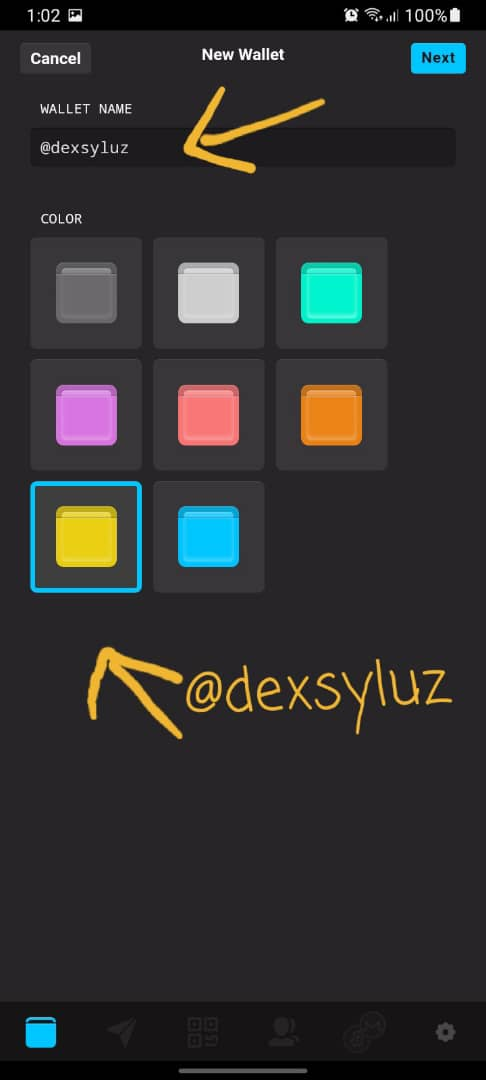 Screenshot by @dexsyluz
---
We check the box to accept the Terms and Conditions. And select next
---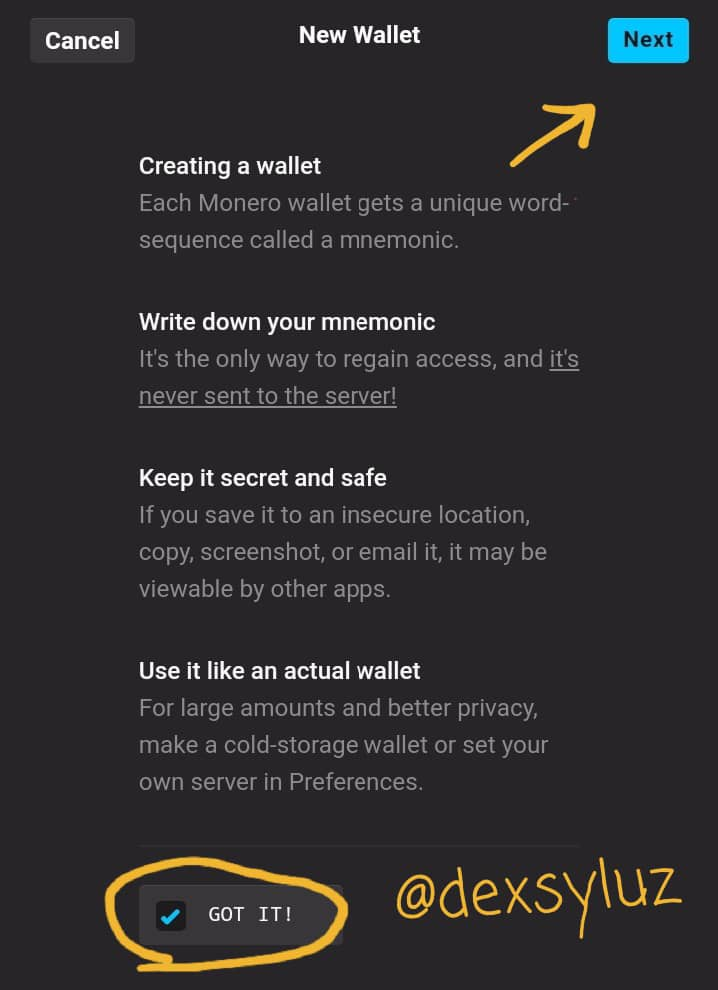 Screenshot by @dexsyluz
---
Before saving the words, we are going to place the language of our preference, it is going to give us some words which we must save for security and not share them with anyone. Preferably capture them and save them in a safe place, remember that these cannot be recovered. Select next.
---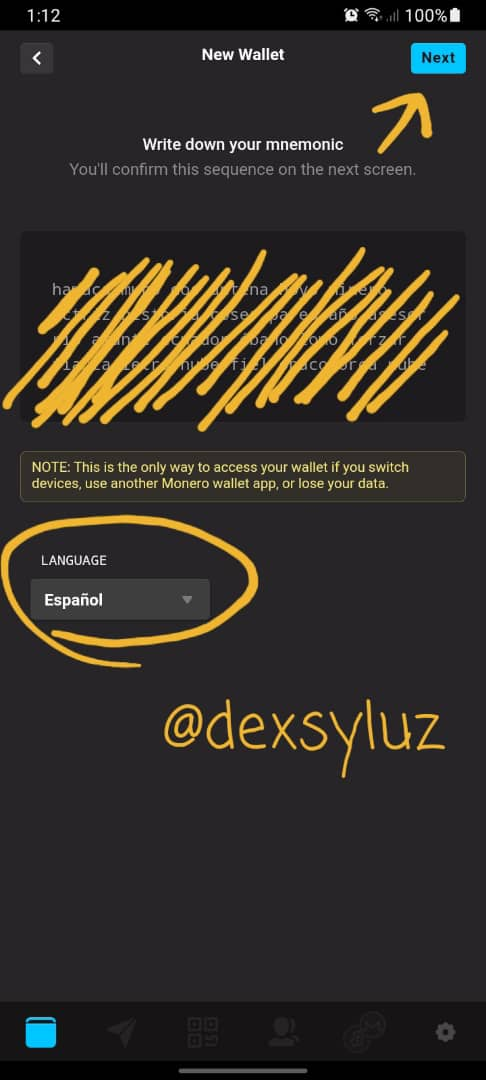 Screenshot by @dexsyluz
---
It will ask us to place the correct order of the words that we previously saved, we do it and select confirm.
---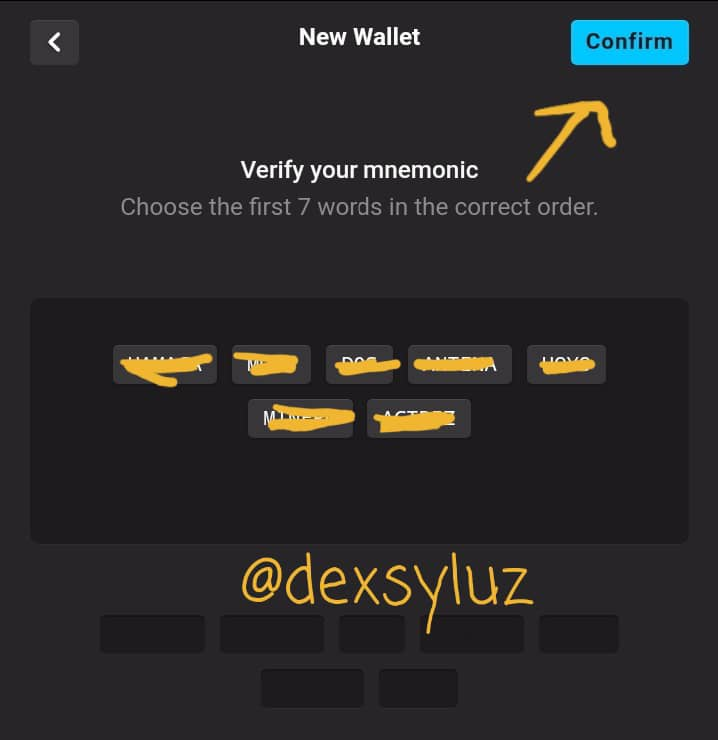 Screenshot by @dexsyluz
---
Now we will enter a password, and then the password confirmation, we select continue.
---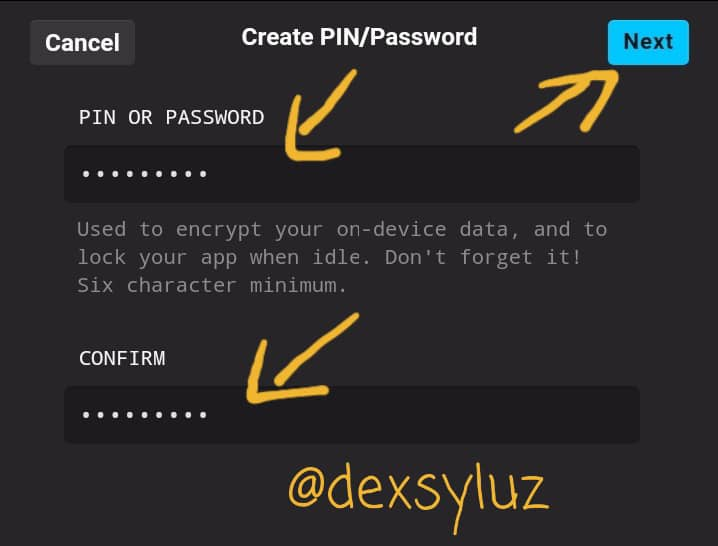 Screenshot by @dexsyluz
---
We will already have created our wallet to buy and sell Monero (XMR).
---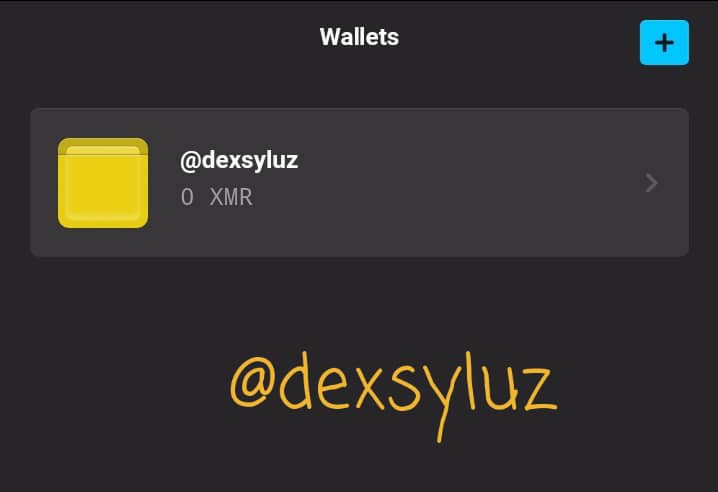 Screenshot by @dexsyluz
---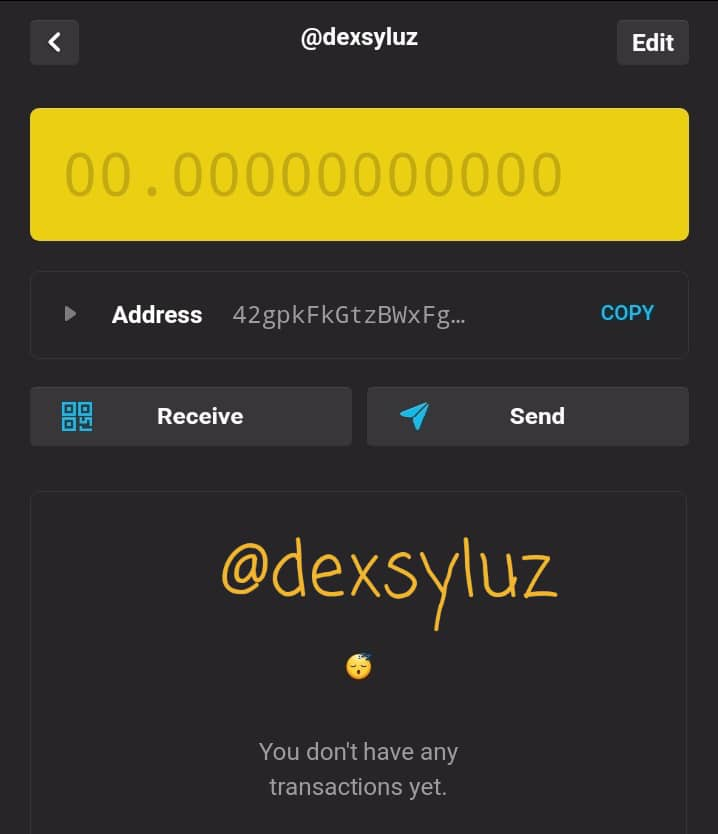 Screenshot by @dexsyluz
---
3. Provide an explanation of why you chose privacy currency. (List the advantages and disadvantages)
---
Apart from the reliability that comes with having your own website, social networks, and a very elaborate WhiterPaper, one of the reasons why I chose this currency was because of the excellent explanation of the professor, besides the fact that he did not complicate my life at the time of creating my wallet.
---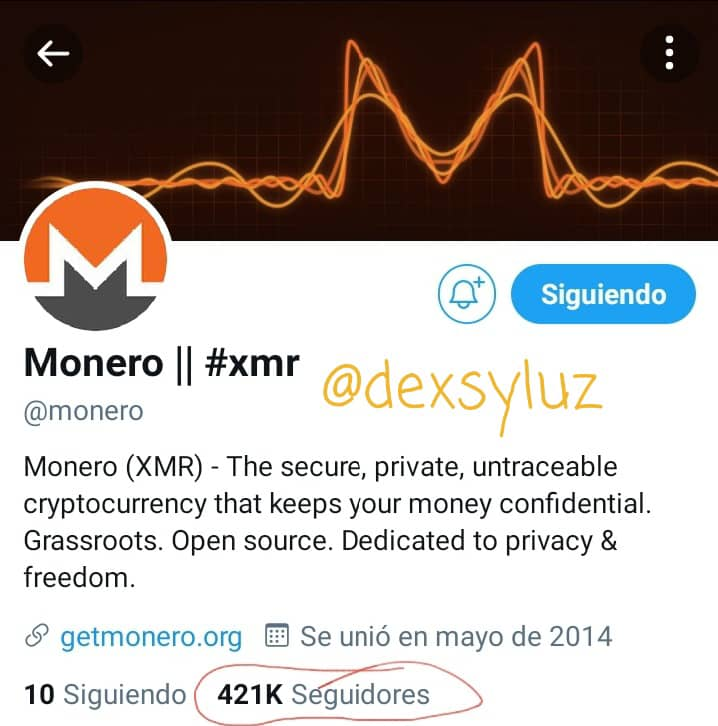 Monero Twitter. Screenshot by @dexsyluz
---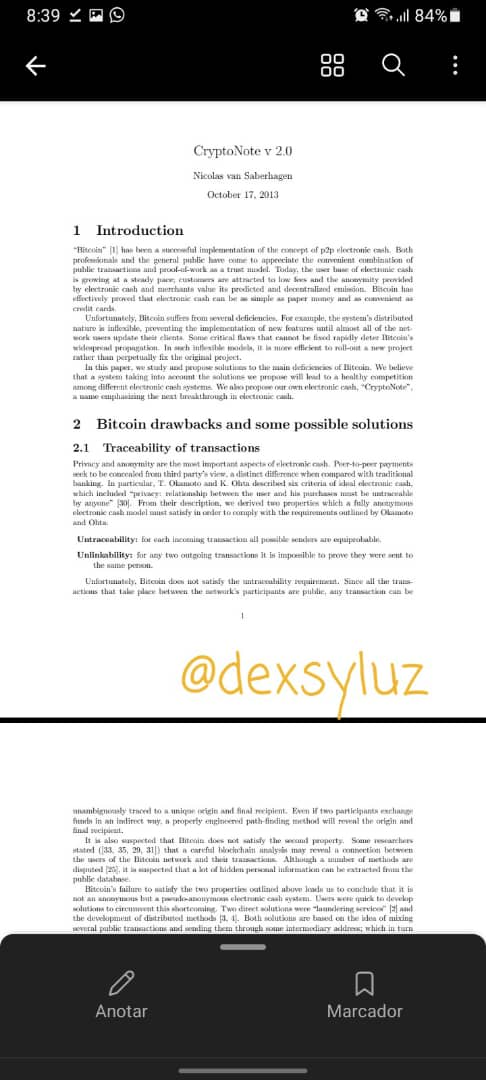 Monero WhitePaper. Screenshot by @dexsyluz
----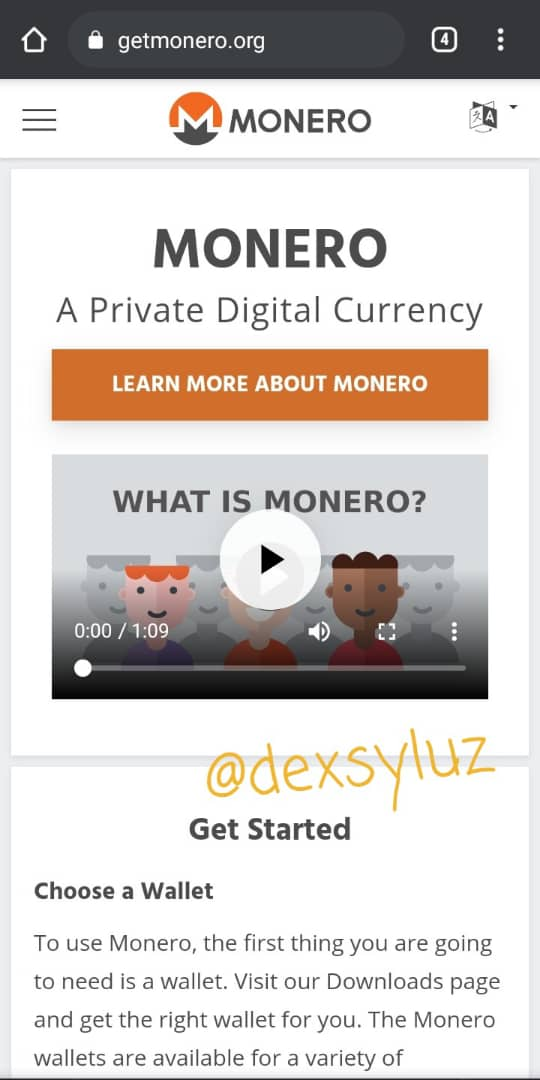 Web site Monero. Screenshot by @dexsyluz
---
ADVANTAGES
---
It turns out to be the leading private currency among all the others. It means that the privacy opportunities it provides are unmatched by other currencies on the market.
---
Transactions are extremely confidential, which gives users confidence.
---
It provides real privacy of your personal information and transactions.
---
It is managed in a decentralized system, meaning that no one will be able to control your transactions.
---
---
It allows users to participate in its mining. In a simple and communal way, generating income without the need for ostentatious protocols.
---
Thanks to the CryptoNote technology, the project offers that transactions are not traceable.
---
DISADVANTAGES
---
One of the most notable disadvantages is that thanks to their privacy protection, many people do not have confidence in this privacy system, as they have adapted to the classic cryptocurrency system of transparency in the blockchain network, that is, they are not able to protect their privacy.
---
On the other hand, many people have been able to use this privacy in an inadequate way, since most of the people who prefer Monero, are dedicated to buy and sell illegal things in the black market of the Internet, due to the privacy in the transactions that the project grants.
---
As it happens to be the most used on the black market, it is the one most exposed to cyberthieves wanting to take advantage of defenseless users.
---
CONCLUSION
---
The need for authority over our privacy has existed since the beginning of man. Within us there is this need which we must satisfy and so we seek the methods to do so.
---
When we come across these private platforms, we satisfy that need, even though some may not trust them because they are so similar to conventional systems. We have the opportunity to obtain privacy and security through the increased decentralization of the Monero project.
---
Unfortunately, this project has been used for illicit transactions on the black market, so it is not very reliable for some cryptocurrency fanatics. It is like plunging into an unknown world for those who have tried to do their actions legally and in transparency.
---
But it doesn't take away from the benefits of using this platform, as it completely safeguards your privacy and fully secures your transactions, offers like these are not easily available. Thank you very much for the class professor, I enjoyed it very much. @levycore