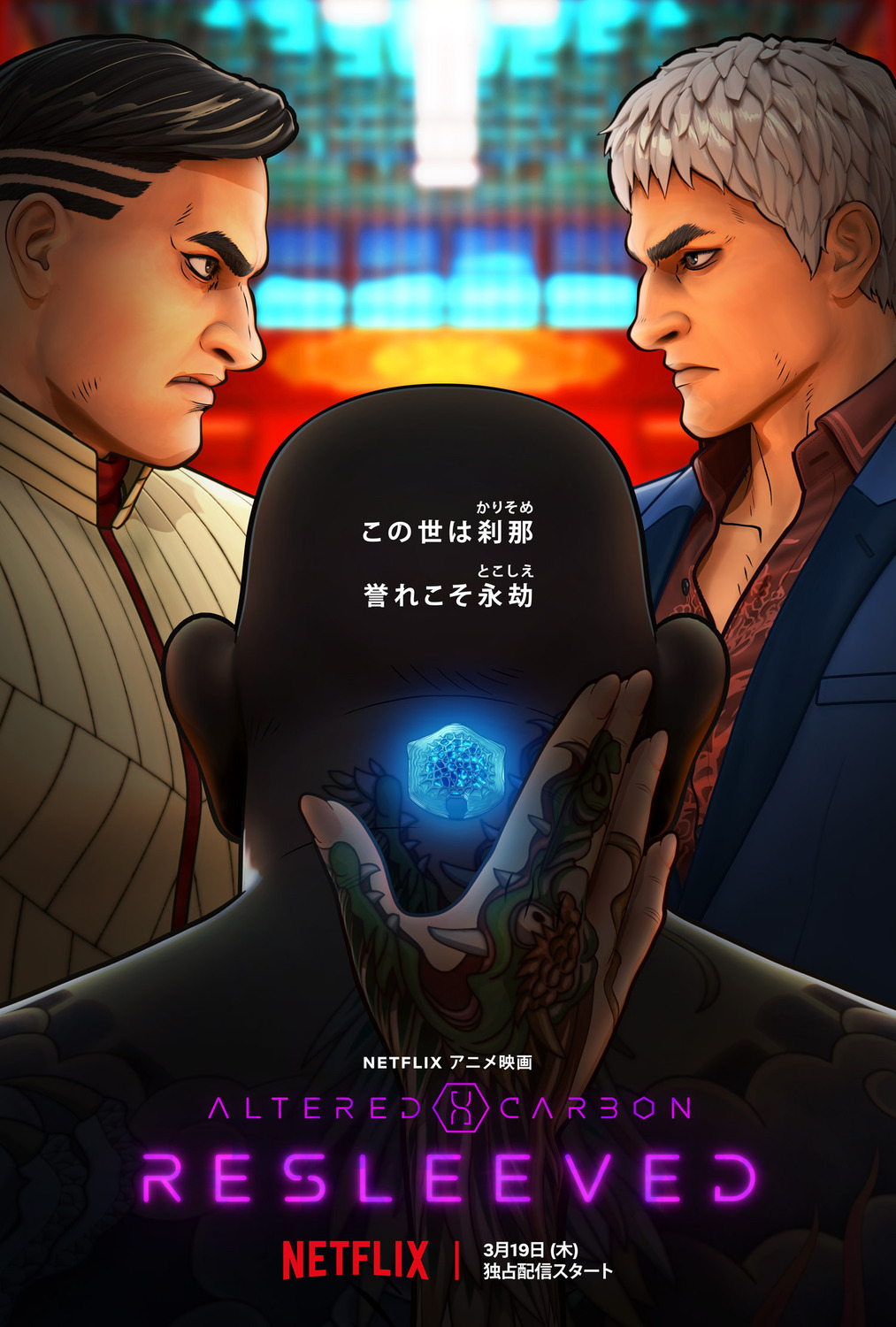 Altered Carbon is one of the main shows from Netflix and 2 seasons have already been released, I even wrote a review about season 2 that was posted yesterday. One of the things I really like about Netflix is that they let the producers and writers express their creativity freely, which results in all sorts of original shows that would otherwise never be produced.
In the same way as Love, Death & Robots, an awesome animated series from last year, I think Altered Carbon: Resleeved is the type of show that could have only be produced by Netflix. Not because Netflix owns the Altered Carbon brand, but because I think any other company would have simply produced the live-action series and that's it, never an animated movie with the potential to more animated movies in the future. Maybe Disney could be the exception but they usually work with their own IP. I also wonder, has Netflix considered the idea of an animated Black Mirror series/movies? I truly hope so, it would be cool.
In this spin-off, we see Takeshi Kovacs in yet another sleeve, being hired to solve the mystery behind a murder on another planet. He will quickly find a girl that is being chased by murderous ninjas dressed in red and with the help of a very talented woman they will both protect the girl and take her to the clan where she works. It is inside this clan where the story takes place.
There is a once in a generation ceremony where the clan changes leader and it will soon happen again. But in a world with so much technology to change bodies, achieve immortality, advanced AIs, among other crazy stuff, it is to be expected that some disputes would naturally arise when it comes to who holds the power.
The quality of the animation was very good, different than what I saw in the Castlevania series, it looked more 3D. There is a lot of bloody fights and cruel treatments remember this story is about corruption, thirst for eternal power, shenanigans, and other ugly topics involving thugs.
It provides the viewer with another look into the type of organizations that rule this dystopian world and how they can suffer from massive dysfunctionalities generation after generation. If you already watched the Altered Carbon series and enjoyed it, then this is a cool addition to this universe. In the same manner, if you enjoy animation then make sure to watch this flick, you won't regret it.
The best
Good addition to both the Altered Carbon universe and to the animation genre.
The worst
The story wasn't as good as that from the series. It is possible to have serious stories in animations and Ghost in the Shell is the perfect example. Nevertheless, the movie was cool.
More information: https://www.themoviedb.org/movie/665251
Review: AAA
In numbers: 7/10