---
In the past, I've written a couple of articles on how I'm also pretty active on the Bitcointalk forum and making quite a lot of money by posting on there. Well, yesterday I've decided to basically leave my signature campaign on BitcoinTalk and just post for fun, without making any money from it.
Now, this may sound like pretty boring news, but for me it's something pretty special. I've been participating in a signature campaign on Bitcointalk since 2014, without any breaks. Which meant that I had to reach a certain quota of weekly posts and I did this without failing a single time during those 4 - 5 years.
---
What Are Signature Campaigns?
On the BitcoinTalk forum, you can basically earn money just by posting and advertising services in your forum signature. The highest ranked members can earn up to 0.0375 BTC per week, which is worth around 380 USD.
I wasn't in the best paying campaign, but I still made around 0.015 BTC (150 USD) per week, by advertising Bitsler in my forum signature.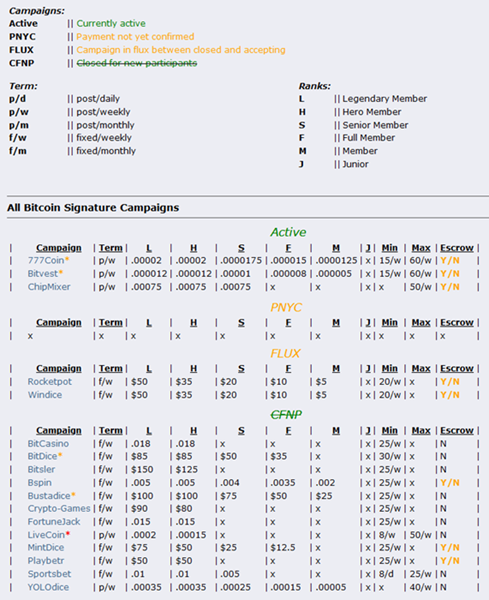 The whole forum economy is pretty much based on these signature campaigns and almost all forum members participate in one. It's kinda silly not to participate, since you basically get paid for doing with you normally do on a forum: posting. In total, there are dozens of these signature campaigns, some pay really well, others... well they don't. There's an interesting Overview Thread which lists all the signature campaigns available.
Why I've Decided to Quit
In the campaigns I've participated in, there was always a weekly minimum post requirement of 25 posts per week. I've always hit that quota, but sometimes it was getting a little bit cumbersome to keep doing this week after week, without any breaks.
Due to having to post, I usually replied to topics that weren't actually that interesting to me, but were easy to reply to. The last couple of months, I didn't really enjoy the forum anymore for what it was: a place to talk about cryptocurrencies you find interesting.
It's still a nice chunk of money that I'm leaving on the table by quitting, but I just think it's time for a long, extended break from all of this. Most of the Bitcoin I earned through these signature campaigns went straight into Steem Power, it's how I got most of my 17.000 SP actually.
When you do something like this for years on end, it feels really weird to just quit doing it. I know it's just paid posting on a forum, but it kinda leaves me feeling a bit empty and sad in a way. I don't regret my decision at all, but maybe I'll just end up joining another one in a month or so because I miss it (i.e - the money ;) ).
Would I Recommend Joining a Signature Campaign?
If you're now enticed to make a BitcoinTalk account and look for a signature campaign yourself, let me bring that hope down a notch first. BitcoinTalk is not the most welcoming place to newcomers, you really need to know the rules in and out and you have to be able to write replies that are actually good.
Even when you do succeed in becoming a law-abiding, contributing member, it would take at least 1 year to grow your account to a level where you could earn decent money from a signature campaign. That 1 year estimate is actually on the conservative side mind you.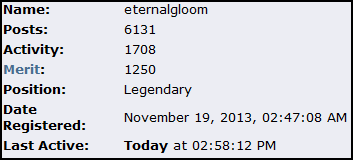 To grow your account, you need to be active once every 14 days, this is to grow your activity score which allows you to rank up. Then other people would also need to give merit points to posts of yours, only replies of the highest quality generally receive merit points from other members.
If you don't mind this huge challenge, yeah then it might be a good idea to create an account and start posting regularly. Maybe one day you'll also be able to earn hundreds of dollars per week, just by participating in regular forum discussion.