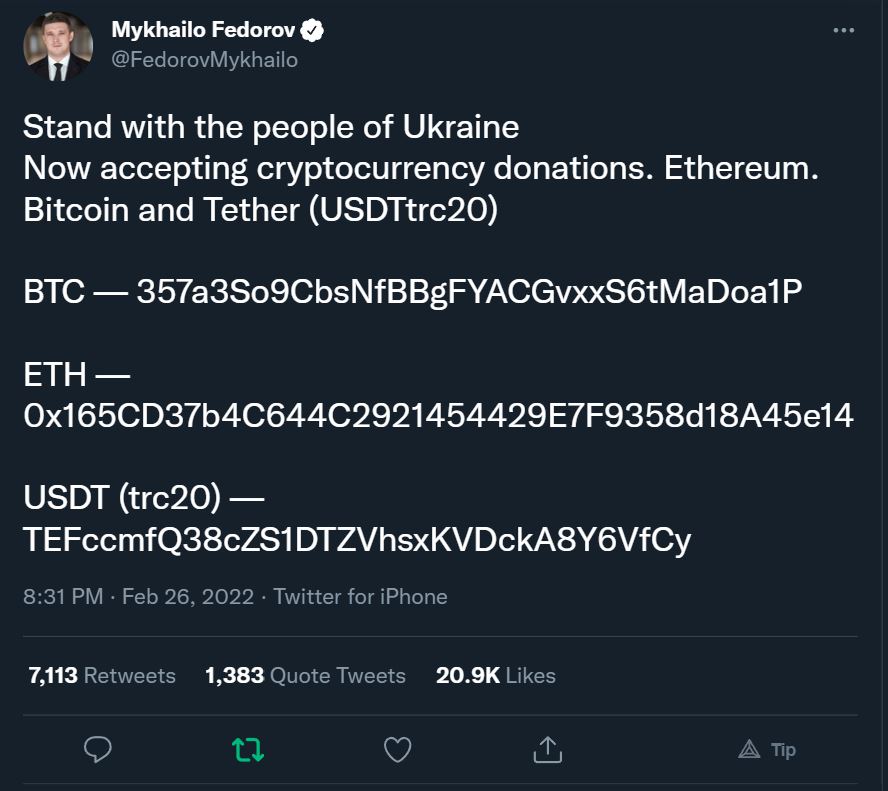 Twitter
»»——-———-————-——-—- ༺❀༻ ——-———-————-——-—-««
Cryptocurrencies had been proven now like in the case of Ukraine to be helpful in sending aid and support for its efforts to depend its freedom and sovereignty against Russia.
Mr. Michael Fedorov the Vice Prime Minister of Ukraine and Minister of Digital Transformation of Ukraine had set-up cryptocurrency accounts or wallets last February 26 his Tweet post for Bitcoin, Ethereum, and USDT (trc20) so that the citizens of Ukraine, soldiers and civilians can get extra assistance from the cryptocurrency enthusiasts, traders, businessmen, and ordinary crypto holders all around the world.
Stand with the people of Ukraine
Now accepting cryptocurrency donations. Ethereum. Bitcoin and Tether (USDTtrc20)
BTC — 357a3So9CbsNfBBgFYACGvxxS6tMaDoa1P
ETH — 0x165CD37b4C644C2921454429E7F9358d18A45e14
USDT (trc20) — TEFccmfQ38cZS1DTZVhsxKVDckA8Y6VfCy
So far more than $50,000,000 had been raised because it is easy to donate cryptocurrency, just on a click of the mouse or tap on your Smartphone you can directly send funds to the individual or groups that owns the particular cryptocurrency wallet and check it in its blockchain explorer to see the transaction in real time, all done at your own convenience and without third-party to skim some of the funds, all the funds goes in at full amount.
This is one effective way of making sure that the recipients gets your donation without 90% of it going to the administration and operational expenses like what is happening to the traditional charity organizations especially if they use celebrities which are in fact not free as well as the airtime from the television from where the donation drive is going out.
But for crypto donations there are no red tapes and as I stated no more third-party that would cut it to leave the recipient get only about 10% of the proceeds.
There are many functions of cryptocurrencies, basically it solves human problems like poverty. It gives the individual a "level playing field" in earning particularly if that individual have not much opportunity in the traditional way of gaining wealth because of some circumstances.
But of course we have to make our due diligence and be careful on what decision that we will make in order to protect us from a certain or potential losses or scams. Cryptos are like knives, you can either use them to cut food to prepare your meals but if you use it to hurt someone then it can be a bad instrument of destruction in that regard.
Anyway we all hope that this events going on Ukraine stops as soon as possible. I do not know how it can happen because there is a 50/50 chance that we will all lose in this needless war made by criminals in the government of Russia.
»»————-—————-——-—- ༺❀༻————-—————-——-—-««
‿︵ʚ˚̣̣̣͙ɞ・❉・ ʚ˚̣̣̣͙‿︵ 𝔗𝔥𝔞𝔫k 𝔜𝔬𝔲‿︵˚̣̣̣͙ɞ・❉・ ʚ˚̣̣̣͙ɞ‿︵
▂▅▇█▓▒░ ⎛⎝(•̀ ‿•)⎠⎞░▒▓█▇▅▂

Nᵒᵗᵉ: ᴾʰᵒᵗᵒˢ ᴬʳᵉ ᴹᶦⁿᵉ ᵁⁿˡᵉˢˢ ᴵⁿᵈᶦᶜᵃᵗᵉᵈ ᴼᵗʰᵉʳʷᶦˢᵉ.