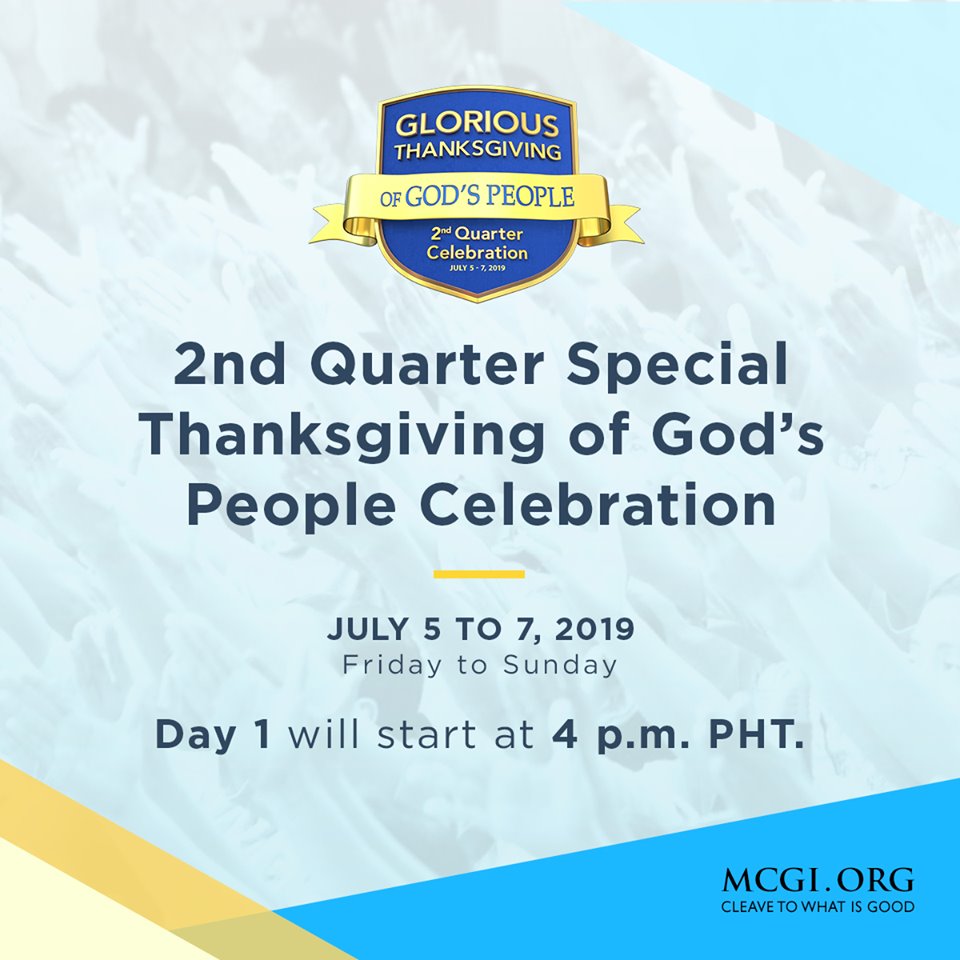 [MCGIdotORG](https://www.facebook.com/MCGI.org/?__xts__[0]=68.ARDRRFcBD7kBuAsCJntDPiggHmtsZipq_KHewSW-_4CoIOtsQG6wZN_fvZgs16Pv0VDaz9YHtd5VYqUKW7ibHF-8iTb0gUIc_5jExV6_zSr6iW8ewSGIkZ4NfXDh-n4Zt-amuvkflcXPa5PXj2N7r-k-CG1tSTEX72x-FKBPbR29CiD7VyMkUqBb0zVkCxnhvaQOG4dQOZi2K39IcBpbwuDKPnsQyOV_Lji5bn1rJ_51CP_cxPrTVcGA0CcLbspPeL3OQDEXTlvGnJ0yPStEVwBolWtsnZac1J7zszTi_G4JaMN8lDqWkXu12u8mZm1r5QsSjLgUiwh_QOVoy9cxIBVKemokOeqgxPyXdKZ61gtqTT7c&tn=kF&tn-str=kF)
‪Special Thanksgiving of God's People Celebration

‬
‪July 5-7, 2019, 4 p.m. PHT
‬
> Therefore my heart is glad, and my glory rejoiceth: my flesh also shall rest in hope. (Psalms 16:9, KJV)
I was very active in attending to my church when I was still able to walk and in fact I am attending three times per week. One was the mid-week prayer meeting, then Saturday worship service, then Sunday Thanksgiving. Now depending on locality any member can attend a church service now because there is a whole day schedule of batches especially in big localities.
Now what MCGI is celebrating about is it 2nd Quarter Whole congregation Thanksgiving offering which is always a three-day long celebration. Right not it is done at daytime in Brazil but localities all over the world is hooked-up so even though a locality is far away they can also participate in this momentous world-wide Church celebration.
Too bad I cannot go because of my physical condition plus we do not have lots of resources including a vehicle that I can use to go to the nearest coordinating center at least. Plus I am not really in condition to attend now because of pain issues as well as my breathing issues so i am just better off staying here in my home. Glory be to God for all his unspeakable gifts.