---
When Joseph arrived at Shechem, a man found him wandering around in the fields and asked him, "What are you looking for?"
He replied, "I'm looking for my brothers."- Genesis 37:14-16 -
---
Have You Seen This Missing Writer?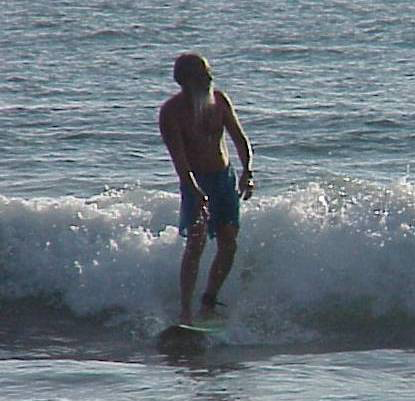 REWARD!
Name: creator

Known Aliases: creatr, "Duncan Cary Palmer", "Hey you!"

Hangouts: Known to frequent surf beaches, religious gatherings, assorted sketchy online venues, cryptocurrency and astronomy forums.

Last Seen: This vanished author has not written regularly for the better part of a year. During that time, there have been a few unconfirmed sightings (e.g. transient appearances of the straying scribe in one-off articles and unfrequented comment sections).

Genres:&nbsbsp;Fiction, Theological Fantasy, Assorted Poetry, Curmudgeonly Grumblings, How-To Posts, Apolitical Rants, Humor, Etc., Ad Nauseum...<BR
Modus Operandi: When agitated, writes incessantly. Dreams about writing. If cornered, may talk your ear off with endless minutia related to his latest obsession. Blossoms effusively when emboldened with the slightest encouragement.

++Warning!++
Be on the lookout for the dangerous penman. If seen, approach with extreme caution. This fugitive wordsmith is disillusioned, frustrated, and under a great deal of largely self-imposed pressure. The acerbity of his sense of humor is outstripped only by its obscurity. His polymathic eclecticism is a huge turn-off to readers seeking only some light amusement. Even those with similar ideological backgrounds consider much of this known scribbler's work fringe, if not borderline heretical. Under no circumstances should you comment on the hack's work, as that will only encourage him.

REWARD!: Information leading to the return of this miscreant essayist could possibly result in the resumption of a never-ending stream of drivel read by so few as to be insignificant. All presumptive claimants to the offered reward are advised to severely curb their expectations.
---
~COPY AND RE-POST WIDELY~
Below Image Suitable for Printing
---
~FIN~
---
Important Note: My articles often contain hot links to supplemental information. While they aren't essential, you may find added value by following them. Most images also link to useful or related information or articles.
---
Note: If you're reading this after the payout window has closed,
you can still reward it: **CLICK HERE**.
---
P.S. If you have an "in" with anybody at **Steemit, Inc.** - Would you please ask them to get rid of these damn, **extremely annoying** "off-website" arrow/boxes? The have, overnight, made Steemit ugly. There are ***much* better solutions.**
---
For an extensive collection of stories,
please check out our Library Stories Shelf - CLICK below:
---
---
LOOK! Check out our amazing product:

Introducing: The SILVERengines proton - Image by @creatr
CONTACT US - Will Exchange for Steem
---
Thanks for your time and attention.
You
are why I'm here on Steemit!
I have very eclectic interests and hope, over time, to write about them all.
---
⬇️To Check Out @creatr's World⬇️CLICK Each Image Below⬇️