Hello Professor @yousafharoonkhan , I thank you for your class, as the subject was very nice and interesting. Decentralized social networking is trending nowadays and it is becoming more and more known, so its popularity is increasing because of so many positive attributes. Here is my homework.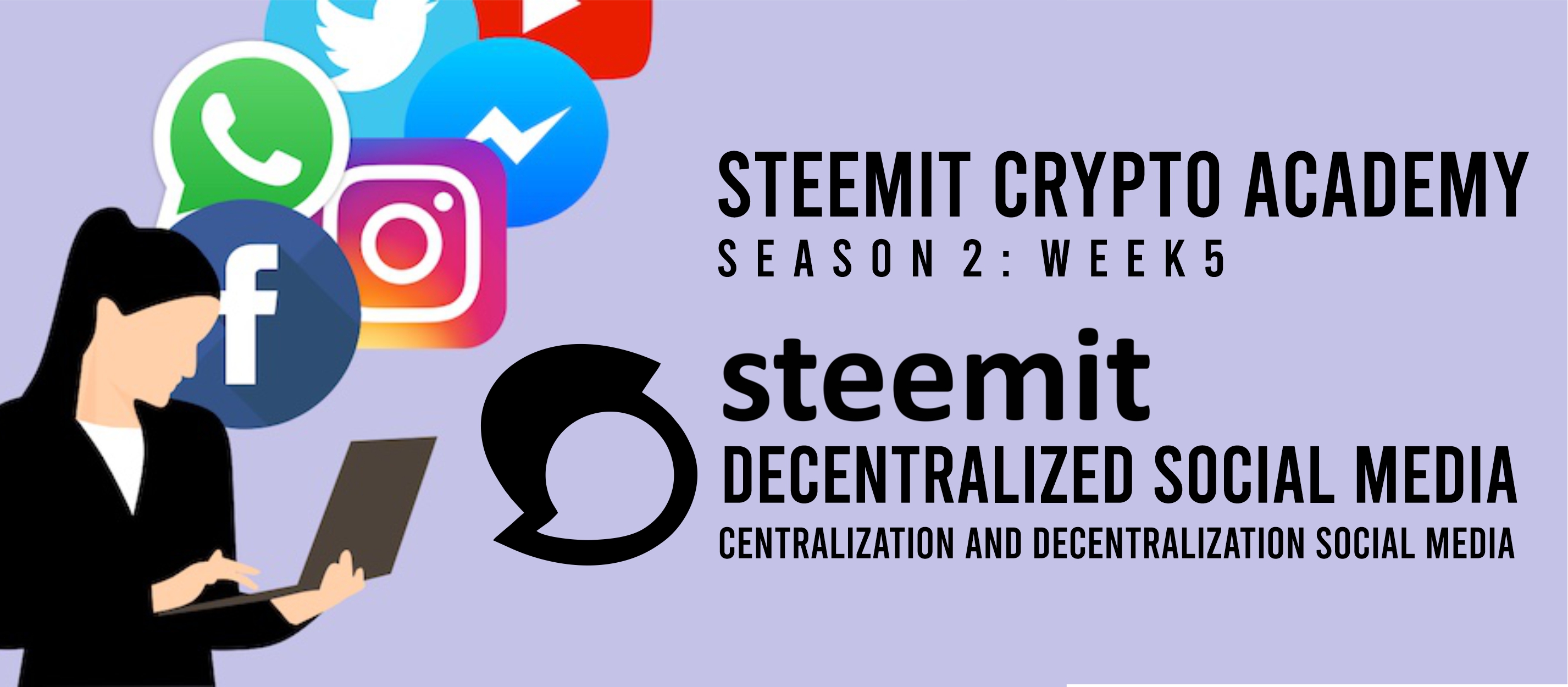 Work from home week 5
Question no 1:
Write the definition of Centralized and Decentralized Social Networking Platforms in your own words Explain in your own words the difference between decentralized and centralized social networking platforms (answer should be related to social networking platforms (answer should be written in simple words, copy and paste) no other source copy will be accepted).
Centralized social networks are characterized by being controlled by a main entity who makes decisions according to the laws and regulations pre-established by the centralized social network. In this type of social networks, the information that is handled does not enjoy security and guarantee, because it is subject to a central body where it runs the risk of being eliminated or blocked by the IT bodies that compose it.
When a creator of a centralized social network account such as Facebook, Twitter and Instagram works, it does so for the benefit of a few, who, knowing all the information provided by the creator of the account, collects and manages it in a unidirectional way.
In decentralized social networks, the account information belongs to the person who creates it and it is transparent to the public, providing trust and security from the beginning of its creation and in its development. It enjoys freedom of expression and is rewarded in the case of #Steemit for making quality content, which makes this Social Network one of the largest and most recognized social networks today.
Differences between Centralized and Centralized Social Networks.
Centralized:
You are not the owner of your own account.
Your posts or data are exposed to be lost after a long run on the social network.
Publications are not rewarded.
They are managed by a central entity.
Decentralized:
You own your own account.
You have freedom of expression.
The contents considered of quality can be remunerated.
Many people help or benefit financially from these networks.
Question 2:
What is the future of social networks? Decentralized or centralized social networks (the answer must be written in your own words).
Nowadays, more and more people identify themselves with the creation of decentralized social network accounts, knowing the details with which each of them is managed. As it is known, centralized social networks are controlled or governed by a center that does not provide confidence or guarantee of the information and that they use the information for purposes other than those for which they were created, and that decentralized social networks provide security, transparency and that each creator of an account is the owner of his information, then it can be said that in the not too distant future, accounts in centralized social networks will be less used by people, and these are motivated to give more use to decentralized social networks.
This is the case of social networks such as #Steemit, which provides all these advantages becoming a very powerful and friendly network to any type of user regardless of personal individualities, whether religious, study, thoughts and ideas. We can even say that it brings help to charitable associations and this in the future could have a positive impact on society.
Question no 3 :
How steemit decentralization social media is best than Twitter and Facebook.(answer must be written in own words)
Knowing the philosophical basis of the essence of the creation of decentralized social networks, as is the case of steemit and that they provide great benefits to the community worldwide, allowing us to express our own ideas where the creator of an account in steemit owns his account and therefore all the information provided, which does not have Facebook, twitter and instagram. Since Steemit, allows to build online communities in real time 24 hours a day, facilitating interactions to share ideas and that even if the ideas are not compatible, the accounts are not eliminated, because the creator of the account is the owner of it, but that if, Steemit gives total freedom in the creation of our own business depending on how it is done, respecting some basic principles such as the neatness of the work presented, respect among users, among other basic parameters of coexistence on the platform, as the community created in Steemit is vigilant that this is fulfilled by giving a pronouncement.
From my point of view, I think that most of the people who make life in this decentralized social network, prefer the use and management of this social network. Who knows the existence of Steemit and the advantages that it provides echoes to spread the existence of the same.
Question no 4 :
What do you say? How do Steemit social media change the lives of millions of its users?(answer must be written in own words)
By virtue of the fact that Steemit allows to build communities of different types in specific areas, such as sewing, food, educational, music, among others, and that these can be seen by anyone in an organized way in the network. They give fluidity to talent, and motivate users to show the world their different skills, and in that sharing of ideas, if it is to the liking of someone belonging to the community, where he can express that he likes the idea through a positive comment, gives a contribution that motivates to improve ideas and creativity.
Steemit through the Blockchain platform further strengthens that creativity by providing a reward to the initiative, then Steem helps the quality of life of people interested in wanting to do it, with an economic contribution in the form of (SBD) and $ Steem.
Question no 5 :
How can we make money with Steemit's decentralized social media.(write your own experience)
Throughout my journey in Steemit, I have learned that it is important to be active on the platform, having interaction with other users to make myself known and people know how to identify me by my content.
To make money, it is important to know how to locate the type of content that is related to a community, for example, if I want to share in #steemit a recipe, what better place than @steemfoods to do it, but it is necessary to have good writing and presentation using writing formats, which makes the visit to my blog more enjoyable, and using images that serve as a gateway to each of the contents, as well as keeping illustrated everything within the publication.
The important thing is to show our talent to the world, whether in crafts, cooking, music or any other that opens a door to hundreds of opportunities to be rewarded. To do this we must know the different communities and the rules that exist in each of them to make the experience better.
Another way of interacting with users is through contests, participating and supporting other contestants, providing positive comments regarding their publications, always maintaining respect, following the rules of participation and thus opting for prizes in the coins that Steemit offers us.
Question no 6:
How to create communities on Steemit social networks (practice step by step) and promote your task publication on two social networks, Twitter and Facebook (just share the link in the comment area).
To create a community, we must first go to the Steemit Logo on the top left, as shown in the screenshot below.
Then click on explore communities
Click on CREATE a Community
In this step, we name the community and give a brief description. I am currently creating a Community where Steemit users can share their handmade creations and show their talent with crafts.
After clicking next, Steemit will give you a community password, which you have to keep very well.

Accept and click on create community.
Then we e accept the 3 Steem payment, enter our Activate password and that's it, our community is created, ready to beromoted. ✨📢


I can conclude that decentralized social networks in the future may have so much strength that they will displace centralized networks in terms of trend, being these spaces where we can express ourselves freely, having control of our accounts and being paid for it.
Greetings and Blessings! I was very pleased to participate!
Many Blessings and my best wishes.