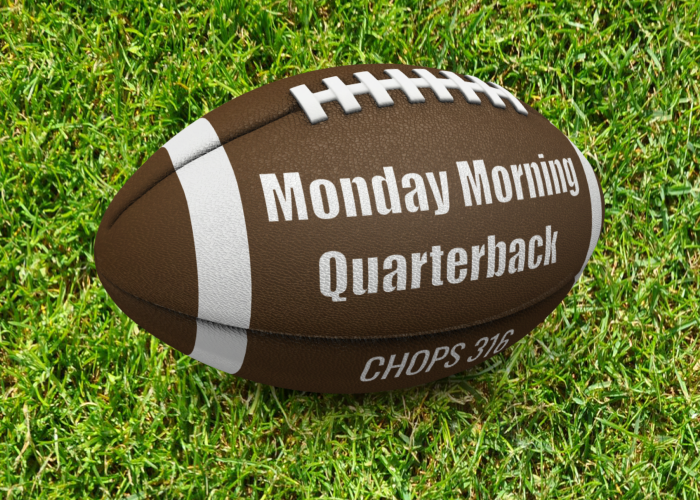 The fourth Sunday of the 2019 NFL season is in the books so here are the different thoughts and opinions I have on various things I witnessed this past weekend. A few big upsets, a few near upsets, a few teams continuing to stink up the league and a certain team from Dallas who managed to ruin my Sunday night. At least the Phillies season is finally over. I couldn't take much more of that disaster.
Just remember I am a Dallas Cowboys fan and I'm extremely biased. Feel free to agree or disagree about anything mentioned here. All comments are welcome.
Saints D Marched Right In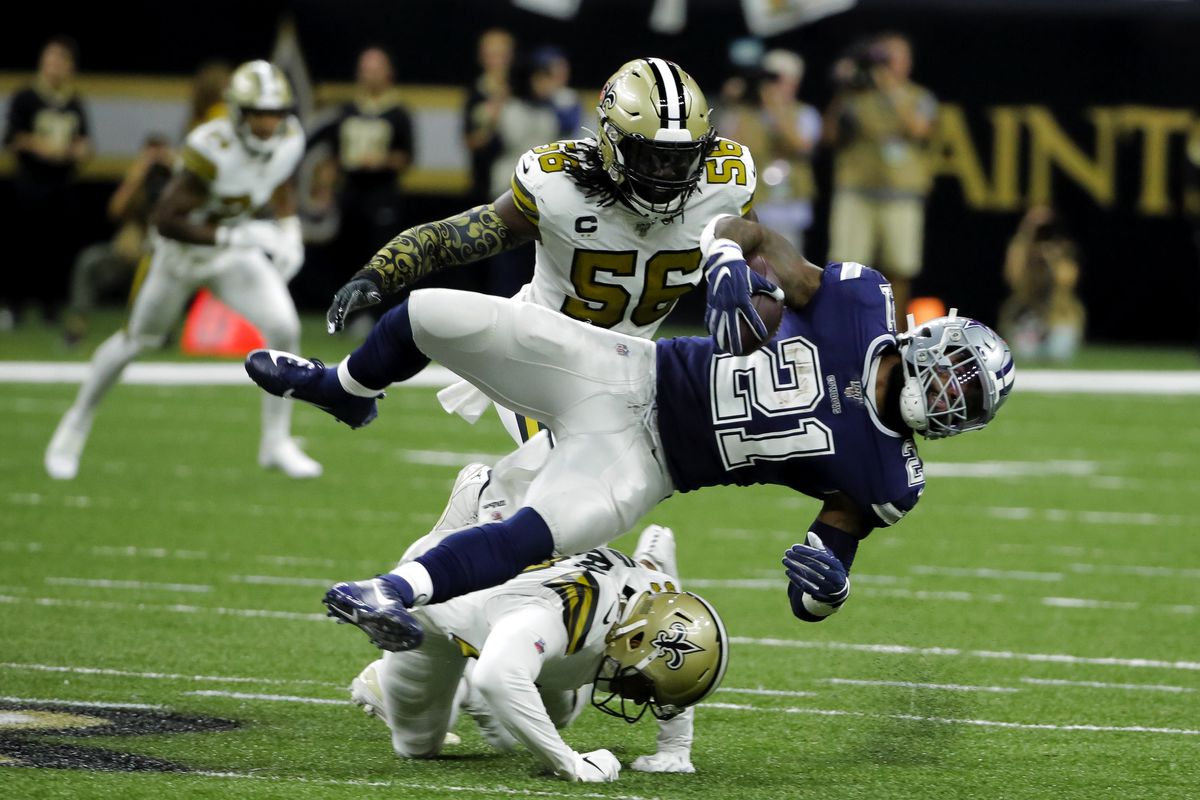 This picture pretty much sums the night up
Source

Boy did I have this game pegged wrong. I was more worried about the Cowboys defense. Before this game they really hadn't lived up to the lofty standards they set last season. Well on Sunday night the Dallas D showed up big time. It was the offense who let them down as the Cowboys fell 12-10 to the Saints.
Before I go any further, I have to talk about the refs in this game. Simply too many flags on very questionable calls. It was an embarrassment to the league. And this isn't just a disgruntled Cowboys fan talking here, the Saints received way more baseless flags than the Cowboys did. The officiating was terrible. On several replays you couldn't see anything remotely connected to the penalty that was called. If the Saints would have lost this game, they would certainly have the right to bitch they were screwed by the referees again. Fortunately for them Dallas could do very little with the extra help.
The Cowboys offense couldn't get on track all night. The running game was nonexistent. Zeke put up one of the worst stat lines of his career: 18 carries 35 yards 1 TD 1 Fumble. His backup Tony Pollard didn't even get a carry. The offensive line, which is one of the best in the NFL, got outplayed hands down. Zeke had no room to run.
With the running game being neutralized, Dak Prescott lost his greatest weapon: the play-action pass. It most likely wouldn't have mattered anyway. Amari Cooper was held in check by Saints cornerback Marshon Lattimore. He struggled to get open, catching five balls for only 48 yards. Randall Cobb caught a few passes, but also dropped a couple. The only success through the air came from passing to tight ends Jason Witten and Blake Jarwin, who combined for seven catches and 99 yards.
Even with all the offensive futility they displayed, the Cowboys were really hurt by two fumbles. A promising first half drive was killed by a Jason Witten fumble in Saints territory. Witten of all people. He has only fumbled 9 times in his 16 year career. Good Grief! Dallas only would have needed a few more yards to be in field goal range.
The other fumble fell out of the hands of Zeke Elliott. Late in the first half Dallas converted a 4th and 1 at mid-field, but Zeke lost the ball before he hit the turf. Barely. Maybe. I'm not sure, it was too close to call on replay so the play stood. The Saints converted that turnover into a field goal which turned out to be huge since Dallas only lost by two points. Ugh.
Saints quarterback Teddy Bridgewater didn't light up the sky but for the second straight week he played well enough for the Saints to win: 23/30 193 yards 1 INT. The Cowboys kept the pressure on Bridgewater by sacking him five times. Alvin Kamara had a better game than Zeke but it was nothing to write home about either: 17 carries 69 yards.
This game was all about the defense. The Cowboys defense played very well, well enough to win. The Saints defense played even better. The only positives I can take out this game for Dallas is they played in one of the leagues toughest road environments, the offense completely stunk, they shot themselves in the foot twice with turnovers and they still only lost by two points. I think that's something positive. Barely. Maybe.
Battle of the Unbeatens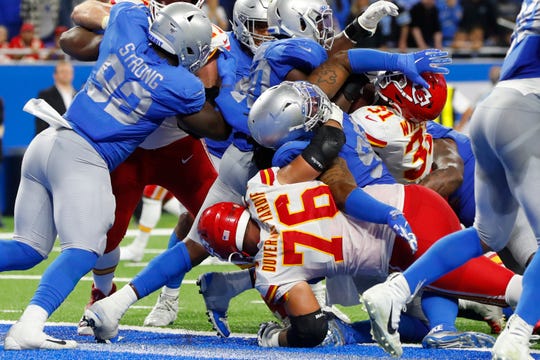 It was a hard fought contest
Source
Last week I said I didn't know what to make of the Lions and maybe I still don't. Yet even though they fell to the Chiefs 34-30, the Lions have proven they aren't going to be doormats like they were last season. This team is going to fight for a playoff spot.
I was expecting a blowout. Patrick Mahomes was making his first career start in a dome. Look at the numbers this guy puts up in the worst weather conditions. Now he gets to play in a climate controlled dome. The Lions 22nd ranked pass defense was without their top cornerback Darius Slay and quarterback Matthew Stafford was reportedly suffering from a bad back and hip. Yep, looking like a blowout.
Instead the Lions came to play. And play hard. Hell Stafford (21/34 291 yards 3 TDs) outplayed Mahomes (24/42 315 yards 0 TDs). How is that even possible? Even the usually dormant Detroit running game came to life as Kerryon Johnson rushed for 125 yards on 26 carries.
This was a crazy game. There were 5 fumbles lost in the 3rd quarter, 3 by the Chiefs and 2 by the Lions, and one of those Lions fumbles was truly the difference in the game. Kerryon Johnson barreled toward the end zone on a first and goal play on the Chiefs one yard line. He was stopped short and the play seemed to be over. All of a sudden Kansas City's Bashaud Breeland was streaking across the field for a 100 yard fumble return TD. Turns out Johnson lost the ball before he was down (here we go again: Barely? Maybe? It was close). While everyone untangled thinking the play was over, Breeland saw the ball on the ground. Not hearing a whistle he scooped it up and ran away for a score.
That play was a backbreaker and it gave the Chiefs a 20-13 lead. Yet the Lions fought back and took a 30-27 late in the fourth quarter. Mahomes finally pulled some magic out of his ass on the Chiefs final drive, including a 15 yard desperation scramble on 4th and 8, to secure a game winning touchdown with 20 seconds left.
Tough loss for Detroit. They had the Chiefs on the ropes and failed to put them away. But if a team ever earned a moral victory, it was the Lions on Sunday. They outplayed the Chiefs for most of the game and it took a goofy fumble return that nobody realized was even a fumble for the Chiefs to sneak out of town with the win.
The Upset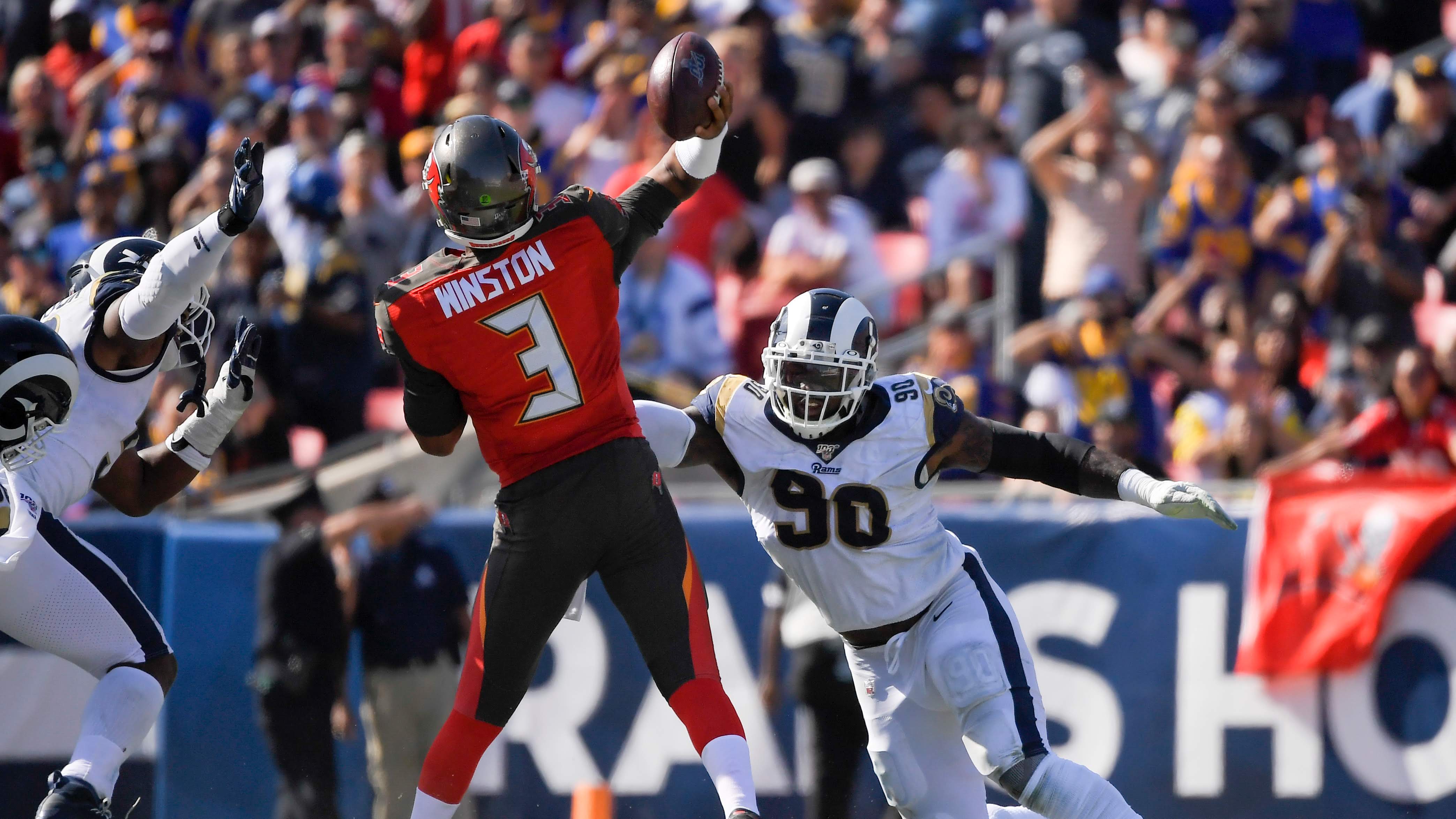 Nobody saw this coming. Nobody.
Source
OK, anyone who thought the Buccaneers had any chance of beating the Rams please raise your hand. Now put your hand down you freakin' liar. You're not fooling me.
Nobody saw this one coming. The Rams haven't looked like themselves so far this season, but c'mon. The Buccaneers at Los Angeles? The Bucs couldn't even put away the Giants at home last week after having a 18 point half time lead. A Giants team with a rookie quarterback making his first start and having already lost Saquon Barkley to an injury. How could they possibly beat the Rams?
Well they did, 55-40. The Rams had no answer for the Bucs QB/WR duo of Jameis Winston and Chris Godwin. Winston absolutely torched the Rams secondary: 28/41 385 yards 4 TDs 1 INT. Even though he completed passes to eight different receivers, it was Godwin who performed the best: 12 catches 172 yards 2 TDs. All career highs for Godwin, who was a game time decision because of a hip injury. Turns out Tampa Bay made the right decision.
But unknown to anyone, even the Buccaneers, Tampa Bay had another secret weapon to secure the upset. That secret weapon was Rams quarterback Jared Goff. Goff threw three interceptions that Tampa converted into three touchdowns. If that wasn't bad enough late in the 4th quarter, when the Rams had battled back to within a touchdown, he fumbled the ball and Ndamukong Suh returned the recovery for a 37 yard touchdown. Ouch. Double ouch since Suh played for the Rams last year.
After the Bucs raced out to a 21 point lead, the Rams were forced to have Goff chuck the ball to come back. He put up some gaudy stats (45/68 519 yards 2 TDs) but not enough to overcome all his turnovers. Ugly loss for the Rams.
The Other Upset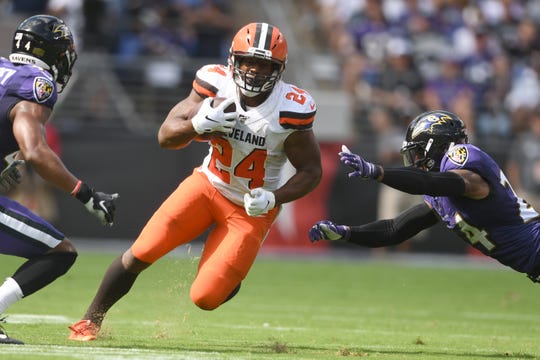 He doesn't look that chubby to me
Source
Not as shocking as the Bucs/Rams game, but still out of nowhere, the Cleveland Browns rolled into Baltimore and smashed the old Cleveland Browns (also known as the Baltimore Ravens) 40-25. Take that Art Modell! Oh nevermind, he's dead.
Before this week, the Browns looked pretty bad. The Titans whipped them in Cleveland, they were unimpressive in a win over the Jets that they got by basically showing up and the still-haven't-found-last-year's-mojo Rams beat them handily last week at home. This team came limping into Baltimore with questions on both sides of the ball.
Well what do you know, head coach Freddie Kitchens found some answers. The first was to give the ball to running back Nick Chubb. Chubb ran right through the Ravens defense: 20 carries 165 yards 3 TDs. Chubb's success took some of the pressure off of QB Baker Mayfield. But what helped Mayfield out even more was the decision to stop chucking the ball downfield to Odell Beckham and instead rely on quicker short to intermediate passes. Mayfield responded with his best outing of the season: 20/30 342 yards 1 TD 1 INT.
The Ravens clamped down on Beckham, holding him to two catches for 20 yards. But that let Mayfield concentrate on his other weapons. Jarvis Landry (8 catches 167 yards) was his favorite target and Rickey Seals-Jones made some big plays (3 catches 82 yards 1 TD).
It's time for Baltimore to start worrying about their defense. Last week they gave up 503 yards of offense to the Chiefs. That can happen to anybody, especially in Kansas City. But this week they gave up 530 yards of offense to Cleveland at home. That is not good at all. Especially for a team built on controlling the clock by running the ball and playing stout defense. This team is not made to score in a hurry, when they start falling behind they are in trouble.
Baltimore and Cleveland now have matching 2-2 records, but since Cleveland has the tiebreaker the Browns are now officially in first place in the AFC North for the first time in five years. Don't get too excited Browns fans, that season ended with 5 straight losses and a 7-9 record. Let's take this one week at a time.
Around the League
You can't have my ball!
Source
Through the first 3 weeks of the season, Jaguars running back Leonard Forunette accumulated a rather pedestrian 179 rushing yards. On Sunday he trampled the Broncos for 225 yards on 29 carries as he led the Jaguars to a come from behind 26-24 win over the Broncos in Denver. Rookie QB Gardner Minshew had a good game as well: 19/33 213 yards 2 TDs.
The good news for Denver was they finally recorded some sacks, they got to Minshew five times. Yay! The bad news is the Broncos are now 0-4. Ouch. At least their offense showed some life.
Let's round up the AFC South. The Jags won in Denver, the Titans beat the reeling Falcons in Atlanta 24-10, the Texans lost at home to the Panthers 16-10 despite forcing Carolina QB Kyle Allen to fumble three times and the Colts got mugged at home against the Raiders 31-24. Who wants to win this division? The two road teams won games they should have lost and the two home teams lost games they should have won. It's madness I tell you! Each team sports a 2-2 record and this division is wide open.
I'm not a fan of the "Danny Dimes" nickname that has been bestowed upon Giants QB Daniel Jones. It sounds like a name mafia guys give to the guy who cleans their toilets. Anyway Jones had a decent game against the awful Redskins (23/31 225 yards 1 TD 2 INTs) as the Giants won 24-3. The bigger story of the game was rookie QB Dwayne Haskins made his debut for the Redskins when he replaced Case Keenum in the 2nd quarter.
Of course you may wonder why a team would give a guy all the first team reps in practice all week and then replace him in the second quarter with a rookie who has never taken one snap in the NFL. That's because you know something about football and the Skins obviously don't. Haskins came into the game with no quality receivers to throw the ball to and no running game to support him. Big surprise he struggled: 9/17 107 yards 3 INTs. Rumors are swirling that Skins head coach Jay Gruden is going to be fired soon and decisions like this make it look like he is begging them to do it.
The Buffalo Bills put up a helluva fight against the visiting Patriots before falling 16-10. The Bills defense smothered Tom Brady (18/39 150 yards 1 INT) but couldn't overcome all of their turnovers. The Patriots blocking a punt for a touchdown didn't help either. Still Buffalo wasn't expected to win, they were supposed to put up a fight. Which they did. Who knows, if Josh Allen didn't have to leave the game with an injury they might have pulled of the upset. The Bills are rough around the edges, but they can play.
Congrats to Buffalo RB Frank Gore for becoming the 4th player in NFL history to surpass 15,000 rushing yards with a strong 109 yard performance against the Patriots. This milestone should guarantee his place in Canton.
The Bears cracked the code on how to beat the Vikings: don't let Dalvin Cook run the ball. Ok, everybody already knew that but the Bears did it by holding Cook to 35 yards on on 14 carries in their 16-6 win over Minnesota. Bears QB Mitch Trubisky left this game in the 1st quarter with an injury and that actually may be a good thing for the Bears. Trubisky has been awful this season and his backup Chase Daniel played well.
Memo to Fox Sports: WWE is coming to Fox. I get it. Now quit beating me over the head with that info. The fact that most of your promos still mention Hulk Hogan, Ric Flair and Stone Cold Steve Austin (in case you didn't know I stole Chops316 from Austin316) tells me the state of pro wrestling these days. Nothing worth watching now.
Raiders LB Vontaze Burfict got ejected for the first time this season for nailing Colts TE Jack Doyle with a vicious helmet to helmet hit. Hey he made it all the way to Week 4 before getting thrown out of a game, he must be maturing. Nah he's just trash. I criticize the NFL often for turning the game into flag football, but Burfict's bullshit is truly not acceptable. He is trying to end careers. Maybe it's time the NFL ended his. (Monday morning the NFL announced they have suspended Burfict for the rest of the season)
The Dolphins still haven't scored a single point in the second half of any game this year. The Chargers beat them 30-10. If any team loses to this mess I will mock their fanbase until my throat is hoarse. You have been warned.
Let me know your thoughts on Week 4.