source
---
Regarding professor @gbenga homework task on Introduction to Defi and Yield Farming, I have decided to talk about Binance Smart Chain as an Ecosystem and its project PancakeSwap.
BINANCE SMART CHAIN
source
Binance Smart Chain is a parallel of Binance Chain(mainnet community) with the integration of smart contracts
HOW IT CAME ABOUT
After the launch of Binance Chain in April 2019, it became famous for its high speed, large throughput design, low-latency matching with large capacity headroom by handling millions of trading volume in a short time.
Despite all these perks, the concentration on providing a convenient digital asset issuing and trading venue also brought limitations. Users demanded the integration of Smart Contract and Virtual Machine functions.
Concerns were raised as the integration of Smart Contract into Binance Chain may slow down the exchange function and add non-deterministic factors to trading. Thus, a parallel blockchain of the current Binance Chain to retain the high performance of the native DEX blockchain and to support a friendly Smart Contract function was developed which led to the birth of the Binance Smart Chain
ABOUT BINANCE SMART CHAIN
Token Economy
Binance Chain(*BC) and Binance Smart Chain(BSC) share the same token universe for BNB and BEP2 tokens. The native token is BNB.
Binance Smart Chain is Ethereum compatible, thus it supports ERC20 tokens known as BEP2 on BSC
---
PANCAKESWAP
PancakeSwap is a decentralized exchange running on Binance Smart Chain, purposely developed for games with lots of other features that let you earn and win tokens. It was created by an anonymous team in the development project financed by CZ Zhao. The main token used on the platform is Cake.
source
Features
Exchange/Trade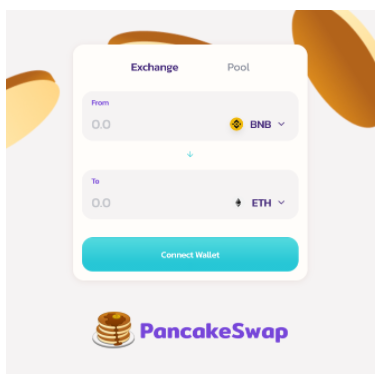 How to Trade
Token swaps on PancakeSwap are a simple way to trade one BEP-20 token for another via automated liquiity pool
PancakeSwap
Cliick on Trade followed by Exchange at the left hand side
Select the preferred wallet to connect(Here i choose to connect to my Web3.0 Binance Smart Chain wallet)
Select the tokens you wish to trade and enter the amount.
Check the details, and click Swap
Confirm the details and click Confirm Swap
Confirm the transaction in your wallet.
Once all is done, you can click on View on bscscan to see your transaction details
FARM
This is where initial Liquidity Pools (LPs) for farming CAKE tokens are displayed.
SYRUP POOL
This pool contain 37 ferents tokens to chochoose from

TERY
You can an spend CAKE to buy tickets, contributing to the lottery pot. Ticket purchases end approx. 30 minutes beforottery.
PancakeSwap
COLLECTIBLES
---
The exchange on PancakeSwap is an automated market maker ("AMM") that allows two tokens to be exchanged on the Binance Smart Chain.
PancakeSwap project all is about gamification, which requires maximize feedback loop of ning and staking. Th Therefore the project was adopted on Binance Smart Chain because of its superior speed and much lower transaction fees.
While Binance Smart Chain might not have the level of adoption Ethereum does at current, it is believed that Binance's ability and drive will eventually catch up in the near future.
---
All screenshots from PancakeSwap
Thanks for your attention
Cc:
@steemcurator01
@steemcurator02
@steemitblog
@gbenga