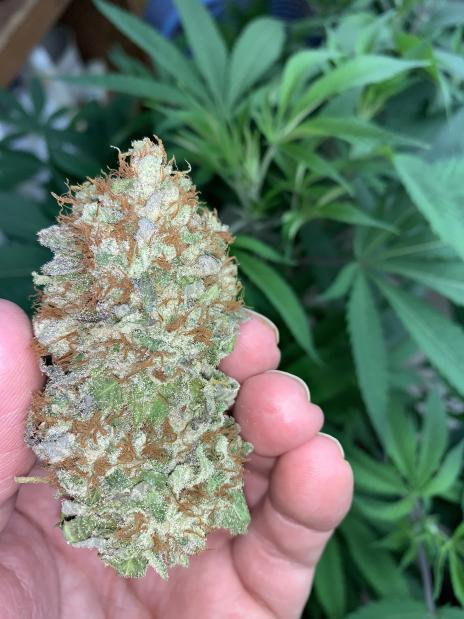 ---
All 3 flowers grown by Steem's best grower, @cowboyblazerfan
Would you like to smoke some of this absolute fire?
Well on June 20th, 2020 5:30pm you can! That's right, Steem Canna Fest 2 will be going down at the NW Cannabis Club, in the Rose City, Portland, Oregon where cannabis is fully legal.
Attendees at the 1st Steem Canna Fest
So mark you calendar, because you do not want to miss out hanging with some cool ass people, and smoking, vaping, ingesting the finest cannabis out there.
A world class Cannagar from the first Steem Canna Fest
Sponsors
Cost?
In order for us to have an event at Northwest Cannabis Club per Oregon state law, NWCC has to be a private club so our attendees must become members in their Crow Club. Which is only 20$. So basically all you have to do is show up to Portland, and pay 20$ at the door to attend. There will be plenty of herb going around, so bringing your own is optional. You will have to provide your own lodging.
Steem Canna Fest 1
Stay tuned for more details and updates
More to be announced. If you would like to be a sponsor, please comment below, or get a hold of us in the Canna Discord. Last year we did not promote well, but it still was a huge success. Steem Canna Fest will be even better since we are already planning. Hope to see you all there. But if you are unable, we will be live streaming the event. Peace and love to all my block chain herb lovers!

Delegators: @alchemage, @abrockman, @amberyooper, @amymya, @anarchy999, @antionomontana, @ArtisticScreech, @batman0916, @bethvalverde, @billmega, @Bluntsmasha, @canna-amber, @chey, @choosefreedom, @cindyhartz, @cyemela , @darkprince66, @dashroom, @davedickeyyall, @deanpiecka, @derekrichardson, @dylanhobalart, @dynamicgreentk, @d-vine, @ELAmental, @ericwilson, @fatkat, @feri1 @foodforestbot, @futuremind, @greencross, @goldendawne, @hafizullah, @hotsauceislethal, @jgvinstl, @jonyoudyer, @kid4life, @kimmysomelove42, @k0wsk1, @krazypoet, @luegenbaron, @madbiker, @mandyfroelich, @marksheppard, @mayb, @movingman, @olafurthor, @pataty69, @pharesim, @paradigmprospect, @phusionphil, @prettynicevideo, @rakkasan84, @rawpride, @runridefly, @senattor, @soluce07, @steemleaves, @talhatariq, @tauras, @thelogicaldude, @tarazkp, @yogajill, @yuriks2000, @vibesforlife, @weedcash.rewards, @wxzurd

Trail Makers:@jonyoudyer, @Bluntsmasha, @conradino23, @ELAmental, @netgodbeerus, @cannabiscurator, @realkiki85, @doctorspence, @darkprince66, @cannaqueen, @hiatus, @tilestar, @naturalfox, @canna-collective, @deary, @foodforestbot, @nikema, @Tafgongthe1st, @loryluvszombies, @spicedlife, @gjones15, @mrunderstood, @benzeta, @stoned2thebone, @cannafarms, @thegreenhouse, @cultivar, @brockmorris, @ganjagirl, @MadPotters, @chey, @growingassets, @the-haze, @skylinebuds, @gingy710, @growroom, @kootsmedtree, @cowboyblazerfan, @suheri, @imammudarifqi, @grow-pro, @winnerchris, @twirlspin, @pdxlove, @cannabis-news, @cannuration, @steem420, @socialmisfit, @ambiguity, @phoenixwren, @batman0916, @greenfooteCO, @ceattlestretch, @njweedman, @superwoman916, @movement19, @bengiles, @growroom, @elderson, @hemp-lord, @deadisdead, @coffeebuds, @gregorypatrick, @asonintrigue, @freedomtribe, @bembelmaniac, @mango-juice, @oh-high-mark, @stonerfeed, @kaz2305, @veteranforcrypto, @rebeccaryan, @bigriffsbongrips, @spicedlife, @kiefpreston.com, @dilwhosaskin, @argenisapaz, @sapphic, @paradigmprospect, @vegangod, @qwoyn, @borofreak, @sunnydays-r-over, @kawa23, @caperf35, @yogajill, @dynamicsteemians, @khackett, @zuculuz, @cannajess, @theywenttojareds, @moniroy, @mjgeeks, @cannabisrawuncut, @cannacannacanna, @koh, @ghro, @kennyboobs, @forstellaford, @eatmeat, @ssdgm, @too-short, @turd-ferguson, @npcvegantifa, @sharkmonsters, @uptoker, @theduskinus, @highdoulikememes, @buysmoke, @em3di, @vaporrhino, @prettynicevideo, @props4crops, @mary-jane, @badasshomelife, @highroadseeds, @cody758, @fixedbydoc, @pennsif, @twistedcheshire, @tyler-ai, @annitakoxx, @midgeteg, @moneymind420, @appalachain, @stickyfingerz, @guysofcannabis, @cheaphomegrow, @thehempinghand, @heatherhemp, @chey, @seeker214, @goodcontentbot2, @justinashby, @holysmoke777, @hippyman, @ogmike, @tribe-alive, @peace-love-happy, @GanjaGrrl420, @bjseedcompany, @smoke-grow-cup, @thehempcoin, @steinz, @dejan.vucovic, @trevado, @melanson, @anarchy999, @cryptohustlin, @steemvpn, @natha93, @mondoshawan, @artaxx, @exterminio08, @ghosthunter1, @tribevibes, @dracusone, @greencross, @jeffjagoe, @deardabby420, @weedcleaner, @stever82, @weedcash, @cindyhartz, @robinsonr810, @drazeus, @meanbees, @relaylogix, @fknmayhem, @greencross, @pibyk, @greenhouseradio, @bluemaskman, @gamemods, @freedomring, @onelovesteem, @evernoticethat, @d00k13, @dr-autoflower, @mattsanthonyit, @vipservice, @x782, @smf37, @motherofalegend, @reekadank

tttps://media.discordapp.net/attachments/476863594101735425/476864248895766529/separador.png?width=1187&height=71
ttps:/tps://media.discordapp.net/attachments/466789798523437065/488243396612456449/canna-curate.gif
![](
Hit that banner, to come network, and chill with like minded people.


12.5SP - 25SP - 50SP - 100SP - 250SP - 500SP - 1000SP