---
Another hectic week, keeping up with roasted coffee orders is taking up most of my day, every day at the moment as well. And as Christmas looms I have sent out closing newsletters - print versions to go in the boxes of goods and also e-newsletters to our subscribers. And my limited edition Christmas blend coffee is going down a storm, will be onto my third roast of that next week.
Nine sacks of coffee have come in from small plantations, they are for a premium offering I am listing with direct contact with the plantations and a full and detailed run down of the coffee and who grows it.
I was also hoping to have 14 sacks arrive on Friday, but it looks like it will be Monday now which is already my busiest day so that's going to be fun! At least 4 of those are already sold and will go straight back onto a pallet and out.
I have continued to purchase and Power Up Steem this week, with 22,227 Steem Power my current level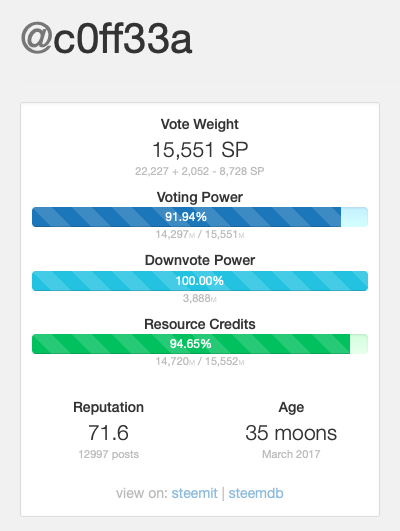 The @steemitworldmap team are launching a new app through SPS Have you been here is described as the social media app for and by travellers - go check it out and give them your support - it's free!
Last Confirmed Block Number 38,249,284 Last Aslot 38,381,828
Steemd v0.22.1

Kind thanks to Witness @enginewitty for employing his Ninja graphic design skills and producing this 🔥 banner

If you enjoyed my post don't forget to leave an Upvote, feel free to comment on what you liked or where I can do better even. Follow @c0ff33a for regular and varied posts, photography, my weekly VLOG, posts on coffee roasting and brewing - just follow and see.
#thealliance
To grow your presence and following on Steemit, be active in the community Discords that offer the chance to learn, network, share and be found. The #TheRamble discord https://discord.gg/HZYzEry hosts a range of shows where you can join in and get your name shown, every Thursday there are two Pimp My Post Thursdays which are hugely popular and give you an opportunity to get your posts seen.
All photos are my own, taken with my iPhone. All my Steem posted pictures can be freely used by other Steem users in their own blog posts - all I ask is that you follow me and credit @c0ff33a linking to my post you took it from. You can also follow me on Twitter
You can view my current Witness Statistics using this tool produced by Witness @justyy
Visit #BRITS Discord ChannelKeep up with the United Kingdom of Steem

This awesome animated Banner has been kindly been created by the wonderful @snook

The Coffee Break Discord Voice Chat Show, in @thealliance Mondays 10pm UTC hosted by @c0ff33a and @enginewitty
Don't forget to vote for Witnesses https://goldvoice.club/steem/@coffeea.token/introducing-coffeea-token)
---
▶️ DTube
▶️ IPFS