Integrity Checked
Today I was questioned by @swolesome about the numbers I presented in chat regarding viewership on the BROCFML Livestream. I've posted it here before, but here it is again for him and anyone else that is curious.
I'm all about transparency, and apparently more than some can handle. I'll try to tone it down a bit to avoid more red herrings interrupting discussions about other actually important topics. But I appreciate the free publicity any time! =)
I started this channel just a little over a month ago and it's grown faster than expected for a Madden simulation league which features CPU vs CPU play. The fact that it's heavily modded (for her pleasure) probably has something to do with it's better than expected popularity.
I'm asked at least once a day how I do it. It's not something anyone else is doing on this level, but I expect that to change very soon, because it's awesome.
Without giving away all of my trade secrets, I've heavily modified the gameplay to our taste after 4 previous seasons with the help of the Madden Modding Community, especially Sabo. If you have the PC version of Madden, you need to grab his Revival mod and try it!
I use Sabo's Playbook/AI Mod within my own gameplay mod with custom settings. But the coolest feature is my graphics mod that advertises various projects on Sports Talk Social.
Currently I'm promoting @Fitcoin, @Beat-the-Bookies and @BROsino within the game who support the posts here and help boost our reward pool at the end of the season. I also alternate promoting SportsTalkSocial.com in the game and always with an advertisement on the Twitch page and within the live Chat every 30-40 minutes.
Thanks for your support!
The Data


Live Views by Week - Early Sept was between Seasons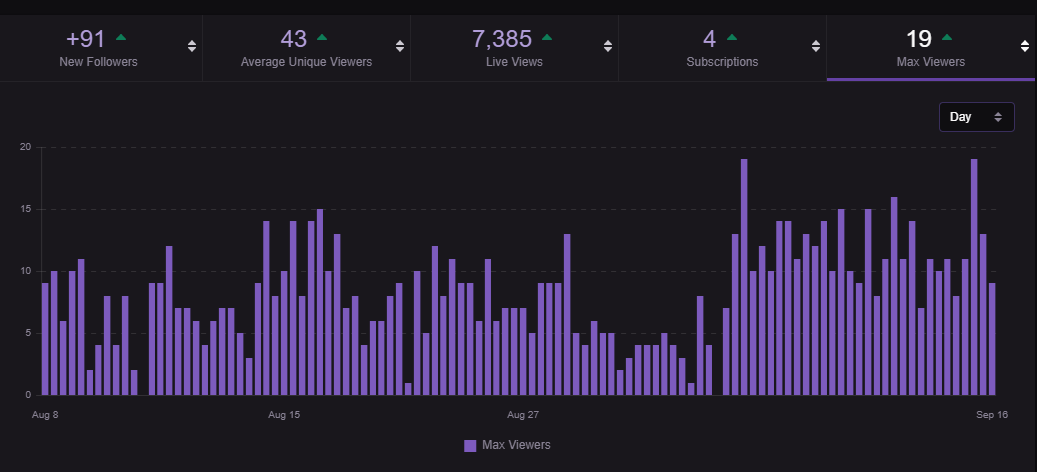 Max Live Viewers at Once - Still trying to crack 19!
Livestream
We're currently liv so join us andnd see what it's all about! It's a Madden 20 Connected Franchise Mode League with Human Owners coaching teams that play in CPU vs CPU mode, all fighting it out for a share 100,000+ SPORTS & 1,000 SCR.