I must admit that life on the farm certainly has its perks despite having to constantly kneel down to the forces of nature as well as government laws.
One of the wonderful upsides to life on the farm, is being able to life a more sustainable organic lifestyle, and that means not only growing your own food and spending tons of time in the great outdoors, but also growing your own medicine.
But the really great part is, that more often than not the plants that we grow for food, can be utilised for their amazing medicinal properties as well. So very often we plant plants and harvest only selective parts of the plant without realising that the rest of the plant can be used in other ways over and above supplying nutrition. So I have decided that I want to do a few posts that focus on some of the medicinal values of edible plants that I am currently growing.
Although I live on a farm, these plants could just as easily be grown in a home garden, are easy to maintain, and for the greater part
aesthetically pleasing.
---
This morning I went out to the garden and I was pleased to see that my Moringa trees were doing well, that they have seeded and that the seed-pods were ready to harvest! Although the seeds can be picked to eat when they are still green, and cooked in the same way that you would cook beans - I have left my seedpods on the tree to dry so that I am able to plant more trees.
The Moringa must be one of my favourite beneficial plants
Now the Moringa will certainly not classify as one of the pretties plants to have in your garden, but I can assure you that it will more than likely be one of the most versatile. Pretty much every part of this plant can be used, from the bark and root, to the leaves, seeds and flowers.
For ages the Moringa has been used as a culinary plant, and only more recently has the full wealth of the plant been explored.
Other than the seed pods being edible, the leaves and flowers can also be eaten, most commonly in salads, cooked as spinach, added to smoothies or used as a topping. And pretty much any part of the plant can be used to steep a tea from, and because of the Moringas diverse and high amount of nutritional components, the Moringa in itself constitutes as a fully balanced meal in itself.
To give you an idea, Moringa contains:
two times the amount of protein of yogurt
four times the amount of vitamin A as carrots
three times the amount of potassium as bananas
four times the amount of calcium as cows' milk
seven times the amount of vitamin C as oranges
More importantly, this plant is also considered as natures medical aid kit.
The Moring boasts with an immaculate array of medicinal properties that is not surpassed by the majority of other edible plants, which makes this plant really worth while growing.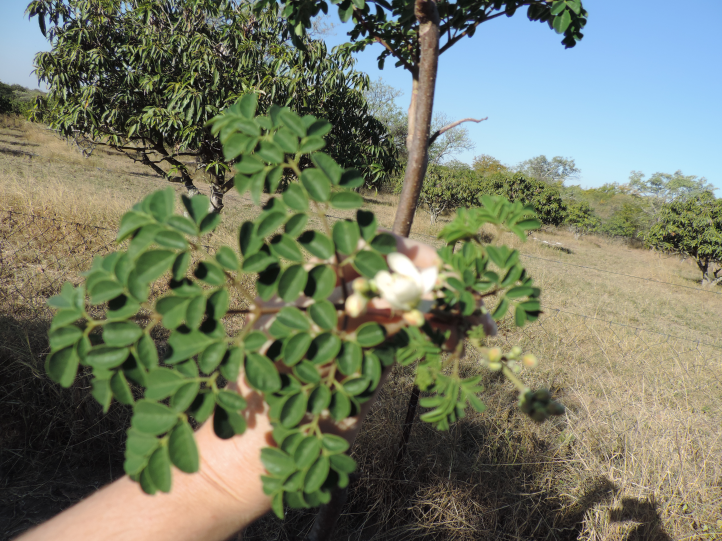 For thousands of years the Moringa has been used not only as a nutritional food source but also medicinally, which means that this is simply not another heath craze that is going to blow over any time soon. It really is an impressive herbal supplement, like no other that I have encountered from a single plant source.
Moringa has earned itself the nick name "Miracle Plant" and rightly so, especially seeing that it has built a reputation for fighting inflammation and combating numerous effects of malnutrition and ageing.
Lets have a look at some of the medical conditions that moringa has been proven useful in regards to treatment:
Inflammation-related diseases; cancer; diabetes; anaemia; arthritis and other joint pain, such as rheumatism; allergies and asthma; constipation, stomach pains and and diarrhoea; epilepsy; stomach and intestinal ulcers or spasms; chronic headaches; heart problems including high blood pressure; kidney stones or kidney damage; fluid retention; liver disease; thyroid disorders; low sex drive; bacterial, fungal, viral and parasitic infections; and many other.
And another reason that the Moringa is gaining popularity (or should I say respect) in the medical field is because, even in a raw state it maintains the same abilities as conventional pharmaceutical drugs used to treat these ailments, the only difference is the absence of the harsh side effects.
One example of this is the Moringas contents of essential amino acids such as carotenoid phytonutrients (also found in carrots and tomatoes), quercetin as well as natural antibacterial compounds. This combination allows the Moringa to act in the same way as conventional anti-inflammatory drugs
The moringa leaves are also high in chlorogenic acid, vitamin C, beta-carotene, polyphenols, quercetin, and these are all great ani-aging agents that is also assosiated with reducing the effects of oxidative stress and inflammation as well as reducing the risk of chronic diseases. (eye disorders related to age; stomach, lung or colon cancer; diabetes; hypertension;)
Now this is where this post could really start getting way too long, so let me just run you through in short of some other things that the Moringa is good for:
Balancing hormones; Blood glucose control; Increasing Breast milk production; Can be used as an aphrodisiac; Immune boost; Digestive aid; (and that is just to name a few)
---
With all that said, here's how I use my Moringa: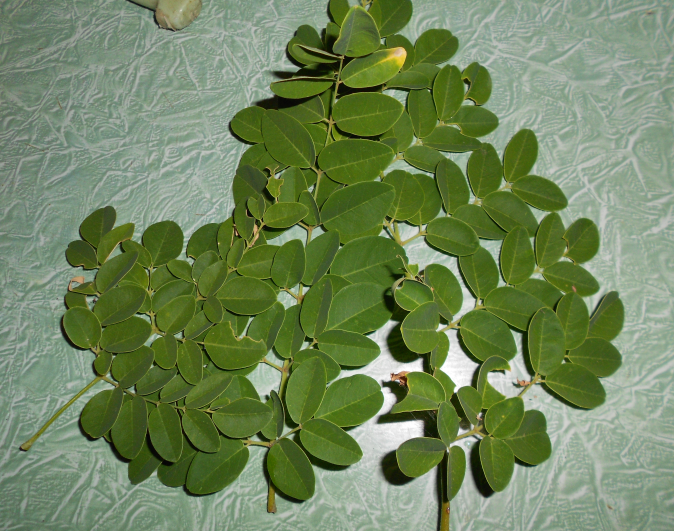 Although I do not have enough plants for large scale harvesting - I am definitely working towards that.So for now, I am mostly harvesting for the occasional meal, and trying any excess harvested leaves and flowers, This I then grind into a fine powder, that I fill into capsules and take as a daily supplement.
At this stage I am harvesting the tree-dried seeds for replanting so that I can expand my growth, but later on I will start harvesting the seeds for eating, as well as oil extraction, which can be done by simply cold pressing the kernels of the seeds. (also known as Ben Oil)
Moringa oil can be used to:
Treat dry or irritated skin.
Treat eczema and psoriasis
Treat acne.
Protect and moisturise the skin.
Reduce scarring.
Put on wounds and bruises as a disinfectant.
Treat common fungal infections like ring worm, athlete's foot etc. * Reduce and delay the appearance of fine lines and wrinkles.
Use as a hair oil.
Improve oral health.
Ease joint pains.
Improve Bone development (when taken orally).
As a supplement/tonic/energiser (taken Orally).
As a cuticle/nail/hand oil.
---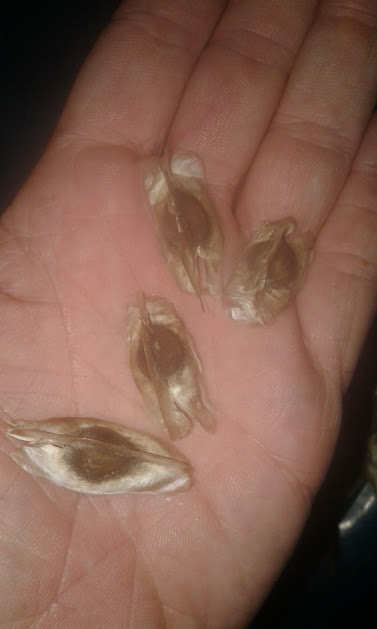 Because the oil is so great for the skin, I will be adding that to some of my home made skincare products together with some of the plant material.
Once the oil has been extracted from the seed kernels, the pulp that remains will be stored, because this can be used for water purification, just another great use for Moringa - and as you can see - Nothing goes to waste!
Uses for different parts of the Moringa tree:
Seeds and pods - Produce highly beneficial oil when dry, serves as water purifier, and can be cooked as beans when green.
Flowers - can be steeped in a tea to treat colds flu's and indigestion, eaten raw or even used as garnish.
Leaf - Eaten raw, added to a smoothie or cooked as a meal that is extremely protein and nutritionally rich for a plant; ground to a powder as a supplement, or steeped in a tea to treat numerous ailments.
Sap from the bark as well as the root of the plant can also be used in the same way (as above), it contains the same components as the rest of the plant but is much more concentrated.
In this day and age where people are facing so many lifestyle related health problems, it is becoming more and more important to seek natural sources of health and wellness.
Just for interest sake, Here is how you purify water with Moringa seeds:
One the oil has been extracted from the white seed kernel of the dried Moringa seed-pods, you mix the remainder of the white kernel with a small quantity of water, then strain the liquid from that into a small container. (The result is a milky fluid) This can then be added to a glass of water, stir the water quickly for 30 seconds, then slowly and regularly for five minutes, after that, cover the water and let it sit without disturbing it for at least an hour.
Your water will then be purified and all residue will have sunk to the bottom.
(50-150 mg of ground Moringa seed treats one liter of water)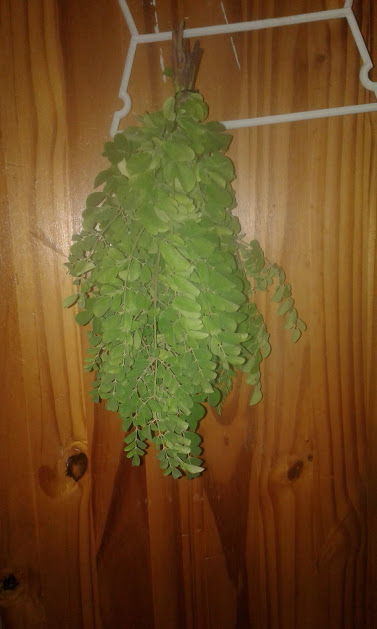 Moringa is such a beneficial plant to grow because of all these benefits and this plant's healing abilities, that are important in parts of the world that are especially susceptible to disease outbreak and nutritional deficiencies, as well as people that live in a modernised setting, where lifestyle causes the need for its presence.