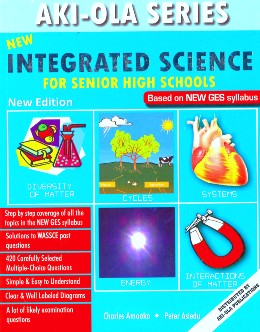 Image source
Good day Steemians.I am overjoyed to be able to come across this contest in our noble community @zero-to-infinty. Big regards to this community. The task in this contest is for us to write about our favourite Science book which we have read. My favorite Science book as my task for the contest is AKIOLA'S Integrated Science book for West African Senior High Schools. I will tell you about this book after briefly taking you through what science is.
Brief about science
Science is one of the most relevant subjects that aids in the vast development of the world today. Science, therefore, is the method of discovering what is within the universe and how it worked in the past, working today and how likely it will work in the future. As a result, almost everyone on the planet has made this topic a priority. There are many integrated science books which I can't mention all, aimed at helping students to obtain proper knowledge of Science. As I mentioned earlier about my favourite integrated science book in my introductory session of this content, Akiola integrated science book is surely a source through which one can easily understand and excelled in any exams conducted in Integrated science.
Why do I say this? The author makes this book simplified by categorizing the contents into Biology, physics, chemistry and Agriculture aspects. This makes it easy to locate topics to study in this book.
Again, Akiola integrated Science book has a useful method of providing terms and making it known to the reader the terms used in the various topics. For example, under the circulatory system, the book will explain the terms below to make them known to you during the study of the topic.
Heart
Blood
Blood vessels
Artery
Vein
Valves
Atrium
Ventricle
Lungs
Oxygenated and deoxygenated blood
and so on.
Furthermore, there are numerous Integrated science books you will read, and most of them will require a dictionary to understand most concepts, as opposed to Akiola's book where expressions are well analysed and simplified for easy understanding by students.
Conclusion
It is a fantastic opportunity for any science student to have access to Prof Akiola's Integrated Science book that I am referring to.
I am confident that the individual will realize that this book is deserving of being a favourite.
Thank you for taking part of your time to read this content.🤝🤝🤝