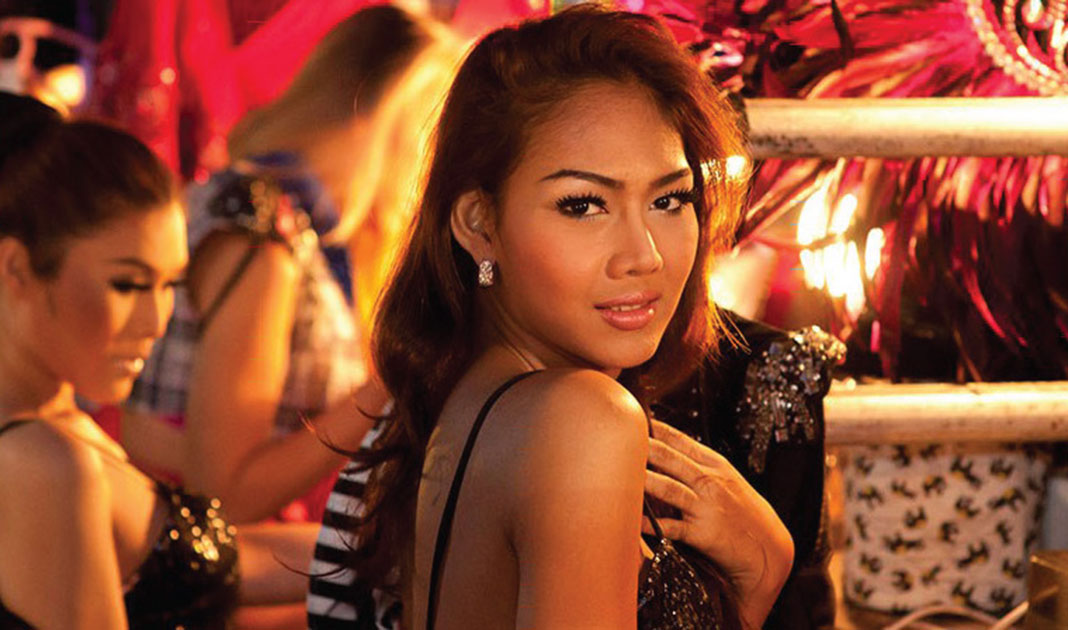 Image source
"HIV! HIV! Go fuck yourself!" she said, and then I woke up. Or maybe it wasn't like that at all. Maybe a working girl outside my door was actually cursing her punter, and I wasn't dreaming.

"Why you don't want condom? Fuck you! I don't like you."

"Fuck you too," said the young English male voice. "l don't like either of you. Fuck off! Go on. Get out!"
Across the hallway, a door slammed shut, and the two Thai prostitutes continued their cursing.
"You got no Willy. You got no Willy…hehehe…"
"Fuck you too! HIV! HIV!"
I must have fallen back to sleep because the phone rang and woke me up. It was around 10 am, and for a moment, I had to think about where I was since I wasn't used to a telephone being so close to my bed. I wasn't going to answer it. I had a sudden urge to pull the heavy drapes across a light-filled crack exposing the see-through curtains at my window, but sleepy laziness prevented me from rising out of bed.
I thought I knew exactly who had called. Sure enough, less than a minute later, I could hear William and Bineke's voices outside my door. They knocked three times and waited. Then I heard William mumble something in his distinctive Irish lilt as if he knew that I was inside hiding.
These two had recently become my new best friends on a three-day jungle trek just outside Chiang Mai. We had become close quickly, eating roasted grasshoppers and sharing a bamboo hut on stilts with seven others in our group our bodies washed in mosquito repellent.
Skinny, Dutch Bineke had been giving me the eye at first. But William showed her more attention than I did, and they ended up copping off together in the middle of our first night. Shagging beside me under a sleeping bag, their motionless passion was revealed only by her tiny breathless squeals. Under a brilliant oceanic sunrise next morning, Bineke could barely look me in the eye. She had wanted to sleep on deck in the middle between both us men, but I didn't fancy being the brown bread in their sexual sandwich, although William seemed up for it.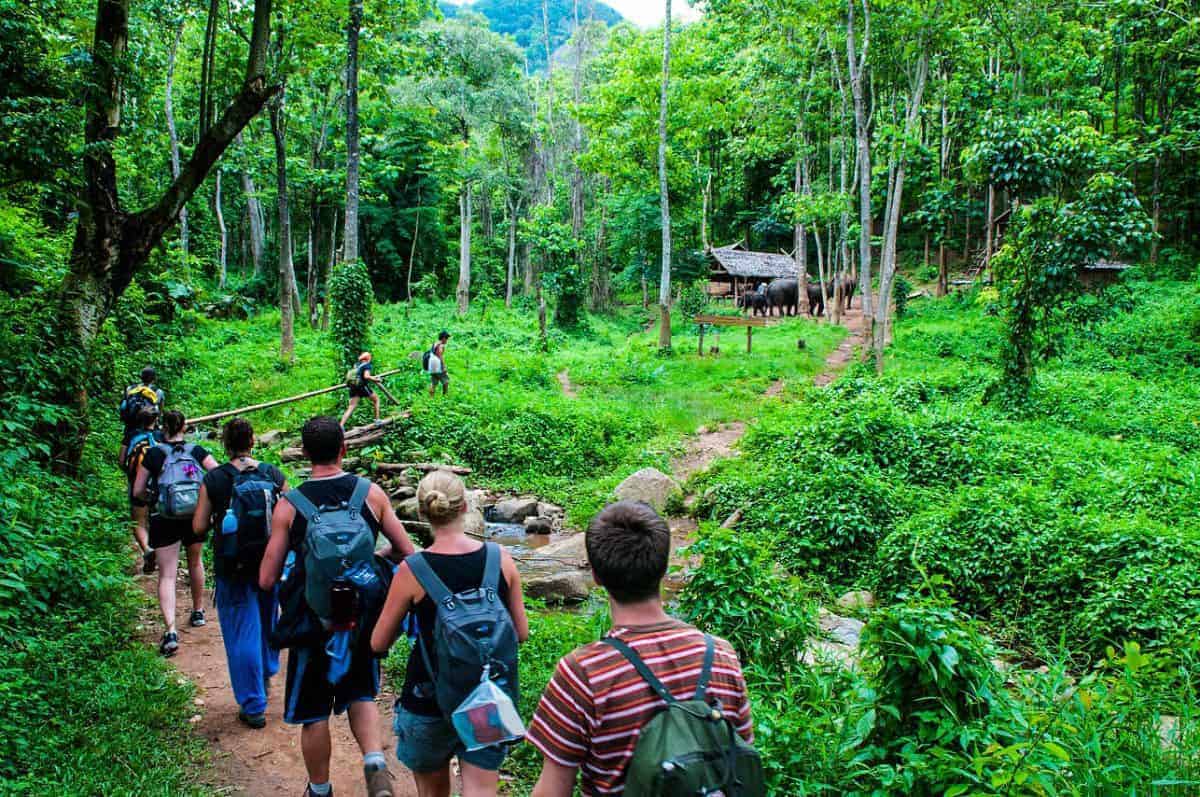 Image source
Now, here they were peeping in through my hotel window. I pulled over to the far corner of the bed, up against the wall, protected from being seen by thick drawn curtains on this side of the room. What's the matter, couldn't they believe that I'd gone out last night and got laid like the rest of this God-forsaken Thai town? I'm a dreadlocked Rastaman with money in my wallet and 'black inches' in my pants. What could be any better in this phallically-challenged Asian sex city they call Bangkok?
But despite my bravado, any doubts they may have had about me being out in Bangkok getting laid would have been exactly right. I wasn't feeling it. Hard to imagine, I know. I wasn't behaving to type, they said. I had gone out with them last night for a few beers for a few hours, got bored, and came right back to my hotel room to promptly fall asleep. Something profound must have happened to my libido the moment I stepped off the plane a few weeks ago and saw that every other person I met was either pimping their granny or selling their own flesh.
Now, I'm no prude. I've been around the block. I've travelled the world and seen many weird and wonderful things. But on my first trip to Asia, it was as if something strange had got hold of me. To others, it seemed unnatural. I wasn't behaving like the other "red-blooded" males from back home, and it was beginning to bother me. Everything was starting to bother me—and that in itself was starting to bother me.
"You want boy? You want girl? You want Thai massage?"
"You want Ganja? Where you from? Jamaica? America?"
"You want nice young girl? You want 12-year old pussy?"
"What you want? You need hotel?"
Bangkok was so frantic that I just couldn't work it out. And while I really would have welcomed a relaxing spliff (since every taxi driver wanted to give me a joint), I was still trying to abstain and didn't want to get set-up for a miserable life in a Third World prison.
I'd heard about such people before, tricking vulnerable tourists out of their cash and into the hands of equally greedy police officers. But as I questioned everybody's motives – quite apart from the obvious – I still couldn't understand why everywhere I went someone was trying to sell me sex; sex with his misses; his mother; his daughter; his son. While on the streets, hookers tugged on my arm trying to drag me into "girlie" bars. Yes, I'd been to underdeveloped countries before, spent several months travelling through Brazil for example, but I'd never experienced anything like this before, and I just couldn't comprehend exactly why life was so sexually permissive in certain parts of Thailand.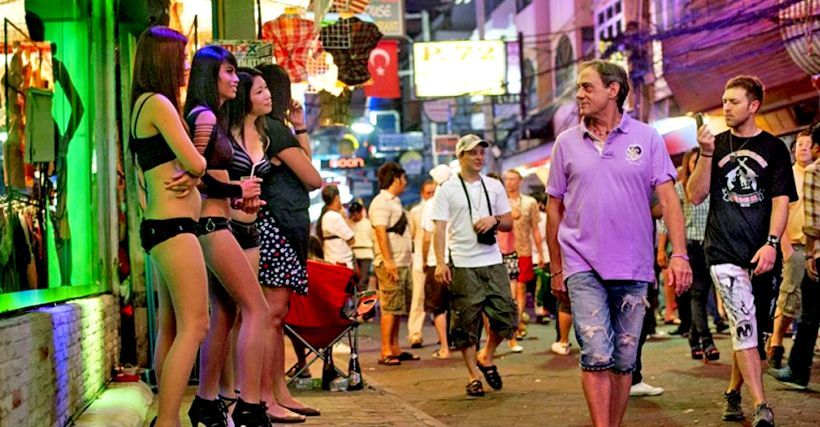 Image source
It didn't seem to faze the mainly white European and North American males who were mostly here for their sexual gratification and hedonistic pleasures. Most other foreigners positively welcomed the added attention they got from the locals, and even they began to infuriate me, too, after a while. Men that I could tell wouldn't get much sexual play anywhere at home were suddenly walking the streets like the number one stud and all the time flanked by a bevvy of Thai prostitutes, young girls, and boys, and everything else in-between.
That was the most disturbing thing about the place; every other woman you saw wasn't born a woman at all but was some immaculately reconstructed "ladyboy," almost indistinguishable from the real thing until she opened her mouth. And since that was more often than not around the end of some bloke's knob, it was usually much too late before the unsuspecting dude realised that he'd just been …well, not that most men on holiday here were that bothered by that stage.
"If it looks like a chick and sucks dick like a chick, and swish like a chick, then it might as well be a chick for all intents and purposes," Mr Cosmopolitan, a well-read and well-travelled American, was saying in the bar last night. "Nobody here really gives a shit. That's just the way it is, and that's why we come here."
In reality, there were so many transsexuals around that after a while; you began to think it perfectly natural that there were, in fact, three distinct genders—males, females, and shemales. And that's assuming you could tell the latter two apart, anyway.
So, according to the Yank in the bar last night, who saw himself as a benefit to the local economy, sex tourism and exploitation in Thailand could trace its roots back to the presence of American troupes on leave in the country during the Vietnam War in the early 1960s. Today, of course, it is part of a rapidly growing sex industry that includes prostitution, online and offline pornography, bars, brothels and human trafficking. But while local males are said to make up the majority of punters paying for sex, it is the economic power of foreign tourists that continually fuels the lucrative trade and drives sex workers from across the country to major tourist destinations like Bangkok.
Rumour has it that convicted British paedophile, Gary Glitter, had been living for a time not too far from where we sat drinking cocktails in the corner of Chinatown known as Phahurat. But you couldn't always believe the tales people told you in a transient city like this one. What's true is that around 30,000 to 40,000 children under eighteen years of age are exploited as prostitutes according to available estimates. Given the hidden nature of child sexual abuse, reliable figures are always hard to compile, but it is said that improvements in the economy, educational opportunities, citizenship rights and legislation have reduced the numbers to some degree.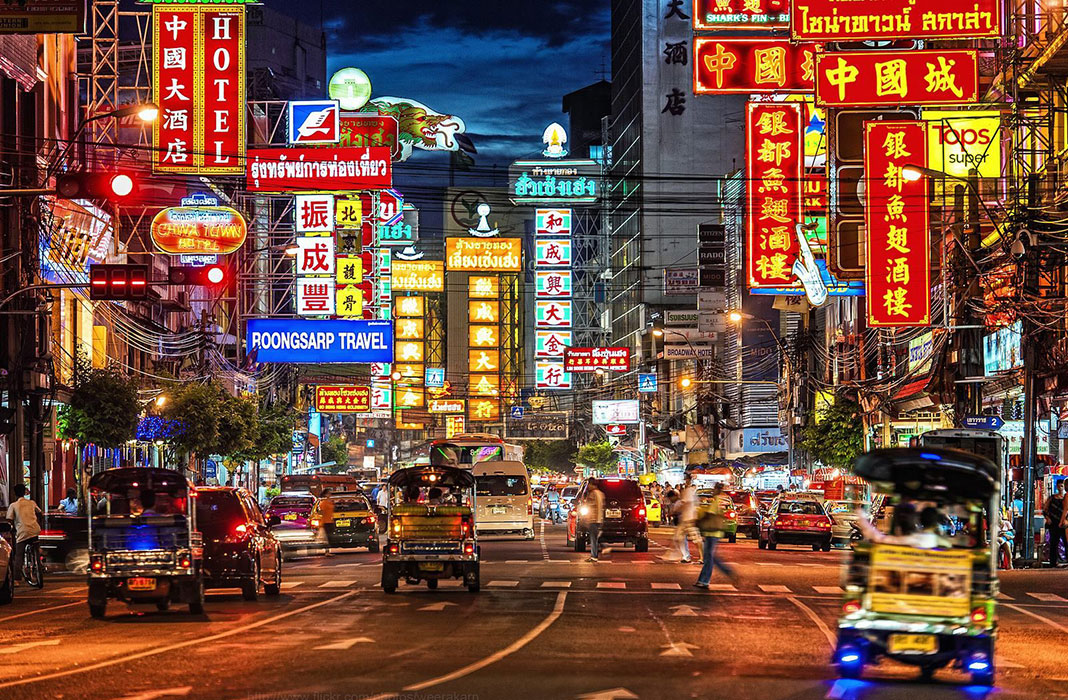 Image source
Nonetheless, the pitiful sight of it all tugged at my mind so desperately that after the first week in Bangkok, I was back on a plane heading home to England. This, despite having booked a three-month tour of Thailand, including all the usual tourist traps like Patpong, Phuket and Pattaya. Things for me at home had hit rock bottom. In the months preceding my first trip to Asia, my business collapsed, my relationship ended, and if it weren't for some creative accounting on my part, I wouldn't now be in this hotel room complaining about my new best friends. Nor would I be debating the prospect of where exactly I'd be heading next to sit around in glorious sunshine doing nothing for three whole months. After less than a week back in England, however, I had boarded another cheap flight heading right back to Thailand.
My intention, initially, was to get away for a while. I had wanted to put some distance between my creditors and me, and the shit hitting the fan. I had fancied visiting Tibet with a crazy idea about living in a remote Buddhist retreat in the sacred mountains of the north. Away from it all. The end of an affair can do that to a man. But upon researching Tibet on the Internet and realising that China probably wouldn't entertain my wishful thinking, I ended up in Thailand instead. Not precisely the Buddhist retreat I was after.
Perhaps this second time around, I'll be able to cope better with over-sexed foreigners and exploited adults and children forced into helping their families by prostituting themselves. I was just about to drift off to sleep again, but another knock at the door woke me. Then, the telephone rang. What were these two still doing outside banging on my door like the LAPD? Go to hell, will you, please, and leave me alone! Pulling the sheets up over my head, I snuggled up under the covers and held my breath.