"A Quick Glance At Blockchain Industry And Its Limitations"
In the past few months, perhaps years, there have been outbursts of innovations springing from technological advancement. One of which we can categorically classify "Blockchain Technology" as one of the significant disrupters in the global economy to date. It is no doubt how blockchain can build a more trustful internet system through the first principles of safety, storage and decentralization. Even at that, there seems to be underlying defects which obstruct its widely acceptance and usage. Unarguably, there are several tens or hundreds of blockchain projects out there with brilliant ideas offering robust agnostic services, most (if not all) offer in limited or different packages.
Some offer in exchange services, IoTs, SDKs, Smart contracts and so on. The industry becomes more advanced and sophisticated that, for every new and upcoming projects to record success, they need be abreast of the existing ones by offering exceptional services and in complete package. The aesthetic and future of a potential project rest solely on its usefulness meeting the needs of an average internet user, enterprises, large businesses/corporations and that of the governments. A lot of blockchain projects with good proposals yet experience difficulties scaling up to expectations because of lack of flexibility, ease of adoption, cost efficient, security etc.
---
ProximaX Ecosystem Solution
---
What Is ProximaX?
Beyond just a blockchain, ProximaX is an ecosystem of wide range of development tools for building endless easy-to-use/standalone applications and service platform powered by blockchain technology. It offers an expanse of tools storage where developers can access required tools to build applications of their choices. It's ecosystem is a friendly environment configured to comfortably accommodate either centralized, decentralized or a hybrid structure of application and service development. ProximaX hopes to bring a paradigm shift in technological advancement by creating a complete kit and all-encompassing modules for building universal applications as well as allowing developers, investors end users to have the full benefits of blockchain technology.
---
Summary Of The Underlying Architecture
Development Kits (SDKs) available in several languages, developers can whirlwind build and deploy their applications conveniently. ProximaX platform proffers solution to inherent problems of existing/traditional blockchains by assembling into all-in-one extensive framework all service layers found in their architectures akin them into manageable distinctive layers. Through the ProximaX Sirius Core Infrastructure platform coated with Application Interfaces (APIs)/Software
---
Full details here
---
Some Acclaiming Benefits Of ProximaX's Architecture To Developers (i.e benefits of having all tools required to build your application all packed in one place)
| ACCESS TO COMPLETE TOOLBOX | STIRS UP ENCOURAGEMENT | LIGHTWEIGHT APPS WITH UNCOMPROMISING POWER |
| --- | --- | --- |
| Developers are able to access a complete software development kits (SDKs) in form of complete developer's toolbox rather than working with mere standalone interfaces, to build dynamic applications. It makes work easier, not having to search for every single or individual component needed to bring the project to live. | Being able to access all needed and required set of tools for successful development of an application boosts developers' morale hence the joy of wanting to build more. | The effectiveness of an application is in its ability to push files and retrieve data as quickly as possible, with proxomaX's power-packed hub, developers will be able to build powerful apps and in that, retaining functionality and still able to keep them streamlined and lightweight. |
| SAVES COST AND TIME | MORE APP STABILITY | BETTER AND FULFILLED END-USERS' EXPERIENCE |
| All developers don't have same coding experience or expertise and knowledge or skills in software development hence a great advantage it is to have varieties of tools in one box which will obviously saves time and cost of searching or buying individual tool separately. | Ability to access well-organized SDKs in one place gives more robustness and stability in performance to the applications. | Easy accessibility stirs up encouragement enabling building high performance and stable applications at lesser cost of time and moneys gives the intended solutions to end users for satisfactory experience. |
---
ProximaX For Everyone
This sounds quite funny but it is a fact there are lazy developers like my friend Jaslem. This might not really mean that one is unwilling to do anything. It may be that you don't have same strength as Dev. A's. Some times, you are preoccupied and have few requests from clients with their specifications readily at hand. ProxmaX as well considered making it all super easy by creating a one-stop shop for standalone applications so developers can quickly pick one and customize it to their desired choices. Much of the work (about 92%) is put at a readily available pace. All you do, is check for what you want and boom! you're up for it. Users and Clients can directly access these applications and customize them to own taste.
---
See ProximaX's Application shelf here
---
ProximaX's Core Services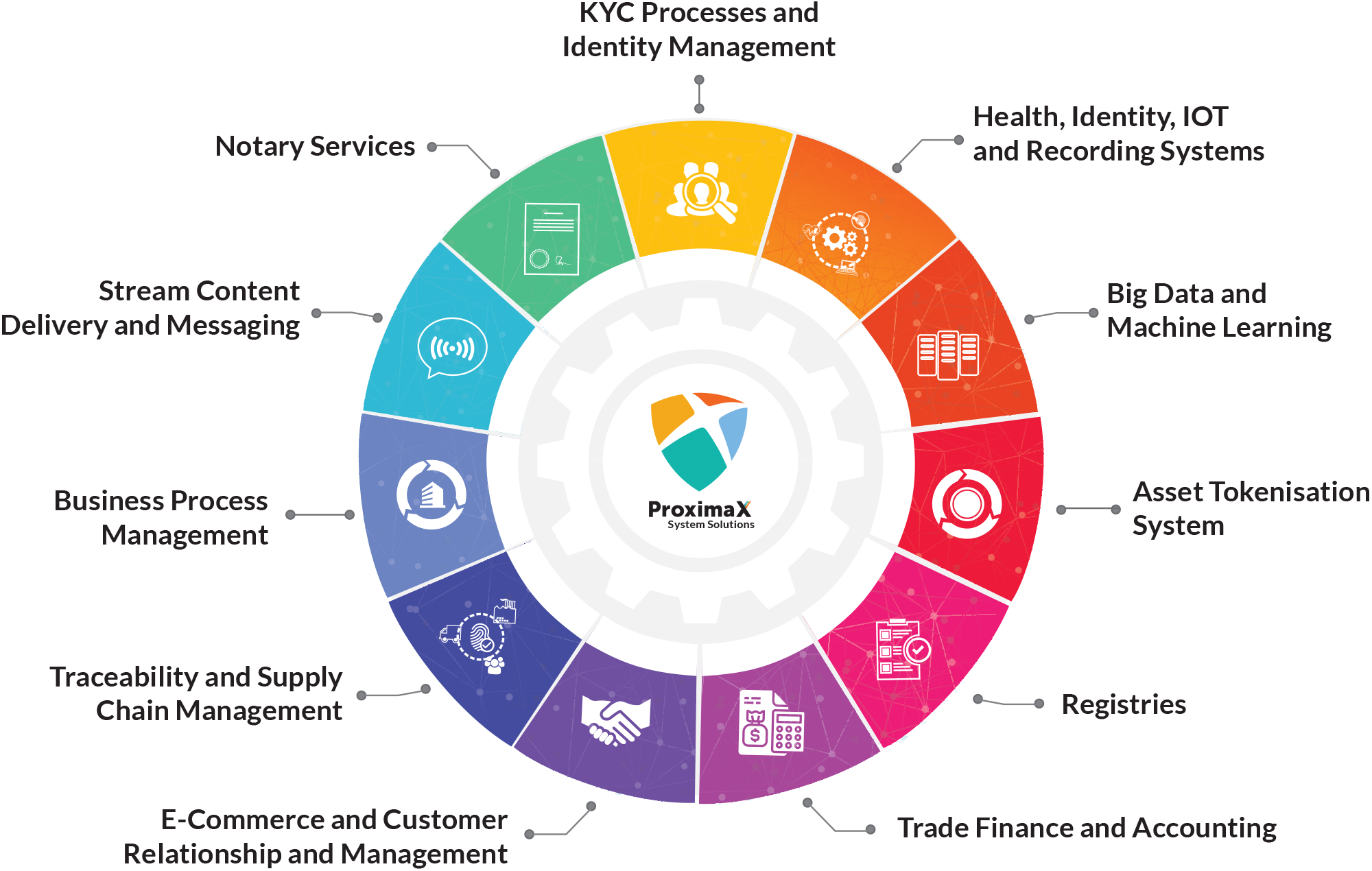 src
To avoid doubts or ambiguity, not to confuse the ProximaX ecosystem with usual traditional blockchain platform-as-a-service, I will explain in brief some of the core services and their application to building real-life solutions such as web services, Fintechs, etc.
| STREAMING | KYC/VAULT | SUPER CONTRACTS |
| --- | --- | --- |
| Part of the ProximaX network is the streaming layer otherwise referred to as Messaging layer which can be used to build immense and amazing numbers of real-life applications ranging from asynchronous to real-time/instant messaging apps such as Telegram, WhatsApp and so on. With this service available on ProximaX, the sky is the limit to what you can build in this regard. You can build messaging/streaming applications such as: a live-chat, a two-way encrypted chat app, a simple customized real time chat for family, schools, any settings involving more than one person. Video On Demand is not a core function of development of this layer but part of what the layer can due to the storage service layer of the ProximaX chain. So, you can build platforms like YouTube, Dtube, Vimeo etc. | This is one core service that got me thinking how to make best use of the platform. Cloning from the name, you can set up or build application that verifies customers (for enterprises and business especially) details leveraging on the tough security function of ProximaX (using advanced blockchain protocol). Building a wallet application, customer management or CRM that verifies user on sign up is possible. | There is barely nothing one cannot build with ProximaX. It is super coated with spices needed to birth ideas into reality. The Super Contract function otherwise called "The Executor" like the Ethereum smart contract will contain set of instructions/protocols that will facilitates execution of transaction, verification etc across the network. ProximaX will have a self-owned smart contract. With this, developers can build both centralized and decentralized exchanges (i.e P2P exchange) like IDEX, e-commerce like (OLX ), legal website etc. |
---
Advantages of Proximax Over Existing Blockchain Infrastructures
With additional performance layers added to ProximaX, its ability to accommodate extra loads due to extra layers combined such as the Executor, Storage layers, others, packed in one platform makes it exceptional and beyond just a blockchain. Even with installed layers, its scalable power is proclaimed to be very high and is able to maintain standard or higher as much users join in.
Effective Cost Reduction To The Minimum
Being able to access all tools in one Kit for developers will greatly cut all level of costs as compared to using a platform with limited tools. For enterprises and businesses, cost is minimized with the access to easy-to-use standalone applications/software in contrast to contacting different platforms just to get one thing fixed.
ProximaX is an ecosystem with profound multi-programming languages. Users or developers able to use any of the installed languages will obviously find it more easier to use than having to surf around for their suitable language and toolkits in different platforms.
Flexibility In Meeting Users' Demand.
The ProximaX ecosystem is configured to suitably build either of permissioned or permissionless oriented project (s) (application or web services). For a developer or user looking to build for the masses, ProximaX is open. In other way round; looking to build for privacy-oriented purpose (like an enterprise blockchain), ProximaX is configured to do that as well.
---
ProximaX Asset Token
To keep the network in healthy state, incentivize the the network of connected nodes that maintain record keeping other, and to facilitate easy, smooth settlement of transactions across the chain, a native token - XPX was developed. proximaX is neither conducting ICO nor undertaking any form of pre-sale but a plan to release a stable coin to facilitate the utility and cushion market volatility of the native currency is in effect. Investors, others can see more information here. XPX token information available on Coinmarket
---
| Lon Wong - Founder & CEO | Avin Reyes - Co-founder & Chief technology Officer (CTO) |
| --- | --- |
| | |
| Having over 30 years of experience in Business development, he was the founder and number one president of NEM (i.e nem.io) - A leader in the blockchain world, recognized as one of the top influencers in the industry by CryptoMeNow and other. | Formerly a contributor and software developer at NEM foundation, Alvin has made several huge positive impacts on projects such as BigChainDB - as the first contributor. He is an intelligent developer and a specialist in couple of programming languages, dApps, Peer Technologies and many others. |
| LinkedIn | LinkedIn, Check him on Github |
---
Resources And For Further Details or Inquiries, See ProximaX's Communities Below
---
All images are a property of ProximaX with right to use them for this purpose. See above links for references.
@Cryptopreach