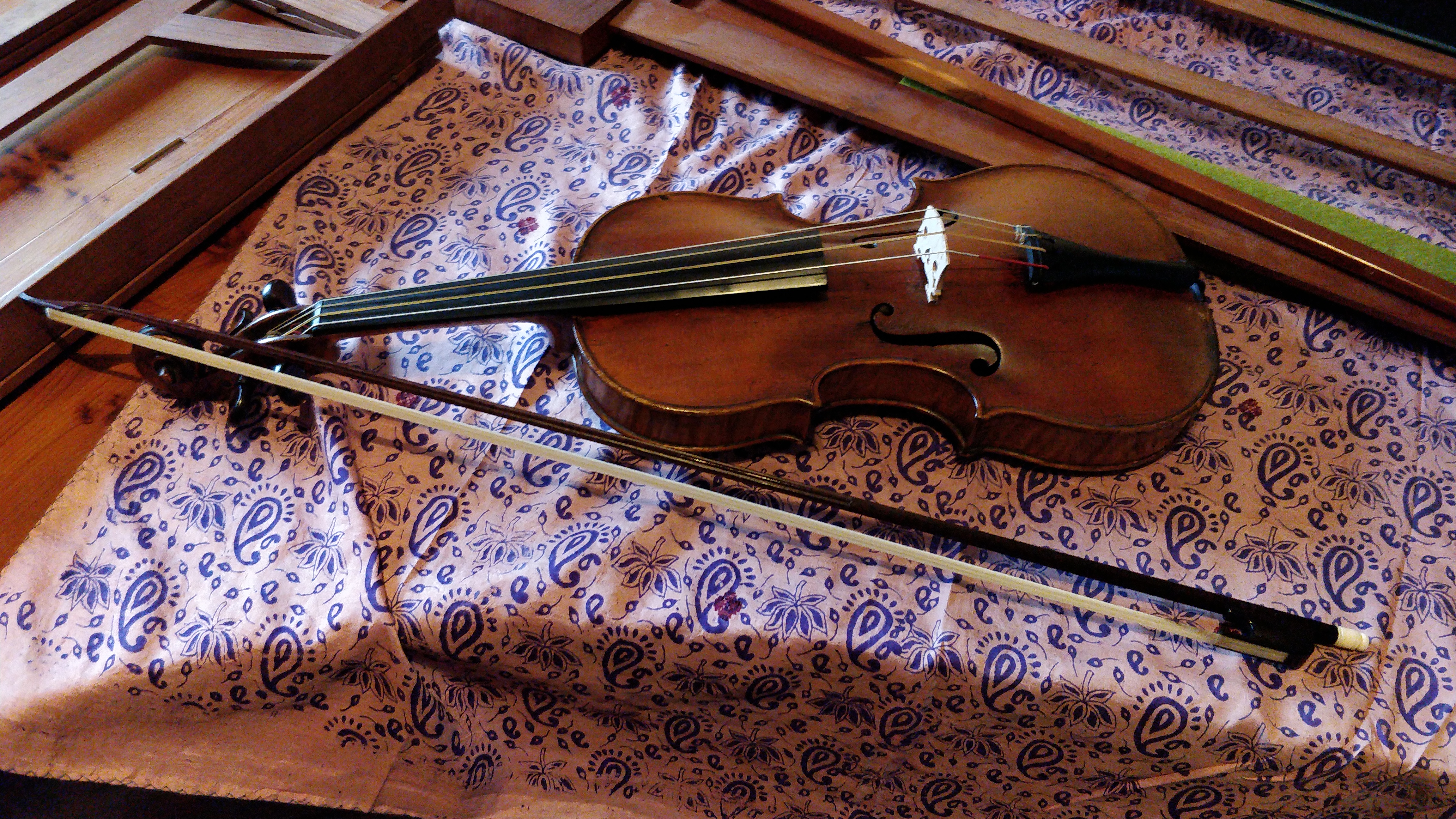 For quite some time now (nearly 5 years or perhaps even more!), I have been searching for a Baroque Violin to add to my collection of tools as my main instrument (for violin...). Over that time, I've been trying various instruments that have been suggested to me via luthiers, dealers and auction houses... It's pretty interesting but sometimes quite depressing... as the things that dealers and collectors value the most are investment value, which generally pushes the prices of really good old instruments out of the range of a musician. However, that is the state of the old instrument market... and there is not much that can be done about it... except to look for instruments with relatively little worth (due to the lack of name recognition...) to investors... and to find something that has the qualities that I'm looking for... namely, ease of playing and response... the ideal sound (for my mind!) and something that will serve as a the perfect team partner. Name and investment value are pretty much worthless to me (nice to have... but definitely in a completely different and much lower priority!)
Anyway, over the last half decade, I've not been in too much of a hurry as I've had an instrument on a generous loan... but it also means that it is an instrument that I will never own. So, a mixed blessing... it is on a long term long, but technically it can end at any moment. Not a great situation... but unfortunately for me, the violin that was on loan is a really beautiful sounding and playing instrument from the 1770s... and it and I have made for a decent team so far!
However, this instrument (pictured above) was suggested to me a few weeks ago (first by the luthier holding it, and then by the dealer who was selling it.... ). When the messages came, I was in Australia... so, I said that I couldn't drop in until September to see it... which meant that a few people saw it already. Thankfully, none of them took the instrument... and yesterday, I travelled to Amsterdam to pick up the violin (and also to drop off the loan violin to have some minor repairs done... a sort of pit stop). So, we swapped violins so that I would have something to play on during the week whilst the loan violin was on the luthier's surgery table.
... and what can I say... I think I have fallen in love! It is a beautiful English Violin in great condition from around 1775... it is easy to play, and has a beautiful warm and round sound. This could be THE ONE! Now, I'm a pretty picky person when it comes to violins (and violas and viola dámores)... I know other musicians just pick things because they are told that it is good, but I am pretty particular about the way they respond and sound... I've rejected so many instruments in the past... and I've played other people's violins and wondered why they paid for it... however, everyone has their own particular tastes...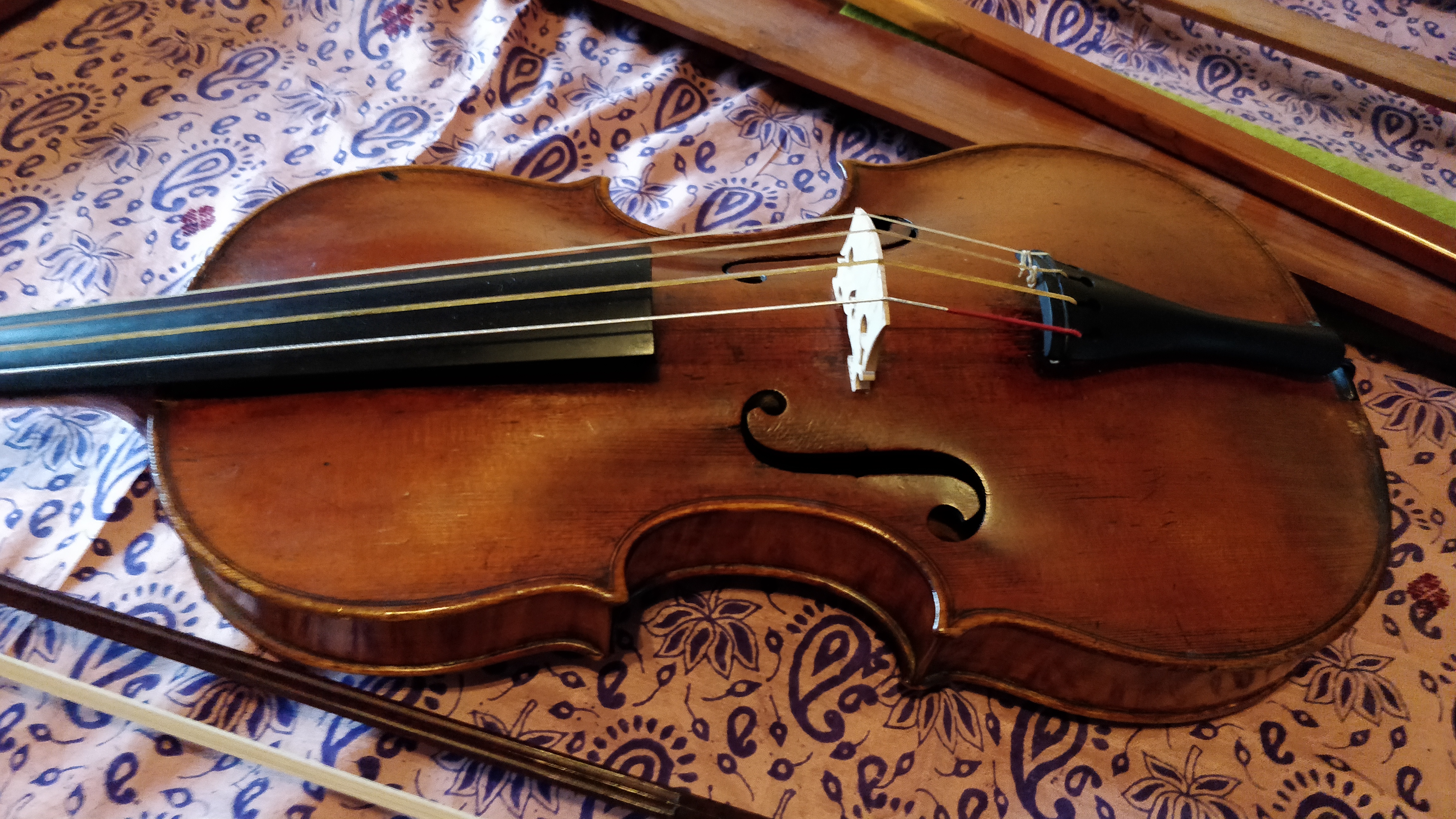 The front is a nice cinnamon sound of colour... not as dark as the loan violin that I have, and not quite as light as my "Classical" Violin... it has well shaped f-holes and the tailpiece will need to be replaced with an appropriate one for the music that I play. Currently, the string gauges (diameters) are a little thinner than I normally use, but each violin has a sweet spot for that sort of thing... it would be something that I would need to experiment with, but the strings on at the moment are sounding very good!
Whilst I was at the luthier, we tried two different bridges (the bit holding up the string). One was a faster responding and brilliant sounding bridge, whilst the other was darker and slightly slower to respond... it was a quick choice for me... my playing style tends on the fast side of things and this particular bow that I would pair the violin with is also a very fast and agile bow, but I opted for the darker/slower bridge. I much preferred the tempering of my preference and the bow's natural sound... making for a warm round sound instead of a brilliant sound... also, the e string was difficult to control and quite temperamental with the bright fast bridge. So, it was a very easy choice for me!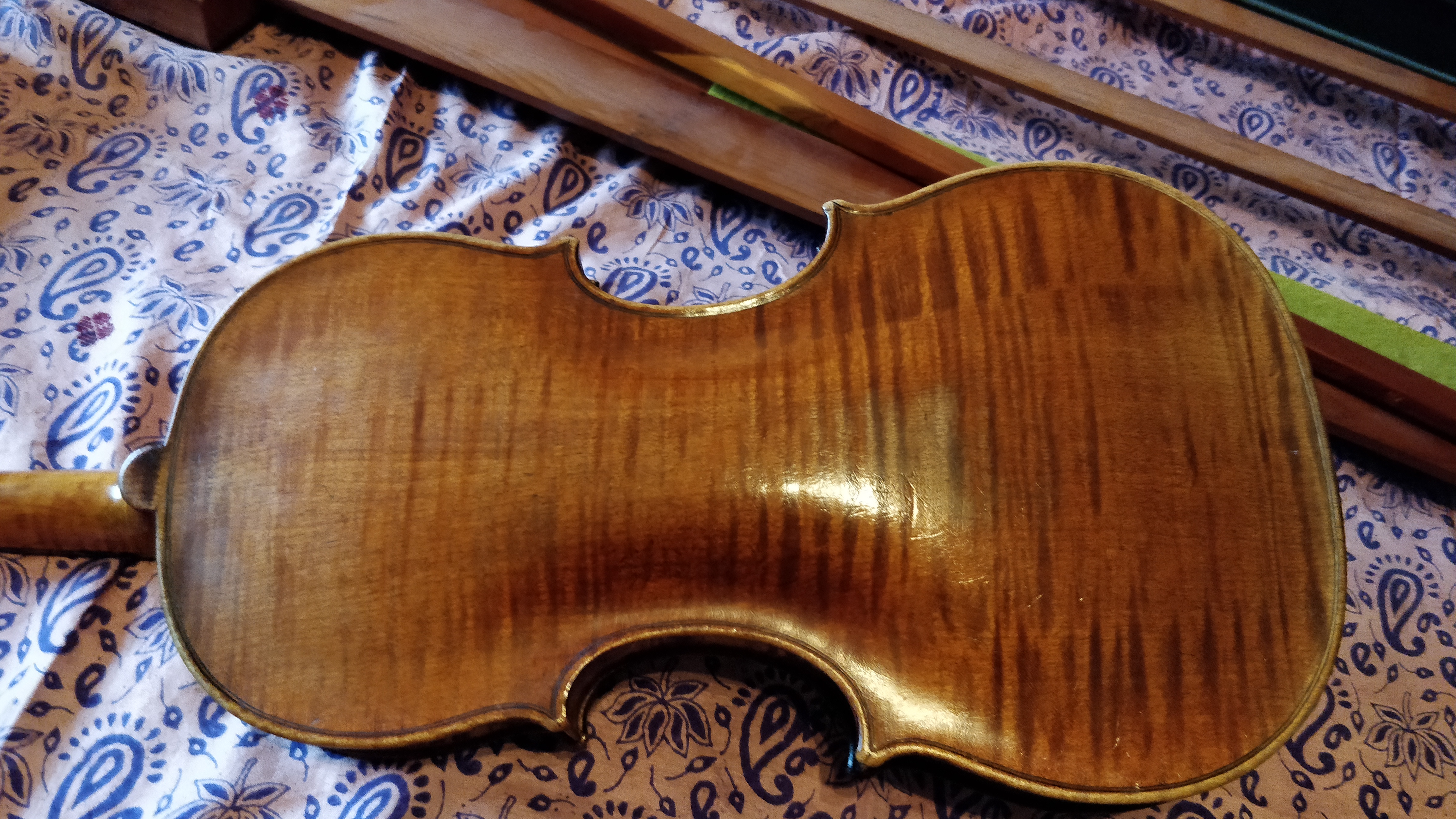 It has a nicely flamed one piece back... which is in very good condition. Currently, nothing beats the flaming on my French Violin that I use for "Classical" music... that one has a varnish and broad flames that shift in the light... it is something quite beautiful to see! There is also the maker's brand on the back near the neck as well...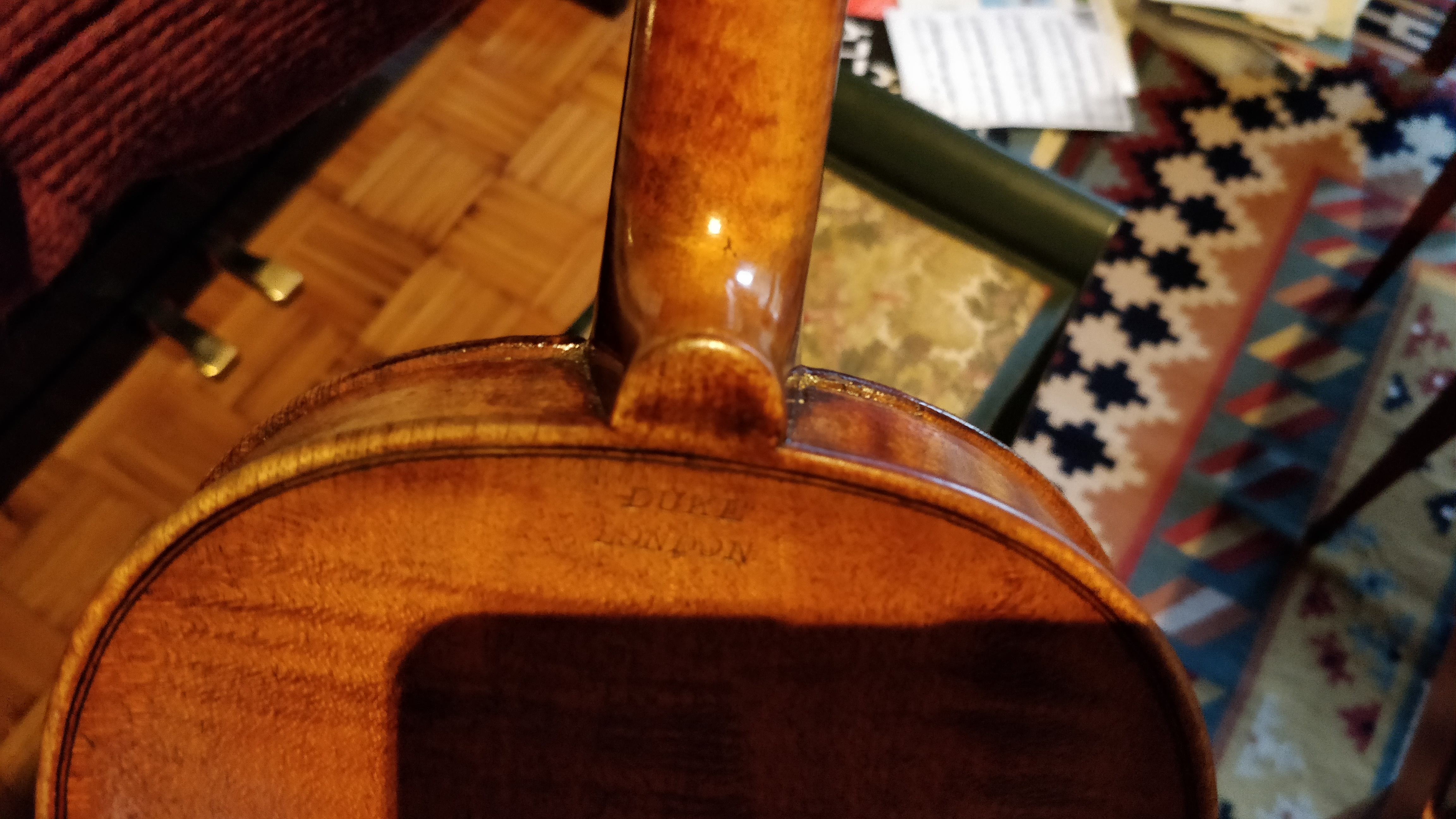 Something of interest is the mild oxidation (the black dot) in the wood due to the Baroque practice of using iron nails to fix the neck to the body of the instrument. At the time, it was a good idea, strong and easily removeable... however, over the course of a couple of centuries... these things tend to rust! So, in the intervening time... most violins from that age have had the nail removed and replaced with an animal glue instead. So, this is a small scar and reminder of past times!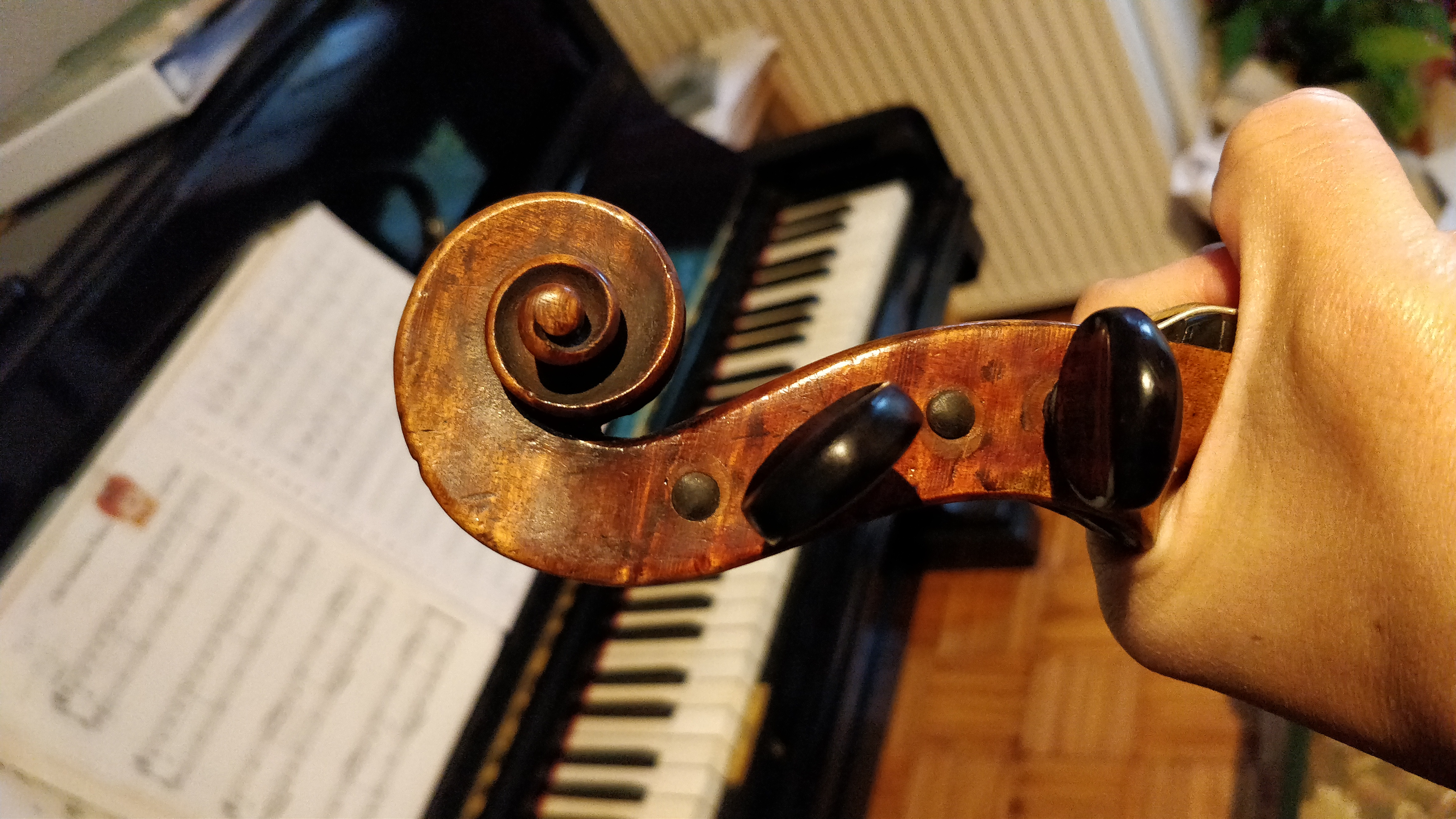 An original scroll... many luthiers and experts will use this part of the instrument to help identify makers and schools of violin making. The way that the scroll (and f-holes) is cut and shaped is quite an individual thing... so, it can be almost a signature of the maker... however, I'm not experienced in that sort of thing... they all look the same to me! I only play the things....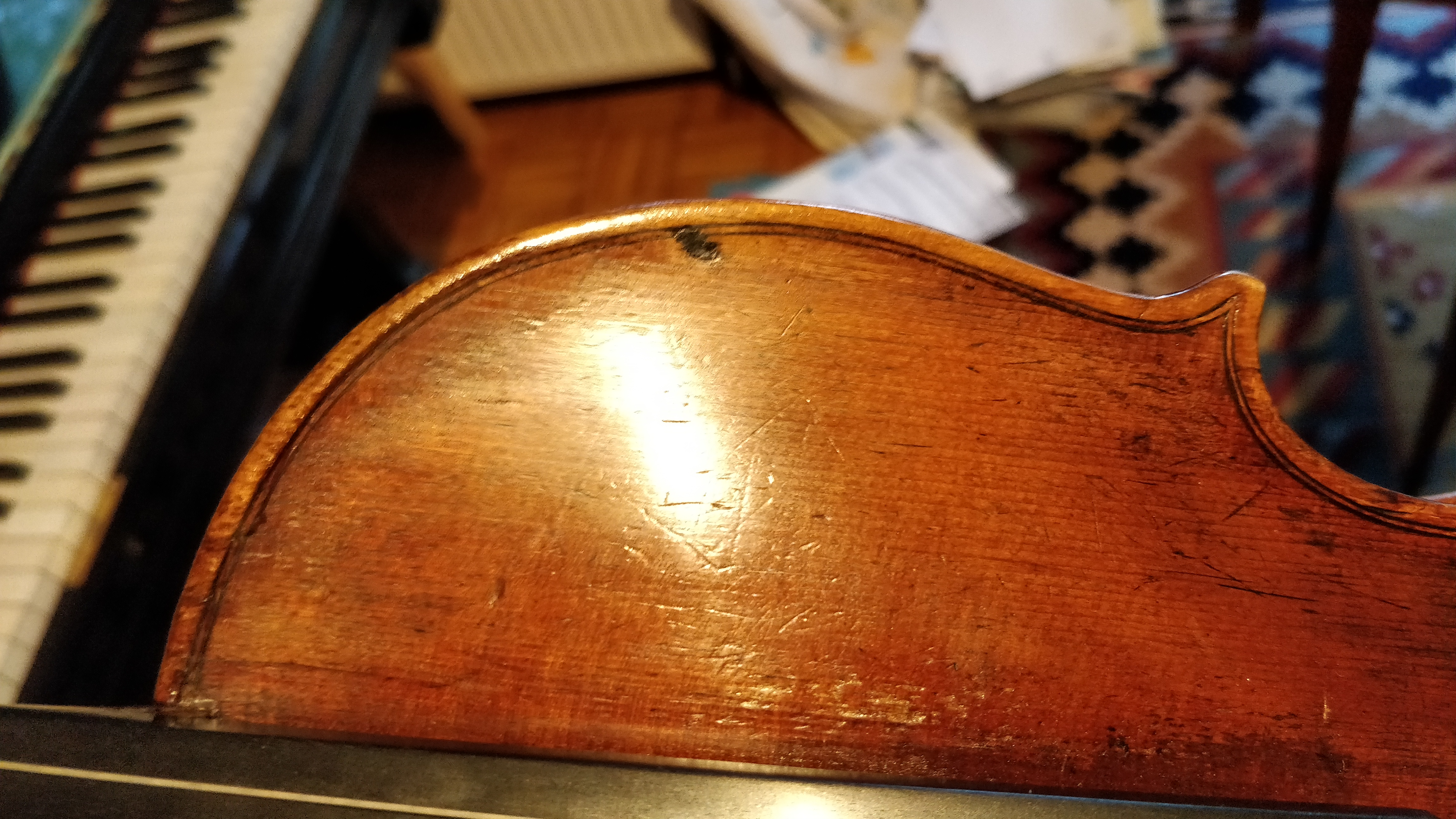 Now, an instrument of this age isn't likely to have survived without a few war wounds and a bit of wear and tear. This particular instrument is in pretty stunning condition though... However, you can see some wood worm damage on the front right of the body (the dark spot near the edge).... which has been repaired.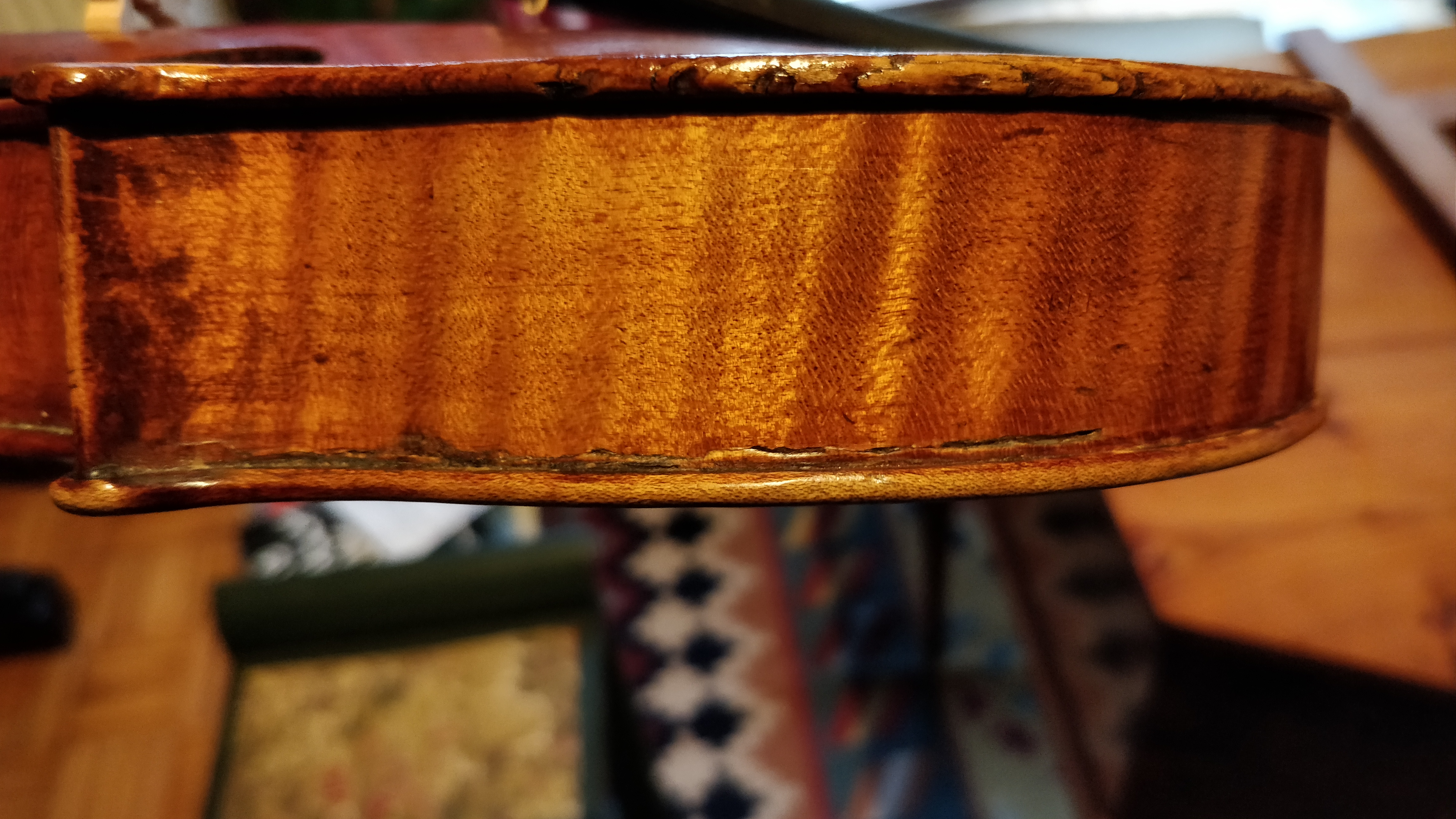 .... and also on the lower edge of the lower bout on the bass side of the violin. This isn't very concerning... all the beasties are long dead, and this sort of thing is common enough. The repairs are decent and that is the main thing!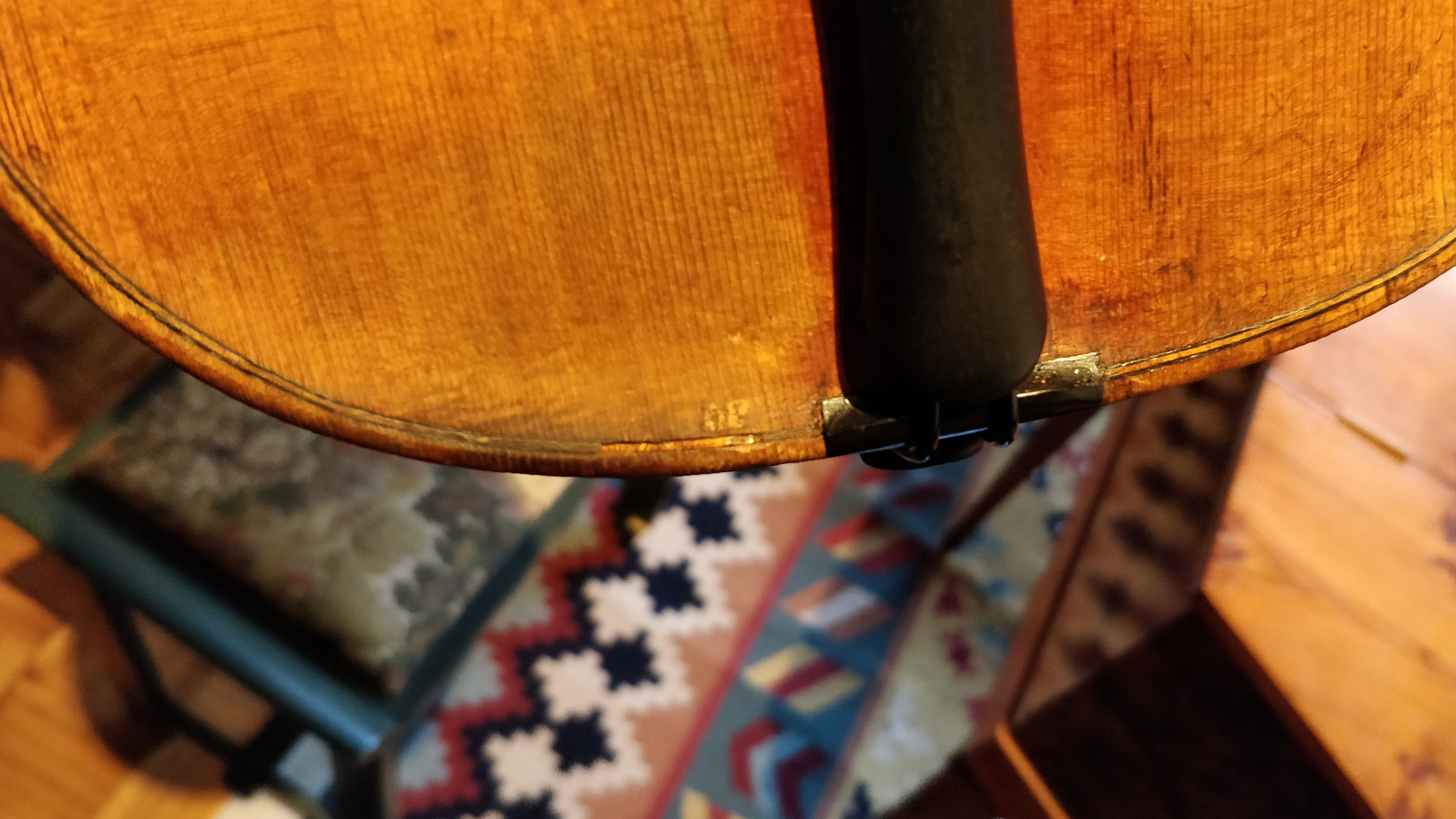 Some missing purfling on the lower front (bass side)... again not a big deal, this sort of thing is easy to repair (and will be for the seller to repair... or the luthier (from their commission)). The purfling is partly a decorative ornament around the edges of the violin (they can get quite elaborate), but also serves as functional purpose in channeling potential cracks away form the main soundboard (body) of the instrument.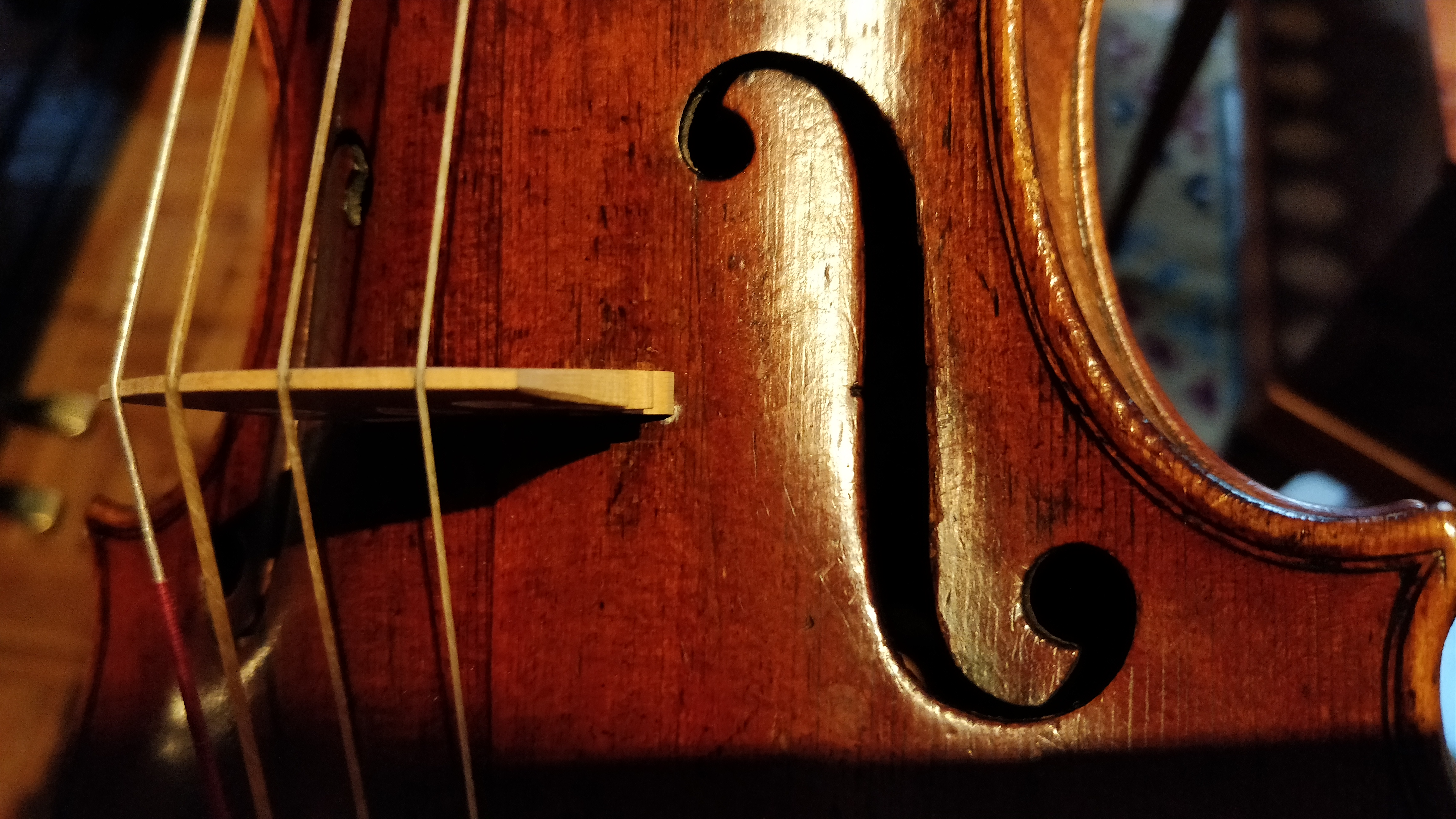 Lastly, a minor crack at the f-hole and sound post area of the front. Again, a pretty common thing... these instruments are under 25-50 kilograms of tension pressing down on the front plate. So, over time these things happen... however, again the main thing is that the repairs are well done and reinforced.
So, there you have it... love at first touch! I had another play in the afternoon yesterday... and then again when I woke up this morning... and yep, it is really a great match for me! I will take it to another luthier this coming week, to double check on the state of the insides and repairs... but it looks like that this might be the end of my search!
Now, it is possible that the dealer might suggest to me that I cut the luthier out of the deal and deal direct with him (we already know each other...). However, I really think that this would be a bit of dick move to save some (...well, more than some...) money. So, I would feel really uncomfortable about that... and then the luthier has been really good to me, and has kept an eye out for instruments for me over this long time... so, I'm not going to even entertain that idea. Honour and respect have a great deal more worth to me....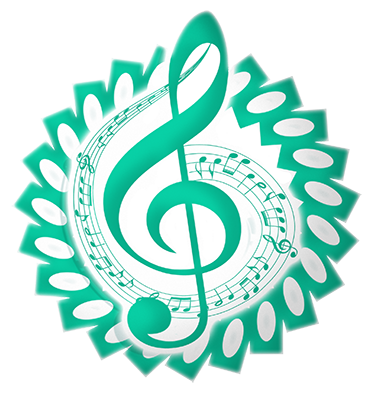 The classical music community at #classical-music and Discord. Follow our community accounts @classical-music and @classical-radio. Community Logo by ivan.atman