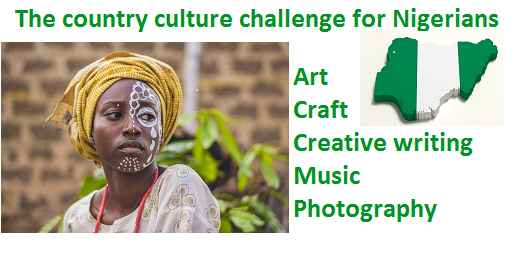 How much do you like your culture? As they say, culture is a way of life. Every interested Nigerian is obliged to make a chronological display of entry as this contest kicks. Nigeria is a home that houses different ethnic groups, tribes, and social groups. There are more than 250 ethnic groups in Nigeria. We have the Hausas, Igbos, Yorubas, and a host of others, but these are the three major languages that dominate the country. 
Culture encompasses many areas like the way we dress, the food we eat, our language, festivals, traditional belief, type of music, and so on. It is also believed that culture affects behaviour. In Nigeria, the Igbos are known to like money (Who no like moni?). The Yorubas are labeled as deceitful (Awolowo caused it, but what can the Yorubas do?). The Hausas are known for their illiteracy (To a degree). Can all these be attached to the difference in culture?
Now the cultural country challenge contest
@steemitblog made a post some days ago about a cultural contest that would start by October. Before then, we need to have representatives from our region, so this brings us to tabling this contest to select the best to represent us at the front line.
There are Five Challenge Categories as mentioned in the post by @steemitblog here. The Country Culture Challenge will be looking for entries in five different categories...
Art - original artwork in any visual media
Craft - anything from crochet to woodwork, and everything in-between
Creative Writing - short story or poetry
Music - original composition, or a cover of music from your country
Photography - original photographs taken in your country.
These are the areas where we are going to be looking at. Let's start submitting entries.
If you are crafty, let's see what you can do.
Are you an artist, let people see your excellent artwork
Do you have a unique voice for traditional music, or you can do your composition, let people go gaga listening to your voice
Snap your way to the top with pictures from different parts of Nigeria. It's all about being creative
All steemian are content creators. If you can write creatively, jump in, and start pumping.
Examples of creative writing you can choose from
Poem: We all know what a poem is. TWINKLE TWINKLE LITTLE STAR.
Scriptwriting: If you can write a playlet, just like a short play or dramatic piece, you are welcome.
Poetry: It's imaginative writing ranging from narrative to lyrical and language. Language poetry would be preferable, but it can be displayed in English. Google translate won't bring out the original meaning, so you are the only one that can use the right word that would attract the attention of readers. Check books written by OLA ROTIMI, WOLE SOYINKA, and CHINUA ACHEBE for inspiration.
Essay: We all know how to argue. Essay writing is another way to show creativity. Come up with fantastic topics and defend your points in a balanced manner. Also, there are narrative and descriptive essays. Fill into where you can make waves.
Comic Strips: Creating comics is also part of creativity. check here to download free comic creator app
Rules of the contest
No plagiarism. Real and original content is highly wanted. This is a global challenge, and we are picking the best from our country to represent us, so please, don't go as far as not being real. It would affect us and we might fall like a bag of Rice.
Use the tag #nigeriacreativity, and drop the link to your post in the comment section.
Post on any Nigerian community. Any post coming from another community apart from SteemAfrica, SteemAlive, and STEEMNIGERIA will not be counted.
This contest runs till October 3rd. Please make sure to drop your entry on or before the date.
I had to edit when @nattybongo asked a question in the comment section. We have some African countries with limited steemians and they should not be left out in the challenge. All Africans can participate. We would nominate anyone picked on behalf of their country in the culture challenge.
NOTE: Every participant with reasonable content will get two steem each (If we have 50 participants with good contents, 100 steem would be distributed) with a reasonable vote from the @steemcurator04 account, and @steemcurator01 or @steemcurator02 might visit posts as they always do.
@focusnow and I would be scrutinizing posts and selecting the best ones. Let the initiative begin.
Join the Steem Africa whatsapp group and the
Steem Africa discord server. You are mostly welcome.
You can follow my curation trail via this link
I'm a walking question mark. If you keep asking yourself questions about me, you will never find the right answer. Ask me and I will freely give it to you. If you don't, you might be wrong
Thanks for reading.